Obama Proposes $4.1 Trillion Spending Plan In Final White House Budget
@reuters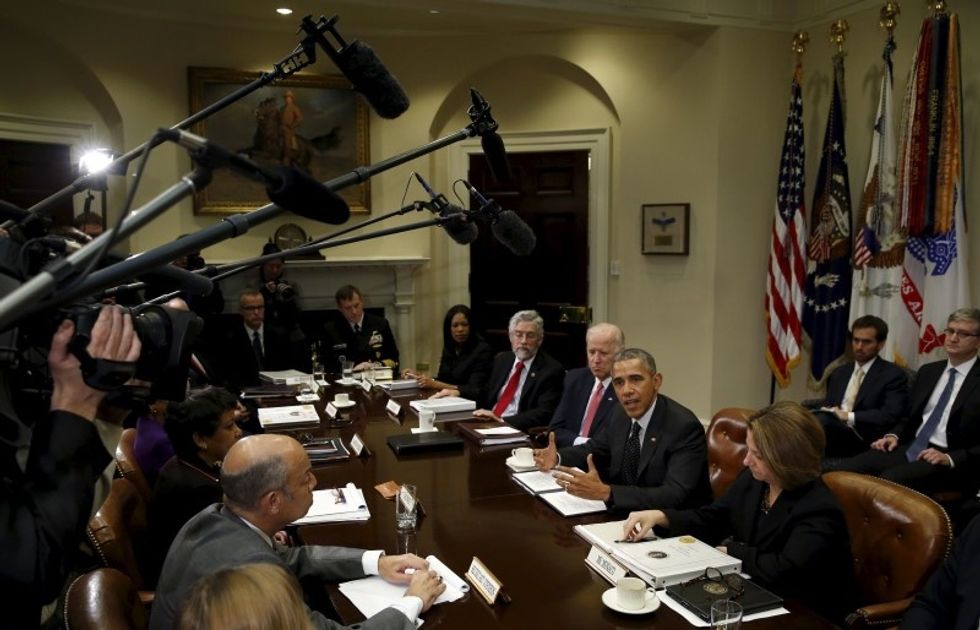 By Jeff Mason and David Lawder
WASHINGTON (Reuters) – U.S. President Barack Obama proposed a $4.1 trillion spending plan for fiscal year 2017 on Tuesday in a final White House budget that laid out his priorities for fighting Islamic State, raising taxes on wealthy Americans and helping the poor.
The budget for the fiscal year beginning on Oct. 1 is largely a political document and is unlikely to be passed by the Republican-controlled Congress.
But it gives the Democratic president, who leaves office in January, a chance to make a last pitch for funding on issues such as education, criminal justice reform and job creation while taking credit for U.S. economic strides during his tenure.
The spending proposal stayed within the confines of an agreement reached between the White House and Congress last year that lifted mandatory "sequestration" cuts on both defense and domestic spending.
It proposes lifting the limits entirely from 2018.
"My budget makes critical investments while adhering to the bipartisan budget agreement I signed into law last fall," Obama wrote in the budget document. "It also drives down deficits and maintains our fiscal progress through smart savings from health care, immigration, and tax reforms."
The proposed budget envisions a deficit of $503 billion in fiscal 2017 after a $616 billion budget gap in the current fiscal year ending on Sept. 30.
It seeks to cut deficits by $2.9 trillion over 10 years largely through shrunken tax breaks for wealthy earners, new savings in Medicare healthcare, and assumptions that adoption of its policies would boost economic growth.
Over 10 years, deficits would average 2.5 percent of U.S. economic output, compared to about 4.0 percent in the Congressional Budget Office's estimate, which is based on current laws.
"That document … will be President Obama's final vision of how he lays out the fiscal future for the country," said Joel Friedman, vice president for federal fiscal policy at the Center on Budget and Policy Priorities.
"I don't think anyone expects it to be enacted this year. Republicans aren't going to embrace it, but that doesn't mean it's not going to be a useful document."
Congress can advance elements of the budget without endorsing the entire proposal.
Obama is slated to meet with his national security team to discuss cyber security around 11:00 ET and is likely to address reporters at the close of the meeting. The budget seeks $19 billion for cyber security across the U.S. government.
Obama and Republican Speaker of the House of Representatives Paul Ryan agree on some anti-poverty policies, but the general differences between the two parties are vast, particularly in a presidential election year.
"The president's final budget continues his focus on new spending proposals instead of confronting our country's massive overspending and skyrocketing $19 trillion in debt," said Senate Budget Committee Chairman Mike Enzi.
Republican lawmakers have taken the unusual step of not inviting White House budget director Shaun Donovan to brief about the proposal.
"Maybe they are taking the Donald Trump approach to debates about the budget. They are just not going to show up," White House spokesman Josh Earnest told reporters last week, referring to the Republican presidential front-runner's decision to skip a debate with his counterparts ahead of the nominating contest in Iowa.
The budget requests more than $11 billion for the Departments of Defense and State to fight Islamic State militants and stabilize Syria.
It calls for $152 billion in research and development, an increase of 4 percent over fiscal year 2016, including funding for an effort to cure cancer, which is spearheaded by Vice President Joe Biden.
(Additional reporting by Roberta Rampton, Susan Cornwell, Richard Cowan, and Julia Edwards; Editing by Chizu Nomiyama)
Photo: U.S. President Barack Obama speaks during a meeting with members of his national security team and cybersecurity advisors on new actions to enhance the nation's cybersecurity, including measures that are outlined in the President's FY2017 Budget proposal at the White House in Washington February 9, 2016. Flanking Obama are Vice President Joe Biden (L) and Lisa Monaco, Obama's counterterrorism adviser (R). REUTERS/Kevin Lamarque