Obama Protects Waterways Before Trump Crashes The White House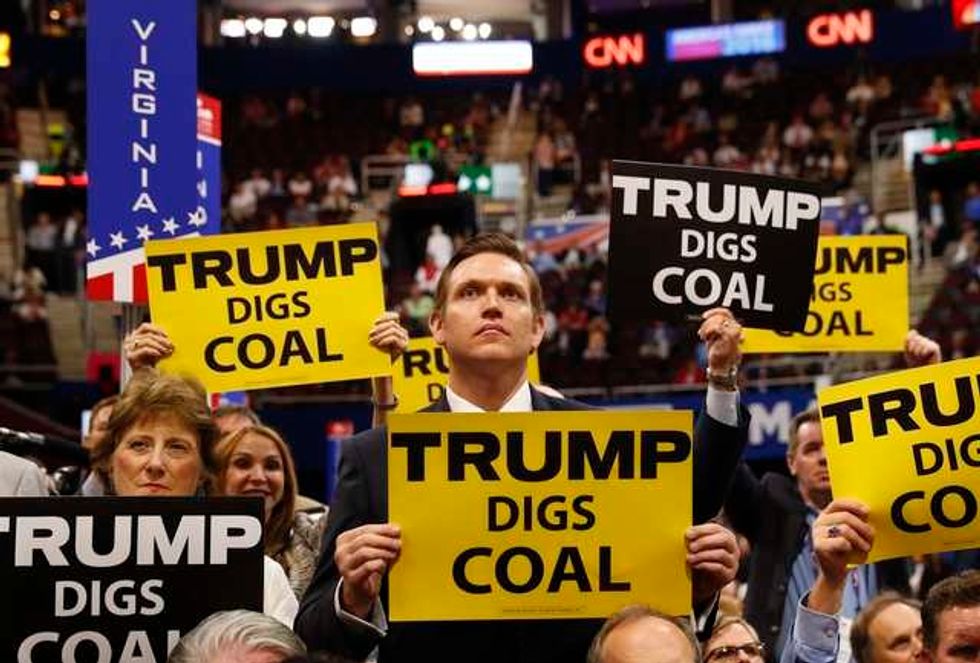 Reprinted with permission from AlterNet.
On Monday, the U.S. Interior Department finalized a contentious rule to protect rivers, streams and forests from the negative impacts of surface coal mining. The Stream Protection Rule is the first update to the department's regulations in 33 years, and is one of the Obama administration's last major moves to protect the environment. Specifically, the rule was established to "avoid or minimize impacts on surface water, groundwater, fish, wildlife, and other natural resources," according to the DOI.
"The responsible rule released [December 20] represents a modern and balanced approach to meeting the nation's energy needs," U.S. Secretary of the Interior Sally Jewell said on Monday. "Regulations need to keep pace with modern mining practices, so we worked closely with many stakeholders to craft a plan that protects water quality, supports economic opportunities, safeguards our environment and makes coalfield communities more resilient for a diversified economic future."
The stronger guidelines force coal firms to steer clear of mining activities that endanger streams and drinking water sources. Additionally, companies are required to restore ecosystems to their original state once mining activities have ceased in the area. Over the next two decades, the rule will protect 6,000 miles of streams and 52,000 acres of forests, according to the Interior Department.
While it is a major victory for environmentalists, the rule, which has received strong opposition from the coal industry, will likely be one of the first to be targeted by President-elect Trump, who made many promises to sustain the nation's declining coal sector.
Both senators representing West Virginia, the second highest coal-producing state after Wyoming, oppose the new rule. Shelley Moore Capito, a Republican, underscored a demand she made to President Obama to "not move forward with any more rules and regulations as you are going out the door." Joe Manchin, the state's senior senator and a Democrat, said, "I remain unconvinced that this jobs-killing regulation is necessary or substantiated, particularly when you consider state and federal regulations already in place."
One industry-backed study claimed, with scant evidence, that the rule could result in the loss of 5,000 jobs nationwide, reported West Virginia's Metro News. But in its press release announcing the rule, the DOI stated, "Economic impacts were thoroughly analyzed and the final rule is projected to have a negligible impact on the coal industry overall."
"This rule takes into account the extensive and substantive comments we received from state regulators, mining companies and local communities across the country," said Assistant Secretary for Land and Minerals Management Janice Schneider. "We traveled the country, visited many mines, and met with many of the people who work and live in coal country to make sure we wrote the best rule possible—one that is both economically achievable and protective."
"This updated, scientifically modern rule will make life better for a countless number of Americans who live near places where coal is being mined," said Joseph Pizarchik, director of the Office of Surface Mining Reclamation and Enforcement, a branch of the DOI that developed the rule. "We are closing loopholes and improving our rules to more completely implement the law passed by Congress."
Though environmentalists largely cheered the new rule, some found fault with some of its provisions. Neil Gormley, staff attorney at Earthjustice, said that while Monday's actions "includes several long-awaited improvements to current regulations," he noted it was unfortunate that the rule also "eliminates the Reagan-era stream buffer zone, a strongly worded safeguard that prohibited harmful activity within 100 feet of streams. States have frequently refused to enforce the stream buffer zone, and the coal industry has long sought its repeal."
Despite the steady decline of the coal industry, Donald Trump made the plight of out-of-work coal miners a central theme of his candidacy, though he was short on actual policy recommendations. "We're going to get those miners back to work," he said during his victory speech in May after securing the GOP presidential nomination. "Let me tell you, the miners in West Virginia and Pennsylvania…they're going to start to work again."
Activists are prepared to fight Trump's expected rollback of environmental protections, particularly those opposed by the coal industry. Jenifer Collins, associate legislative representative at Earthjustice, said her organization is committed to ensuring that "the commonsense protections for Appalachian communities are not rolled back by members of Congress, who would rather use the region as a partisan football than provide meaningful protections. We will also push the Department of Interior for stronger action and oppose any attacks by the coal industry. Clean water cannot be sacrificed for the sake of profits for big business."
Reynard Loki is AlterNet's environment and food editor. Follow him on Twitter @reynardloki. Email him at reynard@alternet.org.
IMAGE: Delegates from West Virginia hold signs supporting coal on the second day of the Republican National Convention in Cleveland, Ohio, U.S. July 19, 2016. REUTERS/Aaron P. Bernstein/File Photo