Obama, Republicans Clash As New Congress Convenes
@AFP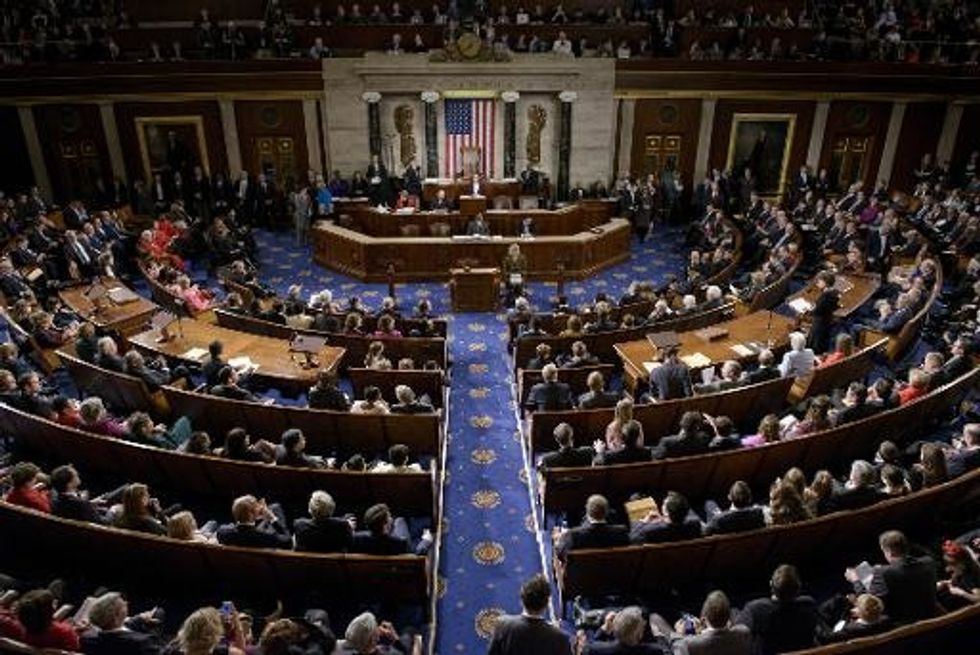 Washington (AFP) – U.S. President Barack Obama and his Republican rivals who took control of Congress Tuesday immediately clashed over the controversial Keystone pipeline project, setting the tone for a bruising two years on Capitol Hill.
The new Republican leadership sought quick victories, pledging to approve the construction of the pipeline from Canada to refineries on the U.S. Gulf Coast, as they moved to counter Obama's Democratic agenda ahead of the 2016 presidential election.
But the White House threw a monkey wrench into the plans, saying Obama — who has held up the mega-project for years, citing environmental concerns — would veto the measure.
"I would not anticipate that the president would sign this piece of legislation," White House spokesman Josh Earnest said.
Republicans — who now control both the Senate and House of Representatives — say Keystone is a job generator. The House is set to vote Friday on the project.
The new leadership in the Senate, which flipped to a 54-46 Republican majority Tuesday following November elections, has said it has enough votes to pass the bill. A Senate vote has not yet been scheduled.
New Republican Senator Bill Cassidy of Louisiana said Keystone was "a no-brainer."
Canadian firm TransCanada first proposed the pipeline in 2008, and Ottawa strongly backs the project.
"Our position on Keystone remains the same: we believe the project should be approved," said Chris McCluskey, a spokesman for Canadian Natural Resources Minister Greg Rickford.
"Right now this is not a debate between Canada and the U.S. It's a debate between the president and the American people, who are overwhelmingly supportive of the project."
On Tuesday, new and returning lawmakers in both chambers, including a record number of women and the first black Republican woman elected to the House, were sworn in for the 114th Congress.
"We'll begin this endeavor on common ground," said House speaker John Boehner shortly after he was re-elected to a third term.
But he quickly dismissed Obama as "hopelessly out of touch" for threatening a Keystone veto.
The White House, perhaps eager to hit the reset button with Republican leaders, announced a meeting next Tuesday with congressional leaders from both parties.
But Earnest threw cold water on the suggestion that Obama was launching a charm offensive with his rivals.
"No," he said. "We are focused a little less on the charm and more on the substance… an opportunity to try to find some common ground," the spokesman said.
Finding that common ground could prove difficult, with Democrats miffed about Keystone and other Republican initiatives that would whittle away at Obamacare, the president's landmark health care reform.
Republicans "have committed to looking out for big oil, gas, and coal companies, eliminating reforms that hold Wall Street's big banks accountable, and repealing the Affordable Care Act, which would take away health care from millions of Americans," Democratic Party chairwoman Debbie Wasserman Schultz said.
Some Democrats in energy-rich states, like Senator Joe Manchin of West Virginia, expressed disappointment that Obama would block Keystone and "not allow this Congress to turn over a new leaf" to ease gridlock.
For the final two years of Obama's presidency, Republicans will enjoy their broadest congressional majority since 1930.
The party is keen to avoid much of the political crisis of the last four years, including a crippling government shutdown in 2013, with incoming Senate Majority Leader Mitch McConnell urging his Republicans to tone down their hostile rhetoric and not appear "scary" to Americans in the run-up to 2016.
"I don't want the American people to think that if they add a Republican president to a Republican Congress, that's going to be a scary outcome," McConnell said in a pre-Christmas interview with the Washington Post that was published Monday.
"I want the American people to be comfortable with the fact that the Republican House and Senate is a responsible, right-of-center, governing majority."
But even as McConnell and Boehner pledged to steer their congressional majority responsibly, they begin the new session with their caucus divided.
Boehner must contend with his party's notoriously uncooperative right flank — a group of hard-core, non-negotiating conservatives.
Twenty-five of them voted against Boehner as speaker.
AFP Photo/Brendan Smialowski