Obama, In Silicon Valley For Fundraisers, Touts Accomplishments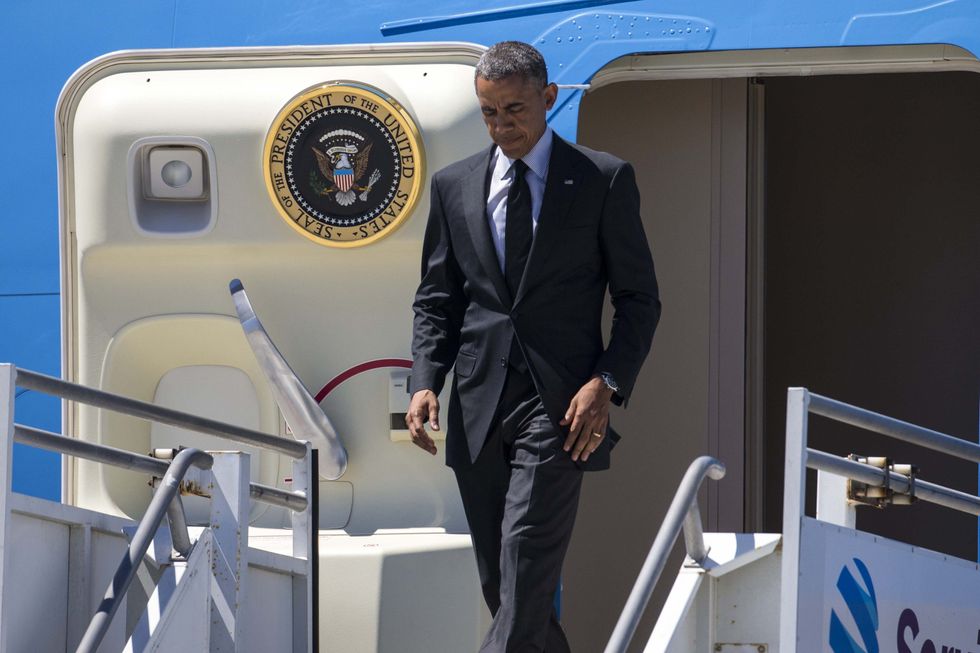 By Josh Richman, Rhea Mahbubani, and Andie Waterman, San Jose Mercury News
LOS ALTOS HILLS, Calif. — Criticized for leaving Washington amid an array of international crises, President Barack Obama told some of Silicon Valley's richest Democratic donors Wednesday that he's proud of his administration's accomplishments and needs a Democratic House majority to further rev up the economy.
"When we came into office, we were going through the worst economy since the Great Depression," but the economic record of the past five years represents "some pretty remarkable progress," the president told about 90 guests at a Democratic Congressional Campaign Committee fundraiser at the home of real estate mogul George Marcus.
In addition, he said, millions more Americans have health care, while high school dropout rates have decreased and college enrollments have increased.
Silicon Valley represents the spirit of dynamism that typifies the American economy, he said, yet there's still a lot of anxiety as profits have accrued almost only to those at the very top. The middle class is "stuck," he said. "They feel like they're treading water."
"It feels as if Washington doesn't work," ignoring those in need, he said. And that's because the Republican Party is interested only in proving that government doesn't work and saying no to common-sense steps to help working families, Obama said.
"I hope that the reason you're here today is that you want to get something done. … We have to break this cycle of gridlock and cynicism," he said, adding that both parties can and should work to advance the common good.
"I'd love nothing more than a loyal and rational opposition," Obama said. "But that's not what we have right now."
Earlier Wednesday, the president spoke at an event for the House Majority PAC, a Democratic "Super PAC" independent expenditure committee, at San Francisco's Four Seasons Hotel. The event was closed to the media.
As the president passed the collection plate Wednesday, he also had a full plate of international and domestic problems to contend with.
Abroad, tensions with Russia are sky high following the shoot-down of a Malaysia Airlines jetliner last Thursday, apparently by Russian-backed Ukrainian separatist rebels. Meanwhile, Israel's military action in the Gaza Strip continued to rack up Palestinian civilian casualties.
At home, a federal appeals court ruling on Tuesday undermined a key segment of Obama's landmark health care law, jeopardizing insurance subsidies for millions of Americans. And Obama is scheduled to meet Friday with three Central American presidents to discuss how to stem the flow of undocumented migrant children fleeing from gangs and drug cartels.
U.S. Senate Republican leader Mitch McConnell, of Kentucky, faulted Obama for not being in Washington while Congress debates vital bills, including ways to ease the current humanitarian crisis at the border.
"I'm not going to give him advice about how to allocate his time, but he's certainly not spending the kind of time with the people he needs to pass legislation and convince people who have a vote, who were sent here to legislate, of the virtues of whatever position he has," McConnell said.
White House officials, however, say Obama is able to do his official duties while traveling for political purposes.
"In terms of fundraising, it's a responsibility that presidents in both parties for generations have been responsible for," White House spokesman Josh Earnest said. "And the president, like his predecessors, is interested in supporting members of his party who are on the ballot in 2014."
Rep. Mike Honda greeted the president as his Marine One helicopter landed at a Foothill College soccer field. House Minority Leader Nancy Pelosi and Rep. Anna Eshoo were at the luncheon, as well as Democratic House candidates Michael Eggman and Amanda Renteria. Tickets for the event went for $10,000 a person, including a photo opportunity and lunch, or $32,400 a couple, including a VIP photo opportunity and lunch.
The DCCC has raised about $124.7 million in this election cycle, while its Republican counterpart has raised about $101 million, according to The Associated Press. Californians standing to gain from the committee's "Frontline" program — for incumbents facing tough re-election fights — include Reps. Ami Bera, Scott Peters, Julia Brownley, Raul Ruiz, and Lois Capps. The Cook Political Report, a renowned House race prognosticator, lists Bera, Peters, and Brownley as the most vulnerable.
Obama headlined two Democratic National Committee fundraisers May 8 in Los Altos and San Jose. Last year, he was in the Bay Area for Democratic fundraisers in November, June, and April.
Marine One left Foothill College at 1:17 p.m. for San Francisco International Airport, where a half-hour later Obama took off to Los Angeles. There, he was to attend another fundraiser Wednesday and then visit a community college Thursday to talk about the importance of job-driven skills training, particularly for fast-growing sectors such as health care.
Photo: Los Angeles Times/MCT/Jabin Botsford
Interested in U.S. politics? Sign up for our daily email newsletter!