Obama Sings 'Amazing Grace,' Mentions Race, Guns, And Grace In Eulogy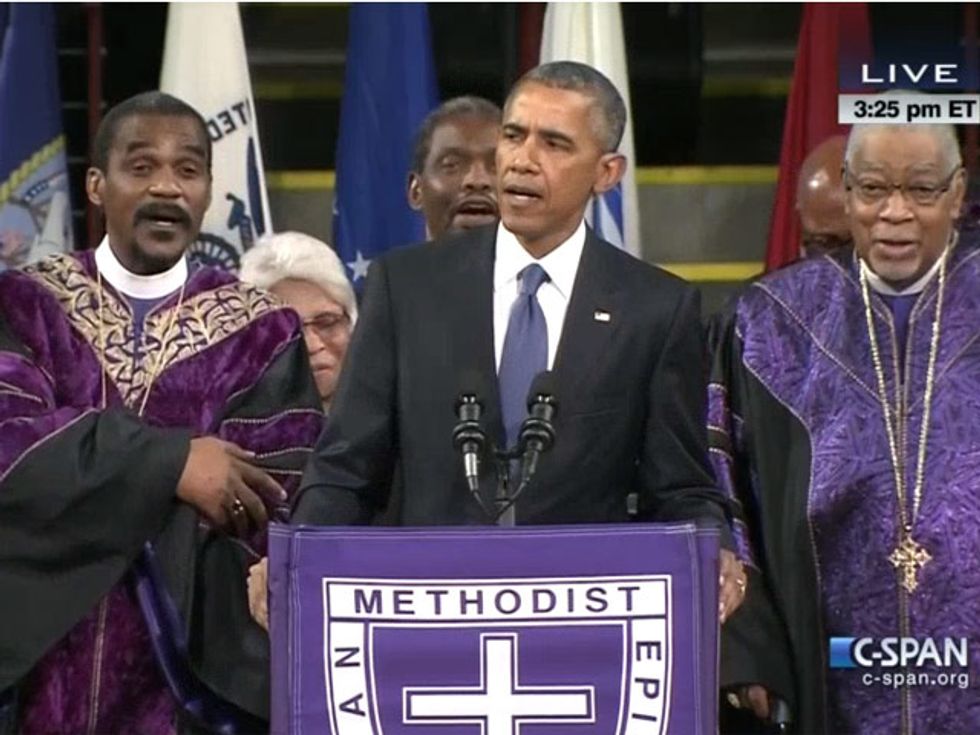 President Obama ended his eulogy for the Rev. Clementa Pinckney in a way best befitting a man of the cloth: by singing "Amazing Grace."
He began the song solo, a lone, low-toned voice gone hoarse after a half-hour of impassioned speaking, and after a few seconds, the audience and an organ joined in on the hymn — a gospel standard written by a reformed slave trader who found God. The president then switched to what might have been the most emotional moment of the entire speech — shouting out the names of each of the victims and tying it into the song.
"Clementa Pickney found that grace! Cynthia Hurd found that grace! Susie Jackson found that grace!" he shouted, listing everyone who was murdered last week in the Charleston shootings.
Grace was the theme of this speech, which also touched on race, gun control, and the Confederate flag.
"For many, black and white, that flag was a reminder of a system of oppression and racial segregation," he said, and praised South Carolina governor Nikki Haley for her remarks earlier this week.
Throughout his speech, the president's words were punctuated by applause, amens, and fervent expressions of "Yes!" from the assembled congregation.
Calling Rev. Pinckney "a good man," Obama used the eulogy not only to praise the state senator, but to call out the systematic injustices that underpinned both the lives of those who were killed and the killer, whom he did not name.
For too long we have been blind to how past injustices have continued to shape the present. Perhaps we see that now. Perhaps this tragedy causes us to ask some tough questions. About how we can permit so many of our children to languish in poverty or attend dilapidated schools or grow up without prospects for a job or for a career. Perhaps it causes us to examine what we're doing to cause some of our children to hate.
"God works in mysterious ways," he said to cheers, referring to the fact that out of the killer's stated intention of starting a race war emerged a movement for change, compassion, and "more importantly, […] a thoughtful introspection and self-examination that we so rarely see in public life."
"Blinded by hate, that killer could not see the grace surrounding Rev. Pinckney and that Bible study group, the light of love that shone as they opened the church doors and invited a stranger to join in their prayer circle. The alleged killer could have never anticipated the way the families of the fallen would respond when they saw him in court in the midst of unspeakable grief, with words of forgiveness. He couldn't imagine that."