Obama Takes 'A Sledgehammer' To Cuba Embargo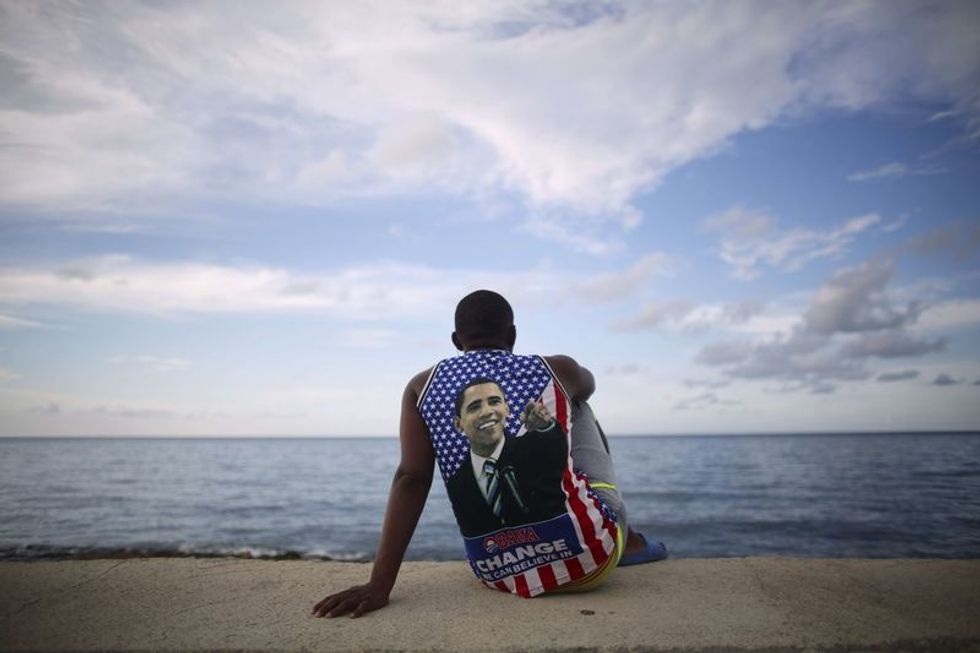 By Chris Adams, McClatchy Washington Bureau (TNS)
WASHINGTON — What is commonly known as the trade embargo on Cuba is still on the books, as it has been for some five decades.
But for companies from around the United States — whether a package-delivery firm from Tennessee, rice producers from Arkansas, a heavy-equipment maker from Illinois or a software developer from Washington state — the barriers to trade with the untapped market 90 miles from Florida are getting lower and lower.
The Obama administration on Friday announced it was moving to further change U.S.-Cuba trade rules, ushering in what experts called a major development that would significantly open the door to expanded business on the island.
It's a continuation of the actions President Barack Obama and his administration have taken since December, when he announced a major thaw in the decades-long freeze with Cuba. But for American companies and the trade experts who work with them, the announced moves are a big boost in their hopes to _ someday _ have full and free trade with Cuba.
"There remains much of the embargo to be dismantled," said John S. Kavulich, president of the U.S.-Cuba Trade and Economic Council, who estimated that maybe 40 percent of the embargo has been disrupted by the president's regulatory actions.
Obama did not merely chip away at the embargo, Kavulich added. "He used a sledgehammer," he said.
Kavulich considers the changes announced Friday to be "the most comprehensive trade and investment changes to the United States relationship with the Republic of Cuba in decades."
The rules will be formally published and take effect Monday. Treasury Secretary Jacob J. Lew said they underscore "the administration's commitment to promote constructive change for the Cuban people."
"A stronger, more open U.S.-Cuba relationship has the potential to create economic opportunities for both Americans and Cubans alike," he added in a statement. "By further easing these sanctions, the United States is helping to support the Cuban people in their effort to achieve the political and economic freedom necessary to build a democratic, prosperous and stable Cuba."
The rules were greeted warmly by many business interests, who see greater leeway to boost sales and travel to Cuba. But they were instantly lambasted by some lawmakers, particularly those in South Florida who both represent and come from the Cuban-American community.
That said, the opposition to Obama's Cuba opening hasn't been able to stop the president. While experts on both sides of the issue say the embargo as now on the books is politically safe in the short term, there are administrative actions the president can _ and has _ taken to further his goals.
Among the most significant of Friday's changes, as announced by the Treasury and Commerce departments, are those involving personal travel, personal remittances and business activity.
On travel: Earlier changes had permitted official government business and some educational and other activities. Now, a close relative also will be allowed to visit or accompany authorized travelers for additional educational activities, journalistic activity, professional research, religious activities and humanitarian projects.
On remittances to Cubans: Current rules said they could be no more than $2,000 per quarter. That limit will be removed entirely.
Easing restrictions on business activity by U.S. firms is among the most significant changes.
"The rules in January were important _ they established the precedent," said Robert L. Muse, a Washington-based lawyer and expert on Cuba trade. "But it was more of a beachhead, and it was a bit murky. Now they are engaging the business community in a way that's going to be interesting and important to them. It begins to give them some real commercial traction."
Muse said that companies engaged in exporting authorized items to Cuba will be able to establish, maintain and operate physical premises in Cuba.
"Maintaining a presence is brand new — that's the big further step they have taken here," Muse said. "The intention is to bring American businesses to the island."
An example, he said, would be an agricultural company allowed to export to Cuba that would now be able to establish a sales office on the island.
(c)2015 McClatchy Washington Bureau. Distributed by Tribune Content Agency, LLC.
Medical student Electo Rossel, 20, wearing a shirt with a picture of U.S. President Barack Obama, listens to music at the Malecon seafront outside the U.S. embassy (not pictured) in Havana, Cuba, in this file photo taken August 14, 2015. REUTERS/Alexandre Meneghini/Files