Obama Takes An Epic Vacation To Recharge For Future Political Battles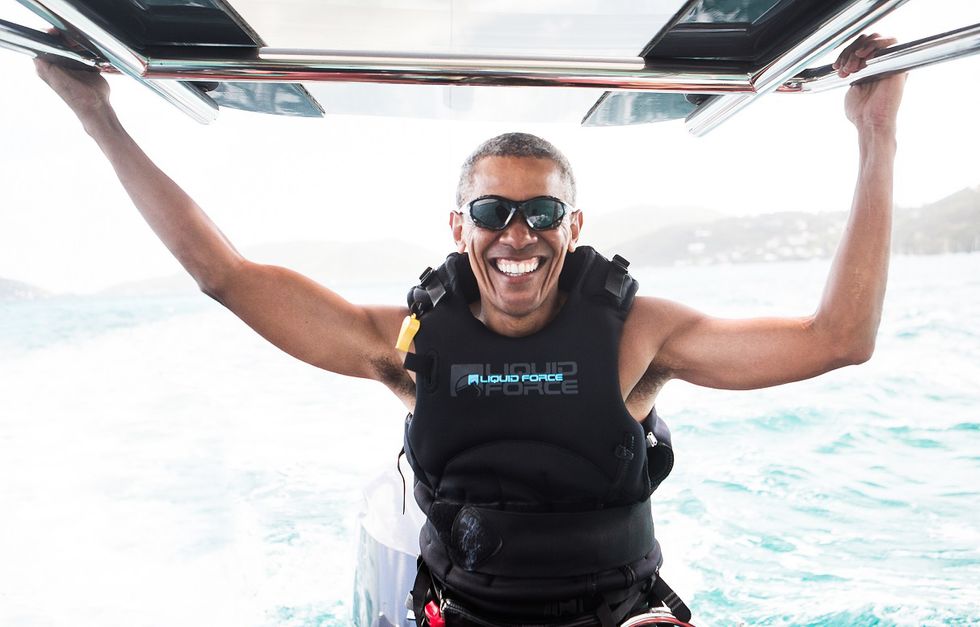 (Reuters) – Former U.S. president Barack Obama is trying some new and dangerous water sports that the Hawaii native had to miss out on for safety reasons while serving in the White House.
Obama, whose eight years as president ended last month when he was succeeded by Donald Trump, learned to kiteboard while vacationing last week on a Caribbean island owned by British billionaire and adventurer Sir Richard Branson, who published an account of their trip on Tuesday.
Photographs and video on the website of Branson's Virgin Group show the former president, a life-long surfer, figuring out the increasingly popular sport in which people ride a board while being pulled behind a kite.
"Being the former president of America, there was lots of security around, but Barack was able to really relax and get into it," Branson wrote.
Obama and his wife, Michelle, were spotted last week in the British Virgin Islands, and people posted photos of them on social media. Branson owns 120-acre (48-hectare) Moskito Island, which is part of the archipelago.
Kiteboarding was chosen in 2012 as a sport for the 2016 Olympic Games in Rio de Janeiro, replacing windsurfing. The decision was criticized at the time because the sport can be lethal, and it was reversed within months.
According to Branson, Obama studied the pastime for two days and flew a kite from the beach, "as if going back to being a child again," before heading out into the waves.
Branson was trying to learn a similar sport, foilboarding, which uses a modified board that rises a few feet above the water. He wrote that he challenged the ex-president over which of them would succeed first.
Obama triumphed, he said, by kiteboarding for 100 meters (328 feet).
"After all he has done for the world, I couldn't begrudge him his well-deserved win," Branson wrote.
(Reporting by David Ingram in New York; Editing by Daniel Wallis and Frances Kerry)
IMAGE: Obama sits on a boat during a kite surfing outing with British businessman Richard Branson during his holiday on Branson's Moskito island, in the British Virgin Islands. Jack Brockway/Virgin Handout via REUTERS