Obama Talks Taxes, Benghazi At First Post-Election Press Conference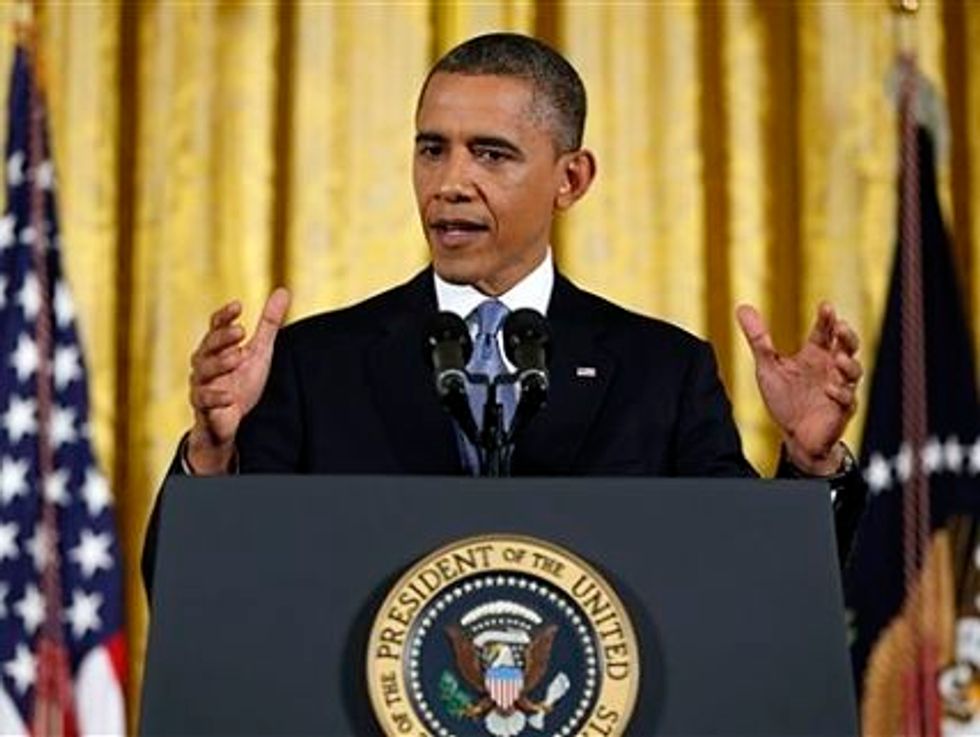 President Obama reiterated that he intends to raise taxes on the wealthy, angrily denounced the Republican senators attacking U.N. Ambassador Susan Rice, and also discussed his plans on immigration reform, climate change, and foreign policy during his first press conference since being re-elected as president.
Discussing the so-called "fiscal cliff," the president reiterated that he will not accept any deal that does not ask the top two percent of earners to pay more in taxes. While he stopped short of declaring that he would reject proposals that do not return tax rates to their Clinton administration-era levels, Obama made it clear that "what I'm not going to do is to extend further a tax cut for folks who don't need it, which would cost close to a trillion dollars."
Obama also shot down the Republican alternative to his tax plan, noting that "it's very difficult to see how you make up that trillion dollars, if we're serious about deficit reduction, just by closing loopholes in deductions. You know, the math tends not to work."
As the president points out, "if there was one thing that everybody understood was a big difference between myself and [Mitt] Romney," it was their positions on taxing the wealthy.
Ultimately, Obama argued that "more voters agreed with me on this issue than voted for me" — not the words of a man who's planning to cede the issue any time soon.
Obama also reiterated his longstanding request that the House of Representatives act now to extend tax cuts for the 98 percent of Americans making less than $250,000 annually, urging John Boehner and his caucus to "not hold the middle class hostage while we debate tax cuts for the wealthy."
In the most heated moment of the press conference, President Obama slammed senators John McCain and Lindsey Graham for promising to block Susan Rice's potential nomination as Secretary of State over her public comments regarding the September 11th attack in Benghazi, Libya.
Noting that Rice "has represented the United States and our interests in the United Nations with skill and professionalism and toughness and grace," President Obama declared that "If Senator McCain and Senator Graham and others want to go after somebody, they should go after me."
"But for them to go after the U.N. ambassador, who had nothing to do with Benghazi and was simply making a presentation based on intelligence that she had received, and to besmirch her reputation, is outrageous," Obama said in a tone bordering on anger. "[W]hen they go after the U.N. ambassador, apparently because they think she's an easy target, then they've got a problem with me."
The president then said that he would nominate Rice as Secretary of State if he decides that she would be the best candidate for the job, potentially setting up a dramatic confirmation hearing.
Obama also answered a question on immigration reform, saying that "my expectation is that we get a bill introduced and we begin the process in Congress very soon after my inauguration." Noting that many Republicans had supported a comprehensive reform deal in the past, Obama speculated that the next immigration reform bill would look very similar to the Comprehensive Immigration Reform Act of 2007, which ultimately stalled in Congress.
When asked about climate change, a topic that rarely came up on the campaign trail, Obama responded that "I am a firm believer that climate change is real, that it is impacted by human behavior and carbon emissions," and that "I think we've got an obligation to future generations to do something about it." Despite this acknowledgement, however, Obama admitted that he didn't know what a bipartisan solution to the issue would look like, and suggested that jobs and economic growth are higher priorities for his administration.
The president also addressed the David Petraeus scandal — declining to comment on the ongoing investigation, aside from saying that there's no evidence that Petraeus jeopardized national security — and answered questions on foreign policy, where he reiterated his opposition to Bashar al-Assad's government in Syria and his desire to see a diplomatic end to Iran's nuclear program.
A full transcript of President Obama's press conference can be read here.
Photo credit: AP/Carolyn Kaster