Obama Unleashes Drilling Rigs While Fighting Global Warming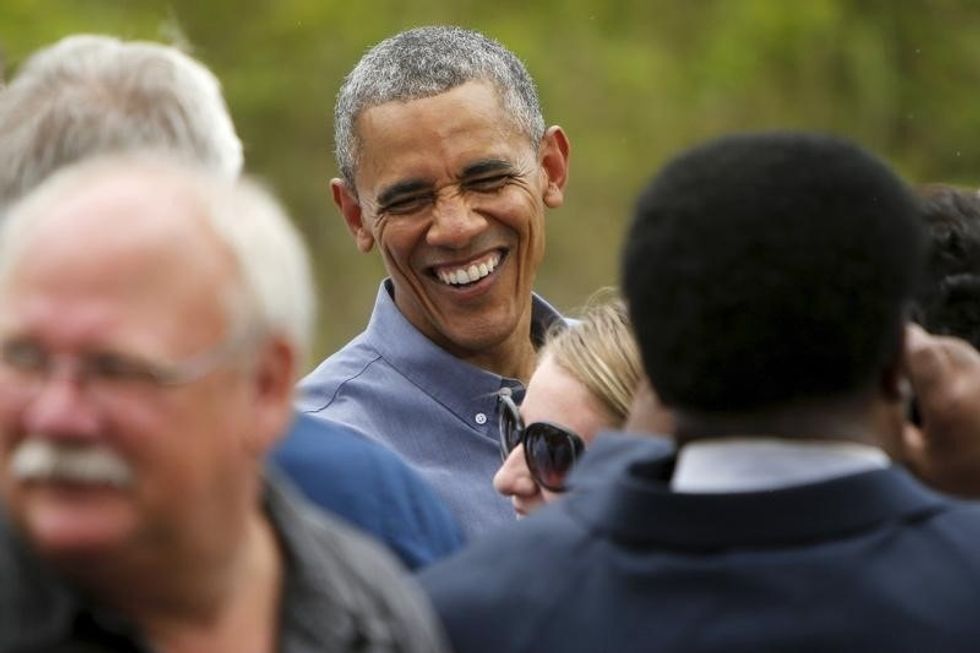 By Sean Cockerham, McClatchy Washington Bureau (TNS)
WASHINGTON — Is President Barack Obama trying to have it both ways?
Obama is playing the roles of both climate change warrior and driller-in-chief: At the same time he hails the campaign against climate change he announced last week, he's opening the Arctic and Atlantic oceans to drilling and is on track to lease massive amounts of coal in the West.
Renowned climate scientist James Hansen said he's planning to write an analysis of the president's global warming policies "probably entitled 'Delusions at 1600 Pennsylvania Avenue,' or something like that."
Hansen, who is NASA's former lead climate scientist and is now at Columbia University, co-authored a controversial study published last month raising the possibility that global warming could result in a 10-foot sea level rise in the next five decades and inundate coastal cities.
Former U.S. Secretary of the Interior Bruce Babbitt said in an interview that Obama's climate record is mixed.
"They are in fact subsidizing the production of coal on federal land and oil and gas. And that really is not good," said Babbitt, who served under President Bill Clinton.
He said Obama has "remarkable achievements" — including the Clean Power Plan announced last week to limit carbon emissions from power plants, vehicle fuel efficiency standards, and a climate agreement with China — that are focused on limiting demand for planet-warming fossil fuels.
But Babbitt sees a reluctance to address the supply of fossil fuels.
Obama calls his approach an "all-of-the-above" energy policy, including oil, natural gas, coal, and renewables. While Obama's industry critics complain he is waging a war on coal and pursuing a radical environmental agenda, the president is opening up new frontiers to drilling rigs.
Obama agreed to let Shell explore for oil this summer in the environmentally sensitive Arctic Ocean. The president also proposes a 2021 drilling lease sale off the coasts of North Carolina, South Carolina, Virginia, and Georgia, areas long closed to fossil fuel development.
The Bureau of Land Management also is proposing a plan for the Powder River Basin of Montana and Wyoming that would continue the federal coal leasing program and could result in 10 billion tons of coal being leased to mining companies over the next two decades.
David Konisky, an associate professor in the school of public and environmental affairs at Indiana University, said he sees the federal approach as more of a collection of individual agency decisions than a comprehensive Obama administration strategy guiding decisions on fossil fuels and climate.
"My sense is that there is not an overall road map here — with fossil fuel development on public lands, coal in the Powder River Basin, and oil in the Arctic, and then also trying to limit emissions from cars and trucks and power plants," Konisky said. "There's a bit of a dissonance going on."
Interior Secretary Sally Jewell touted increases in oil drilling as well as renewable energy development in a recent speech. She called it a balance of "managing our resources to help drive our nation's economy, without taking our eye off the America we want to hand our children."
Jewell also pledged reforms that include changes to the federal coal leasing program, in which "companies can make a winning bid for about a dollar a ton to mine taxpayer-owned coal."
Obama has disappointed his environmentalist allies in the past, though, and many of them are awaiting his decision on approving the Keystone XL pipeline before judging his climate legacy.
Bill McKibben, founder of the climate group 350.org, said "the president is finally taking credible action on the demand side of the equation, by beginning to reign in coal-fired power plants — that's good to see."
"But to meet the demands set by science, he has to be at least as strong on the supply side of the equation," argued McKibben, who teaches at Middlebury College. "The decisions to open the Arctic to drilling and lease more of the Powder River Basin for coal mining are historic tragedies in that regard."
Photo: U.S. President Barack Obama (R) greets guests after his remarks on climate change at Everglades National Park, Florida, April 22, 2015. REUTERS/Jonathan Ernst