Obama Urges Global Action On 'Growing' Climate Threat
@AFP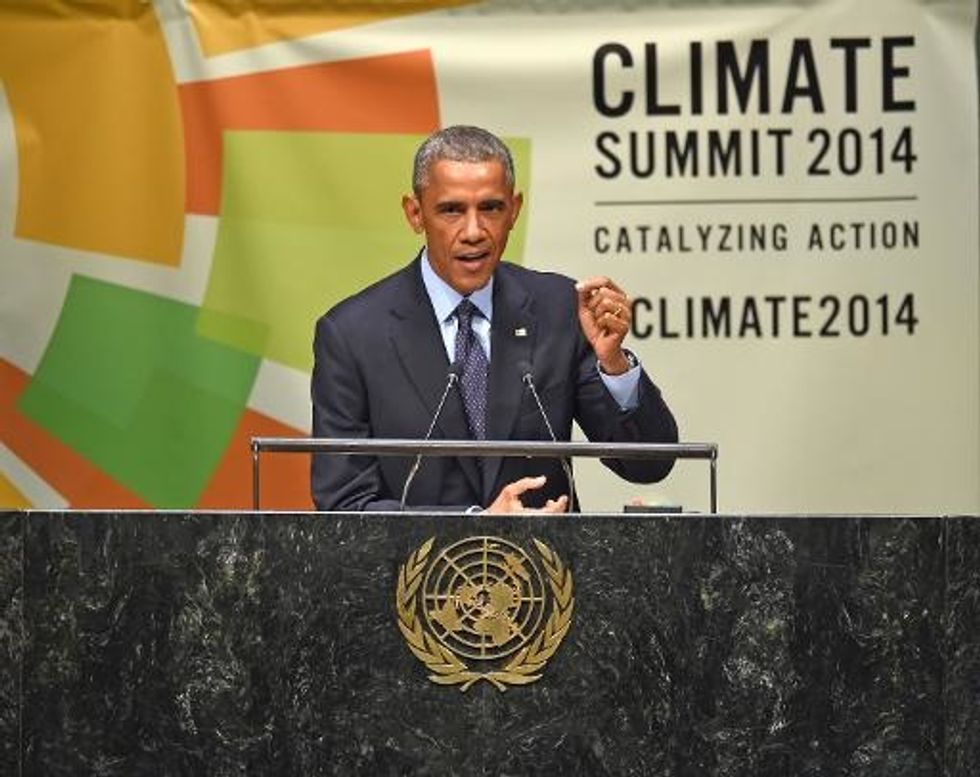 United Nations (United States) — U.S. President Barack Obama on Tuesday urged all nations including emerging economies to act against climate change, warning that time was running out to prevent further damage.
Obama, addressing a U.N. climate summit hours after ordering strikes on Syria, said that the "urgent and growing threat of climate change" would ultimately "define the contours of this century more dramatically than any other" issue.
"We know what we have to do to avoid irreparable harm. We have to cut carbon pollution in our own countries to prevent the worst effects of climate change," Obama said.
The world also has to "adapt to the impacts that unfortunately we can no longer avoid," he said.
Obama said that he met in New York with Vice Premier Zhang Gaoli of China, which has surpassed the United States as the world's top emitter of greenhouse gases blamed for climate change.
Obama said he "reiterated my belief that as the two largest economies and emitters in the world, we have a special responsibility to lead. It's what big nations have to do."
"Today I call on all countries to join us — not next year or the year after that but right now — because no nation can meet this global threat alone," he said.
Obama has put a priority on fighting climate change but has been forced to rely on executive measures as he faces strong opposition from lawmakers friendly to the fossil fuel industry.
Telling the United Nations that "there are interests that will be resistant to action," Obama insisted that developing nations must also fight climate change –a key criticism of his political opponents who say that the United States should not be put at an economic disadvantage.
"We can only succeed in combating climate change if we are joined in this effort by every nation, developed and developing alike. Nobody gets a pass," he said.
Obama also said that a future climate agreement — which a 2015 conference in Paris aims to seal – needed to be both "ambitious" and "flexible."
The Obama administration hopes to seal an agreement that does not need ratification from the U.S. Senate.
Developing countries have scoffed at taking binding action without firmer commitments from the United States, arguing that wealthy nations bear historic responsibility for climate change.
AFP Photo/Timothy A. Clary
Interested in more political and national news? Sign up for our daily email newsletter!