Obama Visits Silicon Valley For Fundraising Blitz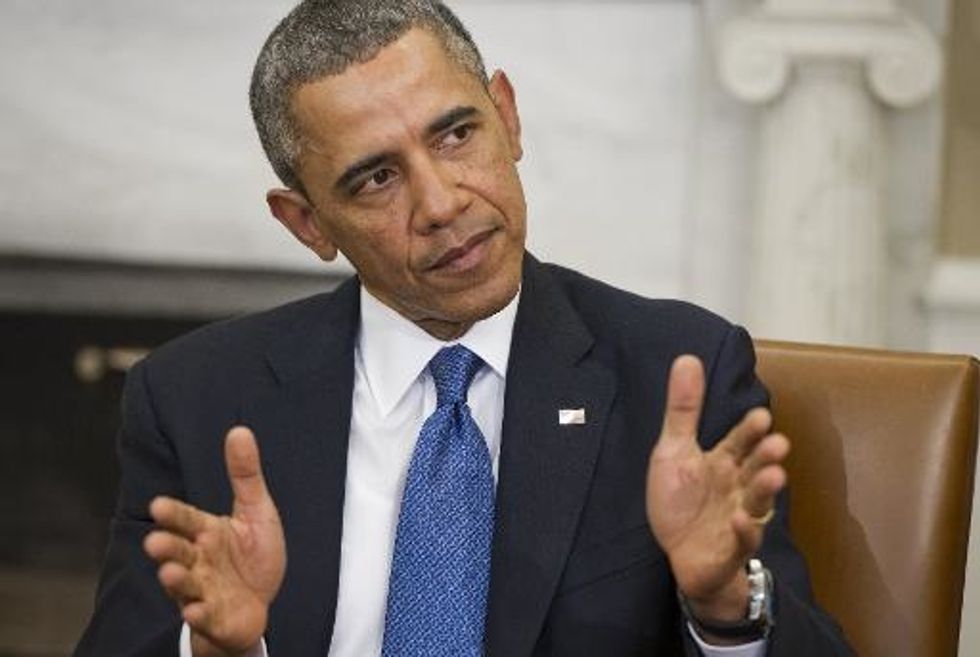 By Josh Richman, Nicholas St. Fleur and Bruce Newman, San Jose Mercury News
SAN JOSE, California — He had stood in rooms like this one in front of Democratic Party donors five times in the space of 24 hours. So when President Barack Obama concluded his California fundraising blitzkrieg at the San Jose Fairmont Hotel Thursday night, he looked squarely ahead to the coming midterm elections and declared, "The future is there for us to seize."
At that point, someone in the crowd began shouting something unintelligible about freedom, adding: "We love you!"
"You kind of screwed up my ending," said the president, who clearly had been about to close with a rousing, wallet-cleansing pitch for the assembled fat cats to spend terabytes of cash in the name of party unity.
The Fairmont event, hosted by Yahoo CEO Marissa Mayer and Y Combinator president Sam Altman, took place in a surprisingly small ballroom for a presidential fundraiser with no chairs for the 250 or so guests and no food. There was just a bar, featuring wine, beer and cognac, and for that the tab ranged from $1,000 to $32,400 a head.
After calling Democratic apathy during nonpresidential years a "disease" earlier in the day, Obama said members of his party have a "congenital defect" that causes them to stay home for midterms.
"But in this midterm, with the stakes as high as they are," he said, "we're going to have to make sure that we are coming out with the same urgency and the same enthusiasm that we typically show during presidential years."
In the street outside the hotel, a loose confederation of discontented Obama supporters from organized labor, environmental groups and Code Pink kept their money in their pockets, which in various cases consisted of the overalls of a faux oil worker protesting the XL pipeline and another pair who came dressed as polar bears.
The Code Pink folks showed up with their own drone.
"I definitely hope he listens," said Jean Stables, when she wasn't chanting at the president to stop the pipeline. "We voted for him and we'd like to get our voices heard just like the people inside the hotel paying the big bucks,"
The division between Silicon Valley's moneyed classes and the less well off who merely voted for Obama twice was evident from the moment Air Force One touched down at Moffett Field in Mountain View at 4:11 p.m. About half the people waiting to greet the president were in uniform, the other half in their Sunday best.
First POTUS notice went to 5-year-old Chesaweh Darch-Sharp, of Pinole, who was standing on his tiptoes at the front of the crowd, his striped shirt and blazer covered with dust from the cement barricade he was on the verge of knocking down to get the inaugural handshake.
Mission accomplished.
"It was really cool," Chesaweh said as his father beamed with pride.
"I was surprised that he was up there," Cameron Sharp said. "He pushed all the adults out of the way."
Air Force One looked right at home, parked not far from the airfield's legendary — and currently naked — Hangar One, the building's mammoth metal skeleton looming in the background like one of the ominous bots in a "Transformers" movie. The hangar's renovation is to be paid for by Google, which for several years has kept a fleet of planes at Moffett.
It's a measure of the search giant's power that after landing at Google's corporate airport, the president was immediately whisked by motorcade to the Los Altos estate that was once the home of Google co-founder Sergey Brin and wife Anne Wojcicki. The couple split up last summer and Wojcicki — who is CEO of her own company, 23andMe, which sold genetic testing kits until barred from doing so by the Food and Drug Administration — continues to live in the home.
While Wojcicki hosted an exclusive tech round table for 20 — at $32,400 per head, a total haul of $648,000 for the Democratic National Committee — reporters got a glimpse of how some of those 20 live. Even the occupant of the White House may have been dazzled by the beautiful groves of lemon and lime trees, surrounded by fantastical rolling grounds decorated with life-size florescent models of animals fashioned from wire — elephants, zebras, bulls, kangaroos and a big pig.
The White House declined to even identify the high-rollers who sat around Wojcicki's table with the president. But with issues like net neutrality, immigration and NSA data mining very much on the minds of the tech elite, it's likely Obama had his hands full addressing the concerns of Silicon Valley's one percenters.
The president probably had more fun getting his hands full of 10-month old Camila Kaaekuahiwi, whom he swept up into his arms after landing at Moffett Field. Obama appeared so overjoyed to be pressing the flesh of someone he didn't have to ask for money, he asked the little girl's aunt, Johanna Kane, if he could keep her.
"All I could think," Kane said later, "was 'Don't cry.'?"
Obama was scheduled to spend Thursday night at the Fairmont and then visit a Wal-Mart store in Mountain View on Friday morning to speak about the importance of energy efficiency — particularly public-private partnerships to reduce carbon emissions — before leaving the Bay Area.
AFP Photo/Saul Loeb
Want more analysis of the 2014 midterms? Sign up for our daily email newsletter!