Obama Welcomes Trudeau, Celebrates Thaw In U.S.-Canada Relations
@reuters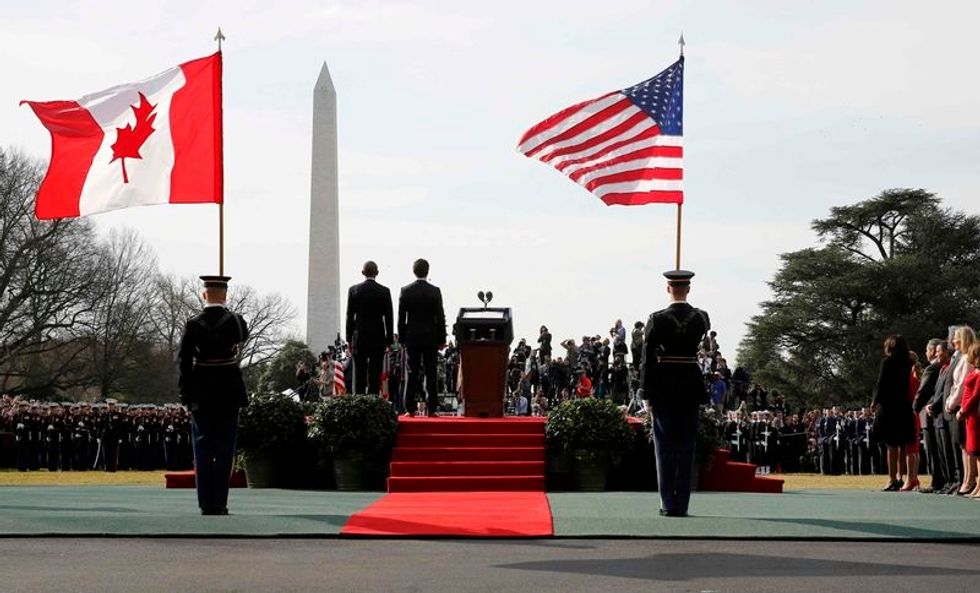 By David Ljunggren and Roberta Rampton
WASHINGTON (Reuters) – President Barack Obama offered a warm, red-carpet welcome for Canadian Prime Minister Justin Trudeau at the White House on Thursday, ending a frosty period in U.S.-Canada relations and celebrating their shared goals on climate and trade.
Obama has much in common with Trudeau, the progressive 44-year-old Liberal Party leader who took office in November. He replaced Conservative Stephen Harper, who had hectored the White House for years in a failed bid to push through U.S. approval for the Keystone XL oil pipeline.
"We haven't always conveyed how much we treasure our alliance and ties with our Canadian friends," Obama said in a welcoming ceremony in bright sunshine on the White House's South Lawn.
"We are two different countries but days like this remind us that we're like one big town," he said, praising Trudeau's election for bringing "a new energy and dynamism" to ties between the two nations.
Trudeau's official visit will be capped by a state dinner on Thursday, making him the first Canadian leader to be granted that honor since 1997.
"Our great countries have been friends a long time. We grew up together … and through it all, our enormous shared accomplishments speak for themselves," Trudeau said in reply.
Americans have been captivated by the photogenic Trudeau, 44, whose father, Pierre Trudeau, was prime minister from 1968 through 1979, and again from 1980 to 1984.
Also on the agenda for Oval Office talks are plans to expedite bilateral travel and trade, and shared areas of global concern ranging from Syria to Ukraine.
The leaders are slated to hold a news conference at 11:40 a.m. (1640 GMT) in the Rose Garden.
Later, they will toast each other at a lavish state dinner with the theme of "Anticipation of Spring," a feeling close to the hearts of Canadians, who endure long and harsh winters.
Trudeau, who is struggling at home with a soft economy and a weak Canadian dollar, campaigned on repairing strained ties.
But his visit may be overshadowed by the raucous race to succeed Obama in the Nov. 8 presidential election. Candidates on both the left and right have taken anti-free-trade positions.
Obama hopes to convince a reluctant U.S. Congress to ratify the sprawling Trans-Pacific Partnership trade pact before he leaves office in January. Canada is also wrestling with the merits of the TPP.
(Writing by Roberta Rampton; Editing by Peter Cooney and James Dalgleish)
Photo: U.S. President Barack Obama (2ndL) and Canadian Prime Minister Justin Trudeau stand together during an official arrival ceremony at the White House in Washington March 10, 2016.  REUTERS/Jonathan Ernst