Obama Won't Meet Netanyahu During Israeli Leader's March Visit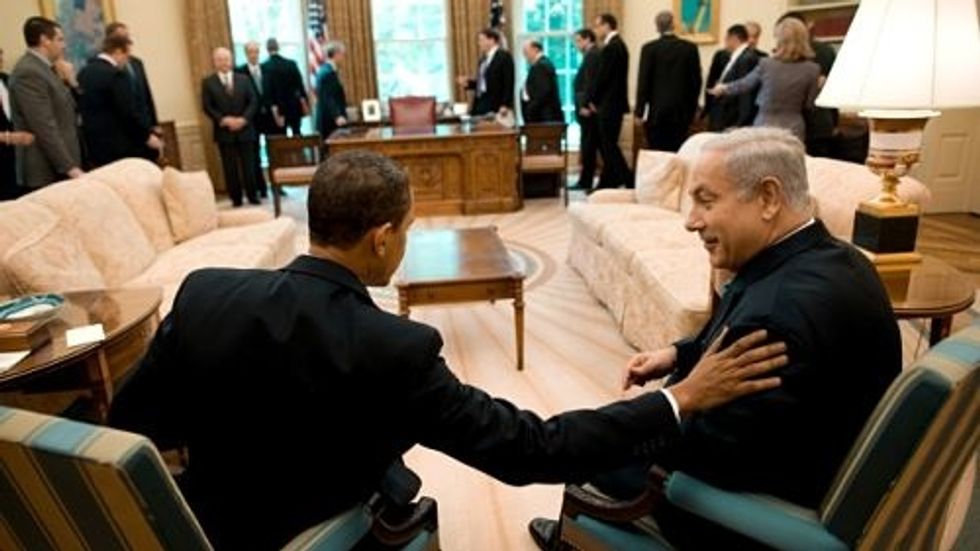 By Joe Sobczyk and Margaret Talev, Bloomberg News (TNS)
WASHINGTON — President Barack Obama and Prime Minister Benjamin Netanyahu won't meet when the Israeli leader is in Washington to address a pro-Israel group and speak to Congress because of the looming elections in Israel, the White House said.
Netanyahu plans to speak at the annual American Israeli Public Affairs Committee during the first week in March and will address Congress on March 3, the Israeli government said Thursday. Elections in Israel are set for March 17.
"As a matter of long-standing practice and principle, we do not see heads of state or candidates in close proximity to their elections, so as to avoid the appearance of influencing a democratic election in a foreign country," Bernadette Meehan, spokeswoman for the White House National Security Council, said in an e-mail.
Netanyahu's planned U.S. visit puts him in the middle of a roiling debate in Congress over imposing additional sanctions on Iran amid negotiations on the Islamic State's nuclear program.
A day after Obama warned Congress that passing legislation on new penalties risked scuttling the talks and raising the prospect of war, House Speaker John Boehner announced that he had invited Netanyahu to address Congress "on the grave threats radical Islam and Iran pose to our security and way of life."
Republicans, who control both houses of Congress, and some Democrats, are pressing to set new sanctions on Iran that would take effect if there is no deal on the Islamic Republic's nuclear program in talks with world powers by a June 30 deadline.
Boehner didn't consult with the White House on the invitation. Obama's spokesman, Josh Earnest, called it a departure from protocol in dealing with a foreign leader and a State Department spokeswoman called the episode "bizarre."
Photo: President Barack Obama meets with Israeli Prime Minister Benjamin Netanyahu in the Oval Office. (Pete Souza via Wikimedia Commons)