Obama's Role In Ferguson Is Complicated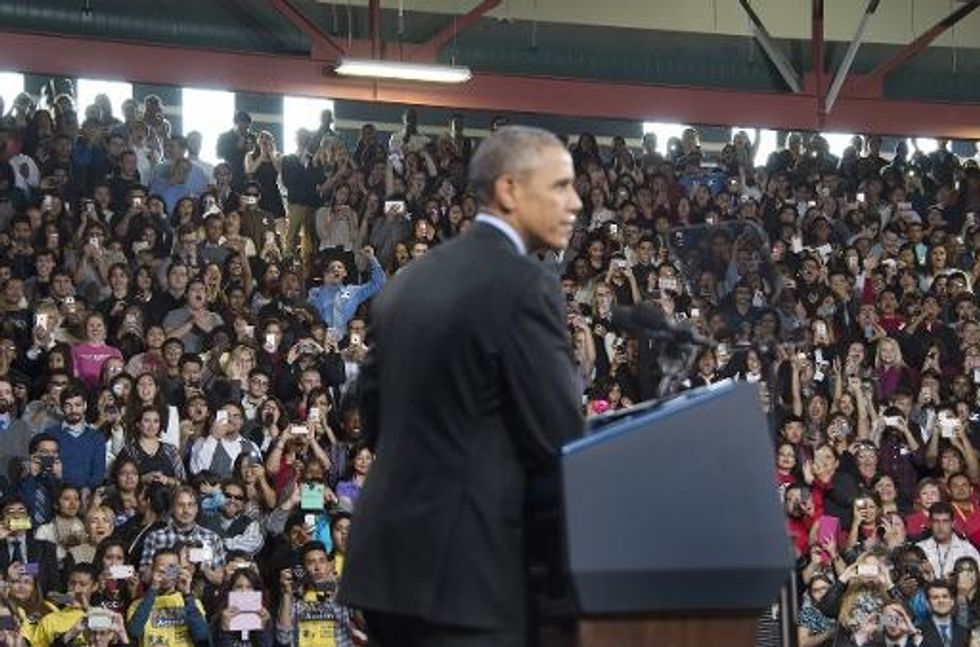 By Chuck Raasch, St. Louis Post-Dispatch (TNS)
WASHINGTON — The morning after the St. Louis County grand jury decided to not indict Ferguson police Officer Darren Wilson, reporters traveling on Air Force One with President Barack Obama to a Chicago speech on immigration had a question they came back to repeatedly in ensuing days:
Would the president go to Ferguson?
That possibility was "under consideration," deputy press secretary Eric Schultz said, and it would be re-evaluated "when things calm down a little bit."
As in all things Ferguson-related, the definition of "calm down a little bit" is subjective and evolving. So far, that presidential visit has not come, but White House press secretary Josh Earnest continues to say it's a possibility.
But the questions about where and when Obama should weigh in, and what he should say about race and policing, persist. As the first African-American president, Obama confronts expectations that are different from any previous president.
The nation's focus now has turned to New York City, where a grand jury on Wednesday did not indict a police officer in the death of Eric Garner, prompting new protests and fresh questions about how Obama should react.
As has been his practice since the Aug. 9 shooting death of Michael Brown in Ferguson by Wilson, Obama has sought to nationalize the conversation, portraying both deaths as symptomatic of larger problems of race and power. He has avoided personalizing the controversies to his own experience, as he did in the Trayvon Martin shooting. He has tried to thread a needle between being proactive while not appearing to influence ongoing Justice Department civil rights probes of the Brown and Garner deaths.
But some keep urging a Ferguson trip. A week after the grand jury decision in the Wilson case, the Rev. Jesse Jackson called Ferguson a "tipping point" and urged Obama to go to Ferguson to "define the crisis and the remedy of what happened in the (grand jury) report," according to Oregon Public Broadcasting.
What could Obama say that would make a difference, and would saying it in Ferguson or New York make any difference, symbolically?
As a man whose 2008 hope and change campaign was built on the potential of becoming the nation's first black president, Obama is often looked to for reassurance in poor and minority communities that are "outside the circle of opportunity," said Donna Brazile, a political strategist and commentator with ties to top White House officials.
"If there was anyone else in the Oval Office, this responsibility would have been outsourced," she said of the discussions around Ferguson. "In many ways, he's unique. But in some ways, that could be a drawback to what's happening in Ferguson and other communities that lie outside the circle of opportunity."
Brazile said she advised the White House that going to Ferguson would be a no-win situation given the open Justice Department investigation.
"If it looks like the president will place his thumb on the scale," she said, "the investigation is completely tainted."
Sen. Roy Blunt (R-MO) said a Ferguson trip has not come up in conversations he has had with Obama. Blunt said he is not sure an Obama visit would be "particularly helpful."
But Sen. Claire McCaskill (D-MO) said she talked several times with Obama since the crisis began and that she thinks he may visit Ferguson after Justice Department probes are finished, to use it as a platform to push reforms, from encouraging more African-Americans to run for political office to toughening racial profiling laws.
"One of the things that has weighed heavily in his decision is there is a lot of stress on law enforcement when the president visits," she said. "There are a lot of resources that must be brought to bear to ensure his security, and I think he is very sensitive to the fact that this has been a very stressful time in terms of the amount of resources that have been used in law enforcement" since the shooting.
Carol Swain, a professor of political science and professor of law at Vanderbilt University Law School in Nashville, Tenn., said the facts of the Ferguson shooting, as revealed in the grand jury report, might affect Obama's willingness to come.
The report undermines the narrative by Brown supporters that the shooting was of an unarmed black man trying to surrender, Swain said. That should keep Obama at a rhetorical and physical distance, said Swain, who has written extensively on politics and race.
"I think it would be inappropriate for him, in his role as president, to interject himself into what should really be a state or local issue," Swain said. "And given the circumstances that have come to light (in the grand jury report) this would be the wrong case to expend your political capital on."
Brazile said too many people expect Obama to fix problems with a speech when the solutions lie in the "people and corporations and nonprofits and everything else" in local communities.
People clamoring for a Ferguson presidential trip, Brazile said, "forget the fact that they have a mayor, forget the fact that they have a governor."
Obama has, both overtly and subtly, tried to drive home that point in his post-Ferguson rhetoric.
"What we need is a sustained conversation in which … people are talking about this honestly and then can move forward in a constructive fashion," he said after a White House meeting with faith, civil rights and law enforcement leaders.
Ferguson, he said, "laid bare a problem that is not unique to St. Louis or that area, and is not unique to our time, and that is a simmering distrust that exists between too many police departments and too many communities of color."
The White House has tried to turn attention to policy, announcing $75 million in matching funds for local police departments that want to buy body cameras, part of a $263 million proposal to bolster training and other aid to local police departments.
It was illustrative of how differently Obama has responded to Ferguson versus previous racially infused moments.
In 2009, just six months into the job, he called a "beer summit" in the White House after jumping into a local arrest of Harvard scholar, author and documentary filmmaker Henry Louis Gates by a Cambridge, Mass., police officer. No charge was filed in that case, which touched off a national conversation on racial profiling.
Obama had said Cambridge police "acted stupidly" while acknowledging he didn't have all the facts. He subsequently sat with Vice President Joe Biden, Gates and Cambridge Sgt. James Crowley for a beer and 40-minute conversation on the White House's South Lawn, producing an image of reconciliation early in the president's first term.
Gates and Crowley became friends. Crowley, who was later decorated as one of Cambridge's top cops, gave Gates the handcuffs he used in the arrest.
Last year, after a jury acquitted neighborhood watch member George Zimmerman in the Florida shooting death of teenager Trayvon Martin, Obama again stirred a national debate when he declared that "Trayvon Martin could have been me 35 years ago."
Post-Ferguson, Obama appears to be highly cognizant of the power of his words in these moments.
"He has weighed in, inappropriately, on other cases, just using a gut reaction," Swain said, referring to the Gates arrest. "The fact that he is exercising a little more caution shows that there is a learning curve here, and to me that is a positive for our nation."
But at some points, she said, Obama has appeared to want it both ways, pointing out that in the White House meeting last week, Obama was seated across the table from the polarizing Rev. Al Sharpton, who has appeared frequently in Ferguson.
"That is like a wink-wink to the radical left," Swain said, "but it doesn't help him with the rest of the world."
Regardless, Swain said, the issues exposed by Ferguson are bigger than Obama.
"I don't think the president can fix the problems," she said. "I don't think the Congress can fix the problems. The problems have to be fixed in the community."
AFP Photo/Jim Watson