Obama's Rose Garden In Late Bloom At Last
@JamieStiehm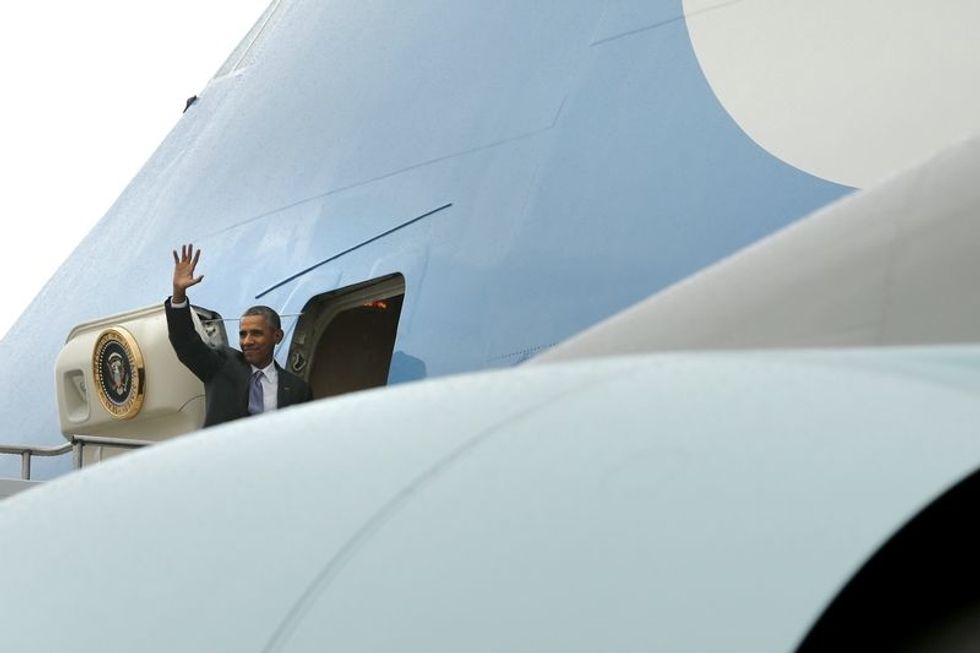 WASHINGTON — President Obama's 54th birthday came at the perfect time, early August (the 4th day of the 8th month), a stretch of lazy summer left. Many are glad he found his voice, speaking his mind at last. How did it begin? Obamacare and gay marriage upheld by the Supreme Court in June, for starters.
His presidency has never been in better form. When historians finish writing their weighty volumes, they will agree the summer of 2015 wrought a clear culmination for a president who once was lost, but now is found, finding "amazing grace."
Singing the opening lines of the old spiritual moved a grieving nation on the day Charleston, South Carolina, laid to rest Clementa Pinckney, a preacher and state senator slain in a race-based murder in his own church. Shades of Thomas Becket. With no more races to run, perhaps the first black president felt unshackled.
Even Obama knows he was lost in the weeds for a few fallow years after he lost the House in 2010. To make matters worse for him, the Democratic Senate was whacked in 2014. A dispirited president tried too hard to make friends with the other side, counting on his charm. Obama was sweet to his enemies (read: House Speaker John Boehner) and cool to his friends (read: Democratic Senate Leader Harry Reid.) Lawmakers who worked hard for him were hurt at the distance Obama put between the Capitol and 1600 Pennsylvania Ave.
His birthday is perfect timing, too, for the Kennedy Rose Garden. It's in high bloom outside the Oval Office. President John F. Kennedy imagined it in 1961, the year Obama was born.
First Lady Jacqueline Kennedy wrote that her husband's "happiest hours" as president were spent there. She wryly added that garden designer Bunny Mellon once cut the cables to the Strategic Air Command.
Everything's coming up roses for Obama right now — right now — as thorny Republican Senate and House leaders smolder, fret and plot during the August recess — sorry, "work period." Let them.
Obama feels as unbound as Prometheus. You can see it in his step and hear it in his voice as he stops to smell the roses. I don't mean his streak of arrogance; I mean confidence.
I've written that Obama is a Harvard snob. That he should work warmly with congressional Democrats. That he was saved by Senator McCain (R-AZ) in an odd way. McCain blocked his first pick, Susan Rice, from becoming secretary of state. Obama wisely asked Senator John Kerry to step up in 2013. Serendipity played a part. Kerry gave him the key to the kingdom by giving him the keynote speech at the 2004 Democratic National Convention.
That's how Obama, an obscure state legislator running for Senate, made his name overnight. Abraham Lincoln did much the same, in New York, with one soaring speech.
Reaching the Iran nuclear deal and opening diplomatic relations with Cuba equals two coups in a row on foreign policy. We are lucky Kerry works for us. Next, Obama needs Congress not to override the Iran agreement. The president just went on the offensive, declaring the deal is a turning point away from war, or "a mindset characterized by a preference for military action over diplomacy." Take that, George W. Bush, Dick Cheney and pundits too numerous to name — who cheered the tragic Iraq War.
Is this new phase passing? Likely not. Obama has mastered how to govern with houses in Congress in opposition. It suits his "mindset" better. He's not the usual team player, gregarious at heart. When all's said and done, Barack likes his own company. Few who went to Columbia University when he did can place him. He doesn't like to listen to other people's speeches. He's not keen on strategy meetings.
President Kennedy gathered his men round in a crisis — there were a few on his short watch. The 1962 Cuban Missile Crisis revealed a cerebral man listening to all views, skeptical of the military. He consulted closely with his brother Robert, the attorney general, but JFK was cool to the core (in both senses.) Just like Obama.
And where did Obama go for his birthday treat? Rose's Luxury, of course.
To find out more about Jamie Stiehm and read features by other Creators writers and cartoonists, visit Creators.com
Photo: U.S. President Barack Obama boards Air Force One to depart Addis Ababa, Ethiopia July 28, 2015. REUTERS/Jonathan Ernst