Oil Driller In Everglades Forced Out Of Florida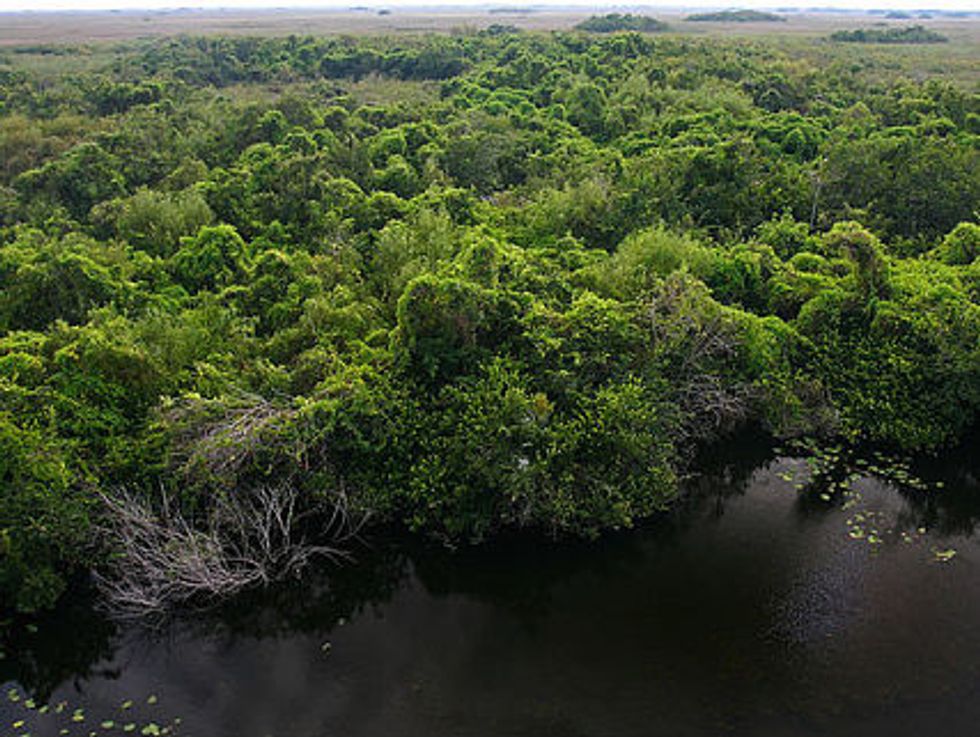 By William E. Gibson, Sun Sentinel
FORT LAUDERDALE, Fla. — State officials have driven a Texas wildcatter out of Florida, signaling tougher restrictions on oil drilling in the Everglades.
Prodded by environmentalists and community activists, the state yanked all drilling permits held by the Dan A. Hughes Co. seven months after it was caught using fracking-like methods to blast open rock near underground aquifers.
The company's banishment was a victory for protesters across the state trying to quell an intense search for oil near wildlife refuges and water supplies. It also indicates an increasingly tough stance by the state's Department of Environmental Protection, apparently in response to public pressure and criticism that it lacks the willingness and enforcement power to rein in new methods of drilling. At the least, the Hughes episode indicates strong resistance in Florida to fracking-like methods — high-pressure injections of water and chemicals to extract oil deposits.
"Fracking in Florida is dead," said Eric Draper, executive director of Audubon Florida. "It's a toxic issue now. There's nothing like a company making a mess of things to help educate the public about how you can't trust these drilling technologies."
While celebrating their success, drilling opponents now are taking aim at plans by other companies to conduct seismic tests and explore energy supplies under hundreds of thousands of acres in southwest Florida. Opponents also hope to block offshore energy exploration along Florida's east coast.
The Obama administration this month opened the way to offshore seismic testing from Delaware to Florida. Federal officials said they will consider applications from companies that want to send ships along the coast to blast sound waves underwater to help identify deposits of oil and natural gas.
"We would hate to see that part of the ocean opened for oil drilling," Draper said. "Tests lead to leases, and leases lead to wells. The BP spill (in the Gulf of Mexico in 2010) taught us that where you have wells, you have spills. And where you have spills, you have destruction of the economy and environment."
The rush to drill near the Everglades and to test along the East Coast show ongoing pressure to boost energy supplies and make Americans less dependent on unstable foreign sources, such as Venezuela and Iraq. Proponents see exciting prospects for bringing in jobs, tax revenue and royalties to Florida.
The seismic testing "will give naysayers exactly what they say they want by identifying places where we are not going to go, if the science tells us the oil's not there," said David Mica, executive director of the Florida Petroleum Council, an industry group in Tallahassee that lobbies for expanded drilling. "The reality is that by doing this kind of science, we may be reducing our footprint. But we are hoping that it just blows up and shows lots and lots of potential (deposits)."
Mica doubted that the Hughes Co.'s retreat will chill the rush for black gold in Florida. He called it an exceptional case that shows the need for energy companies to engage communities near well sites and to communicate effectively with state regulators.
Hughes is one of several smaller, independent out-of-state energy companies — often called wildcatters — bent on using horizontal drilling methods to tap a band of deposits near and under the Big Cypress National Preserve in the western Everglades. At one production well near Naples, the company got caught around New Year's Day using high-pressure injections of acid and water to blast open limestone, a practice critics call fracking.
The Department of Environmental Protection stopped the acidic fracturing but allowed the company to continue pumping oil. Four months later, the state agency fined Hughes $25,000 as part of a settlement, known as a consent order. Community activists and Collier County commissioners, already wary of expanded drilling near neighborhoods and refuges, challenged the order, saying it did not go far enough. And opponents began rounding up support statewide for new regulations to ban fracking.
On July 18, the agency revoked all permits held by Hughes and filed a lawsuit seeking more than $100,000 in penalties. DEP Secretary Herschel T. Vinyard Jr. accused the company of alarming the community and said "revocation of their permits is the only option that offers the assurance that Hughes will not cause damage to our treasured natural resources."
Stunned by the agency's escalating complaints, the Hughes Co. pulled out of Florida, saying it would shift its resources to projects in other states. Spokesman David Blackmon said the company had cooperated with the agency and that the turnabout came suddenly despite "constant and open dialogue."
Drilling opponents expect the state agency to scrutinize future permit requests more carefully, especially any plans akin to fracking. But they are pushing state leaders to go much further by banning fracking in Florida, limiting drilling in the Everglades and imposing new regulations on the industry.
"This new oil drilling now is on everyone's radar," said Karen Dwyer, a community activist in Naples who led the opposition.
"I hope that what happened down here will give people on the East Coast hope and motivation to stop the offshore drilling that Obama opened up," she said. "We've still got a lot of work to do."
Photo: rickz via Flickr