Oklahoma Prisons Chief Releases Timeline Of Botched Execution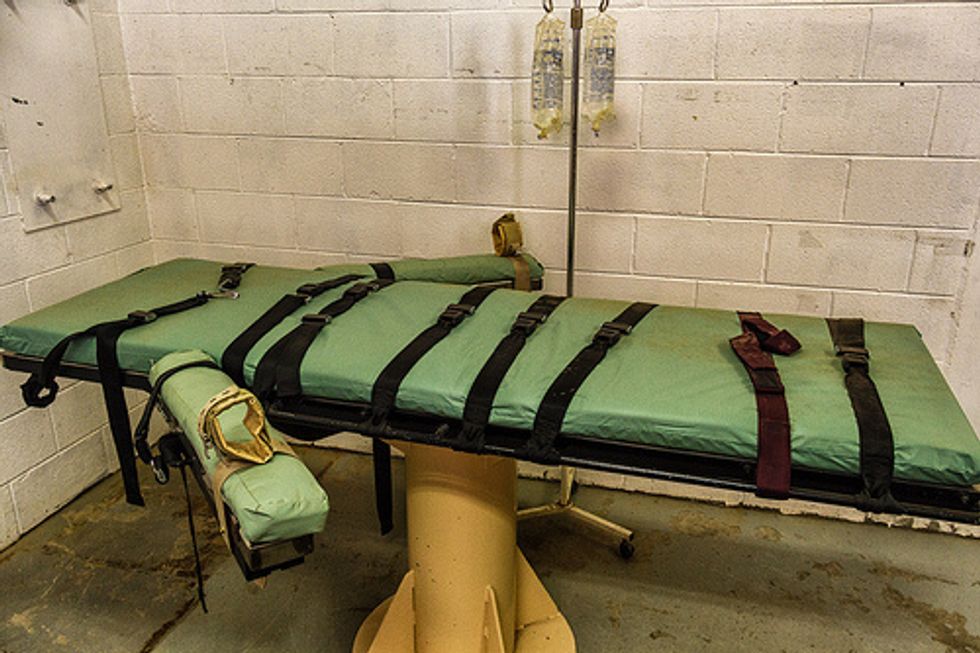 By Matt Pearce, Los Angeles Times
After a botched execution this week brought national condemnation, the head of Oklahoma's prisons called Thursday for a suspension of all executions in the state until its capital punishment policies could be reviewed.
Department of Corrections Director Robert Patton also revealed that inmate Clayton Lockett, whose death occurred over 43 troubled minutes Tuesday evening, had been defiant in his final hours. On the morning of his execution, he refused to submit to a routine X-ray until he was shot with an electric stun gun, and he was found to have apparently cut himself in his right arm.
Lockett also refused to see his attorneys and refused to eat, Patton reported in a timeline of his final hours, prepared for Republican Gov. Mary Fallin.
Lockett was restrained on the execution table at 5:22 p.m., but it would take almost an hour for a phlebotomist to examine his body to find an appropriate vein for the experimental mixture of three drugs that officials planned to pump into his body.
According to the report, the phlebotomist settled on a vein in Lockett's groin area, which was then covered with a sheet.
A dose of midazolam at 6:23 p.m. took 10 minutes to put Lockett to sleep. Officials then injected him with vecuronium bromide and potassium chloride, according to the report.
According to witnesses, Lockett woke up and began clenching his teeth and thrashing. Executioners blocked the witnesses' view with curtains at 6:42 p.m.
According to Patton's report, "The doctor checked the IV and reported the blood vein had collapsed, and the drugs had either absorbed into the tissue, leaked out, or both."
The doctor reported that there were not enough lethal drugs left to kill Lockett, who was by then unconscious again with a faint heartbeat.
At 6:56 p.m., Patton called off the execution. By 7:06 p.m., Lockett was dead of an apparent heart attack.
What happened in those 10 minutes after the execution was called off and before Lockett died is unclear and is now the subject of criticism by defense attorneys.
"It's unclear if they were trying to revive him or give him more drugs to kill him," said Madeline Cohen, the attorney for another inmate, Charles Warner, who had been scheduled to die the same night but whose execution has been put off pending an investigation into Lockett's death. "It just looks like a scene of complete incompetence."
Patton in his report called for a revision of policies that put decision-making burdens on prison wardens rather than on senior prison officials.
Patton also asked for an investigation out by someone other than the department's own investigators, saying, "I believe the report will be perceived as more credible if conducted by an external entity."
Fallin, who had strongly supported the execution, on Wednesday ordered an independent investigation into Lockett's death but named one of her own political appointees, Department of Public Safety Commissioner Michael Thompson, to lead the inquiry.
Patton himself is an appointee of the state's prison board, which is predominantly made up of Fallin appointees.
Fallin spokesman Alex Weintz said Thursday that the prison chief's request for an "external" review referred to an inquiry outside his own department; Patton supports the governor's selection of her public safety commissioner to handle the investigation, he said.
Cohen, the attorney for death row inmate Warren, said independence was necessary to ensure that the full details surrounding Lockett's execution came to light — including questions of whether the IV was administered correctly, why the curtain shielding the execution from witnesses was drawn, and whether officials tried to save Lockett's life after calling off the execution.
"An investigation being run by the governor's Cabinet member is simply not independent," Cohen said.
Photo: Ken Piorkowski via Flickr