On D-Day, Military Service Was More 'Inclusive'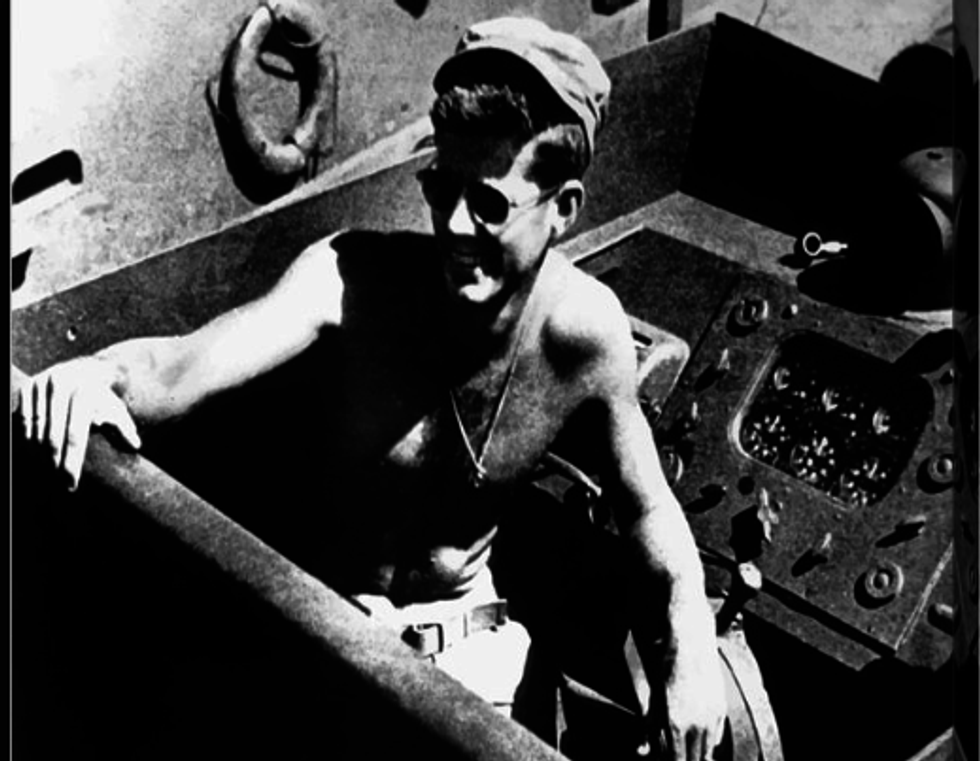 Beneath the perfectly manicured lawns and under the pines and elm trees at the Normandy cemetery lie 9,388 Americans who died during D-Day or in the liberation of France that followed. Among them is a most unlikely combatant, a 56-year-old Army officer who was a wounded veteran of World War I also suffering from a heart condition and arthritis. With his cane, he was the only general in the first wave under heavy Nazi fire on the beach that day. His name was Theodore Roosevelt Jr., the son of the Republican president. One month later, he would die of a heart attack.
In my home state of Massachusetts, both U.S. senators were Republicans. Henry Cabot Lodge became the first senator since the Civil War to resign to go into military service, as a tank commander fighting in North Africa. Sen. Leverett Saltonstall's son Peter left Harvard to become a Marine sergeant and was killed in the battle of Guam.
This was a time when the children of privilege and power served and sacrificed: 18-year-old Stephen Hopkins — whose father lived in the White House, where he was the president's closest adviser — joined the Marine Corps and was killed in the Pacific. Joseph P. Kennedy Jr., the son of President Franklin Roosevelt's ambassador to England, died flying a dangerous mission in Europe. FDR had four sons: Elliott became an Army Air Corps pilot and flew 130 combat missions; Jimmy joined the Marines and, in combat against the Japanese, earned both the Navy Cross and a Silver Star. Navy Lt. John Roosevelt earned a Bronze Star while Lt. Commander Franklin Roosevelt, Jr. won the Silver Star for bravery under heavy enemy fire. One sickly young man used his father's influence to pull strings so that the Navy would permit him go into combat and captain a PT boat in the Pacific. Sixteen years later, he would be President John F. Kennedy.
Americans once did believe that "war demands equality of sacrifice." We had accepted our first income tax to pay for the Civil War and enacted a permanent income tax on the eve of World War I. After Pearl Harbor, Americans accepted the rationing of sugar, butter, meat, alcohol, gasoline, cigarettes. Civilians in their neighborhoods planted 20 million "victory gardens" which collectively provided 40 percent of the nation's vegetables. One out of 4 American men wore his country's military uniform. In the 1950s, 3 out of 4 male high school graduates and 3 out of 4 male college graduates served in the military.
That had, sadly, changed by Vietnam. Prominent sons of influence so often used their family's contacts to avoid military service. The all-volunteer military, ending the draft, all but guaranteed that America's upper classes would be spared the burden of defending their country. As eminent historian David Kennedy pointed out, among American males ages 18 to 24, some 36 percent had some college, while in the same age group in the military's enlisted ranks, fewer than three percent had ever been in college.
Without the real prospect that their sons might go to war, American families lost immediate personal interest in U.S. foreign engagements. Americans have now been fighting in Afghanistan for 18 years, which is longer than the Civil War, World War I, World War II and the Korean War combined. But instead of tax increases to pay for our wars, we have lobbied for and welcomed three different tax cuts at a cost to the nation of $5 trillion in accumulating debt.
That's tragically what you get when the "we" generation is replaced by a succession of "me" generations
To find out more about Mark Shields and read his past columns, visit the Creators Syndicate webpage at www.creators.com.
IMAGE: Acrylic screen print of John F. Kennedy in PT-109, the Navy patrol craft he helmed in World War II.