On Immigration, Trump Takes A Page From Pete Wilson's 1994 Playbook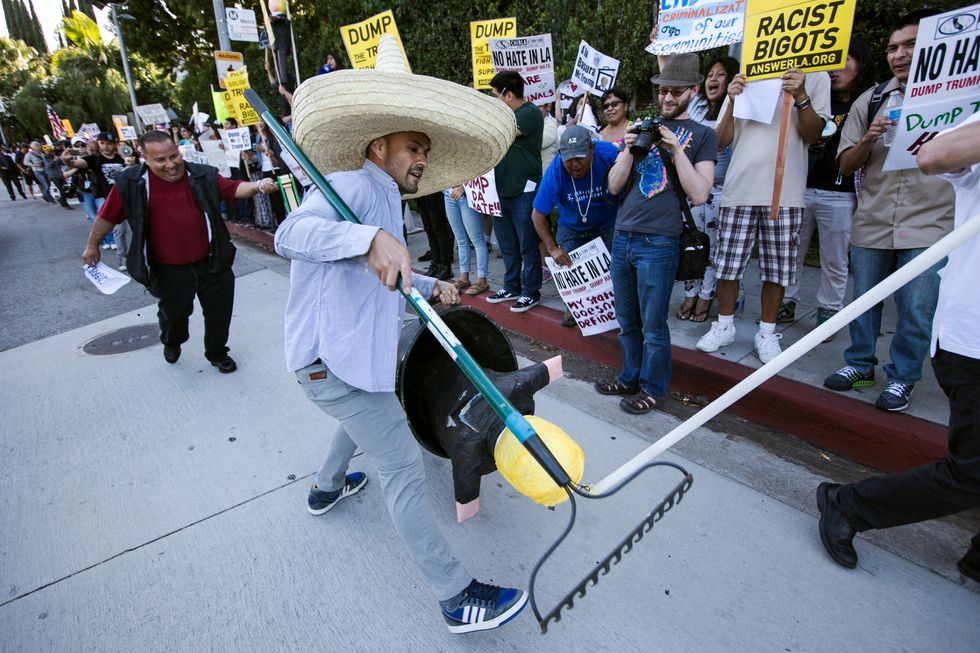 By Michael Finnegan, Los Angeles Times (TNS)
LOS ANGELES — More than two decades have passed since Republican Gov. Pete Wilson aired a television ad showing Mexicans scurrying across the border as an announcer declared, "They keep coming: 2 million illegal immigrants in California."
Wilson's short-term gain — he won both re-election and passage of a ballot measure to deny public services to immigrants in the country illegally — was soon outweighed by a devastating Latino backlash that turned California into a Democratic stronghold.
So there was a flashback quality to Republican presidential candidate Donald Trump's hourlong denunciation of illegal immigration at a campaign stop Friday in Beverly Hills.
The New York real estate mogul accused Mexico's leaders of "ripping off the United States" in lopsided trade deals and professed grudging admiration for their "cunning" ways.
"The fact that they're sending criminals and prisoners into our country, and that our people are stupid enough to put them in jails, or let them roam the street, which is even worse, I have to respect them for it," Trump said.
He appeared with a group of people who have lost family members in crimes or traffic accidents involving immigrants in the country illegally. "The illegals come in, and the illegals kill their children," Trump said.
It was jarring rhetoric in a state where politicians for years have avoided striking such a harsh tone on immigration, a touchstone issue not just for the growing ranks of Latino voters, but also Asian-Americans.
Even Republican Tim Donnelly, a former state lawmaker who once led Minuteman border patrols to curb illegal crossings, avoided hard-line rhetoric on immigration last year in his unsuccessful run for governor.
Trump's approach also runs counter to California Republicans' turnaround plan, which entails running more Latino, Asian and female candidates to rid the party of its image as a domain of white men with conservative stands on immigration, abortion and other social issues. In Orange County, Republicans won hotly contested state legislative races last year in districts where its candidates were Vietnamese-American and Korean-American.
Trump, who campaigned Saturday in Arizona with Maricopa County Sheriff Joe Arpaio, whose aggressive tactics against illegal immigration have stirred national controversy, has rebuffed a request by Republican Party Chairman Reince Priebus that he "tone it down."
"I've been worried about his remarks and their affect on the Republican brand," said Ruben Barrales, the president of Grow Elect, a group that seeks to elect Latino Republicans in California. "But the more it continues, I think the more you're going to see Republicans step up and separate themselves from him."
Art Torres, a former California Democratic Party chairman, said Trump "can do lasting damage" to Republicans, particularly in such states as Nevada and Colorado, swing states where the 2016 GOP presidential nominee will need to cultivate Latinos.
Through two decades of relentless election defeats, Torres added, Republicans in the state have learned the hard way that rhetoric like Trump's appeals essentially to "fringe" conservatives in states that have large Latino populations.
"A lot of it is just that — fringe rhetoric," he said.
Mindy Romero, an expert on voting trends who heads the California Civic Engagement Project at the University of California, Davis, said Republicans in California "should be very concerned" about Trump's potential to block any party rebound by stirring up reminders of Proposition 187. The 1994 ballot measure would have denied education and other public services to immigrants in the country illegally, but was overturned in court.
"Here in California, when he talks this way, he just ignites a fire," Romero said. "People are going to react in a very visceral, emotional way."
Wayne Johnson, a Republican campaign consultant in Sacramento, said Trump appeared to be trying to consolidate a support base in a crowded primary field and keep his poll ratings high enough to ensure a spot in presidential debates.
"I think right now, it's not about the Republican Party," he said. "It's about Trump."
But if Trump keeps at it, Johnson said, "it could become about the Republican Party."
Photo: Supporters from The Coalition for Humane Immigrant Rights of Los Angeles cheer as a protester does a mock sweep up of trash with a life-like pinata of Donald Trump inside a trash can outside the Luxe Sunset Boulevard Hotel on July 10, 2015 in Los Angeles. (Marcus Yam/Los Angeles Times/TNS)