On My Knees In Ohio, Prayin' For An Echo Chamber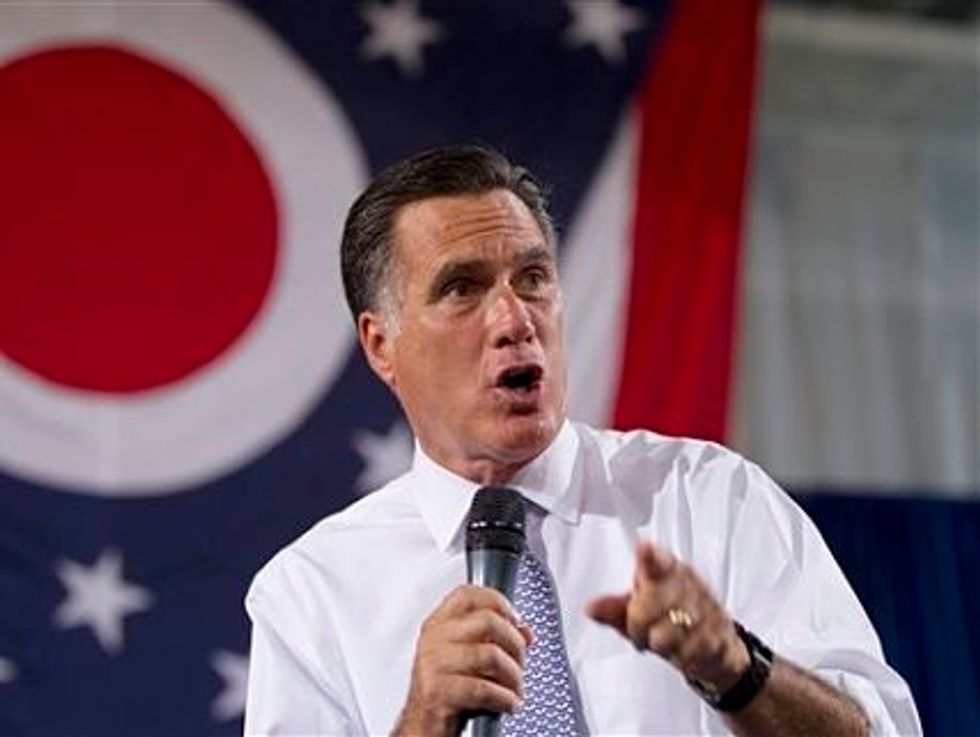 Most of the time, an echo chamber is something you want to avoid.
Take the last holy-moly heehaw that ricocheted around the country last weekend. Privileged, white-male Mitt Romney picked privileged, white-male Paul Ryan to be his vice president. Immediately, gaggles of white-male pundits declared this a bold game-changer of a choice.
What a hoot.
Still, once in a while, you find yourself hoping a groundswell of opinion turns into an echo chamber for change. This is currently true for those of us who care about democracy and live in the battleground state of Ohio, where Republicans have taken a rare break from their relentless quest to lasso women back to the '50s so they can limit the future voting rights of people who aren't like them.
People who aren't Republicans, I mean.
If you're wondering why you should care about voting rights in the Buckeye State, let me echo an oft-cited fact of presidential politics: No Republican has won the White House without winning Ohio.
Our electoral star power annoys those of you living just about everywhere else, I know. Take heart. A lot of us here in Ohio envy your television airwaves right now. I haven't seen a commercial with that cute Old Spice guy since last September.
The New Republic's Timothy Noah lays out a broad range of obstacles concocted by Republicans to thwart Democratic voters.
He quotes Mike Turzai, Republican majority leader of the Pennsylvania House, who said this: "Voter ID, which is going to allow Gov. Romney to win the state of Pennsylvania, done."
And there is this: "Former Florida GOP Chairman Jim Greer (currently under indictment for stealing party funds) stated in a deposition … that a 2009 party meeting included discussion of 'voter suppression and keeping blacks from voting.'"
And this: "In December, Paul Schurick, a top aide to former Maryland Governor Bob Ehrlich, was convicted of election fraud for using automated phone calls to suppress the African American vote during Ehrlich's unsuccessful 2010 bid. 'The first and most desired outcome is voter suppression,' stated one consultant's memo entered into evidence. It described a 'Schurick Doctrine' to 'promote confusion, emotionalism and frustration among African American Democrats.'"
Noah goes on to describe Republican efforts in Ohio to shorten the hours for early voting.
I'll take it from here.
Every county board of elections in Ohio is composed of two Democrats and two Republicans. Democrats in virtually all of the 88 counties want as many voters as possible to participate, so they're for extending early voting hours. Unfortunately, most Republican board members seem to favor extending the hours only in counties that historically go for Republicans.
When there's a tie on a board, Republican Secretary of State Jon Husted casts the deciding vote. I don't need to tell you how that's been working out.
And so it was that in Hamilton County, early voting in the city of Cincinnati would end at 5 p.m. on weekdays and evaporate on weekends. However, in the neighboring Republican exurbs of Butler and Warren counties, voters would be able to vote in the evenings and on weekends, too.
To punctuate the potential impact of this maneuver, consider this: In 2004, George W. Bush won Butler and Warren counties and neighboring Clermont County by a total of 132,684 votes. He won the entire state by 118,601 votes.
From a New York Times editorial last Wednesday: "This is just the latest alarming example of how Republicans across the country are trying to manipulate the electoral system by blocking the voting rights of their opponents. These actions have a disproportionate effect on blacks, Hispanics and other ethnic minorities who struggled for so long to participate in American democracy."
More problems, pointed out by the Toledo Blade: "Each (voting) site preferred by the GOP members of the elections board would make voting harder for poor and elderly citizens, who tend to favor Democratic candidates."
Late Wednesday, Husted said he will limit voting hours to 8 a.m.-5 p.m., Monday through Friday, for the first three weeks of early voting across the state. That means all kinds of low-wage earners and elderly and disabled voters won't get to the polls before Election Day.
Republicans love to talk about how this stunt will save money.
Ridiculous, says Bethe Goldenfield, a Democrat who sits on the Warren County Board of Elections.
"You talk to any county board of elections in this state and they'll tell you that most of their people are already working the month before the election. We've got a lot to do in those last weeks. We're processing applications for absentee ballots, which includes returning forms if they're not filled out properly and then reprocessing them. We're processing absentee ballots. And we're pulling together all the paperwork for every polling location in our county.
"The point is," she said, "we're already here. May as well let people come in and vote, too."
There she goes, talking common sense.
The Republicans will never fall for that.
Connie Schultz is a Pulitzer Prize-winning columnist and an essayist for Parade magazine. She is the author of two books, including "…and His Lovely Wife," which chronicled the successful race of her husband, Sherrod Brown, for the U.S. Senate. To find out more about Connie Schultz (con.schultz@yahoo.com) and read her past columns, please visit the Creators Syndicate Web page at www.creators.com.
Photo Credit: AP/Evan Vucci