One Amendment, Five Freedoms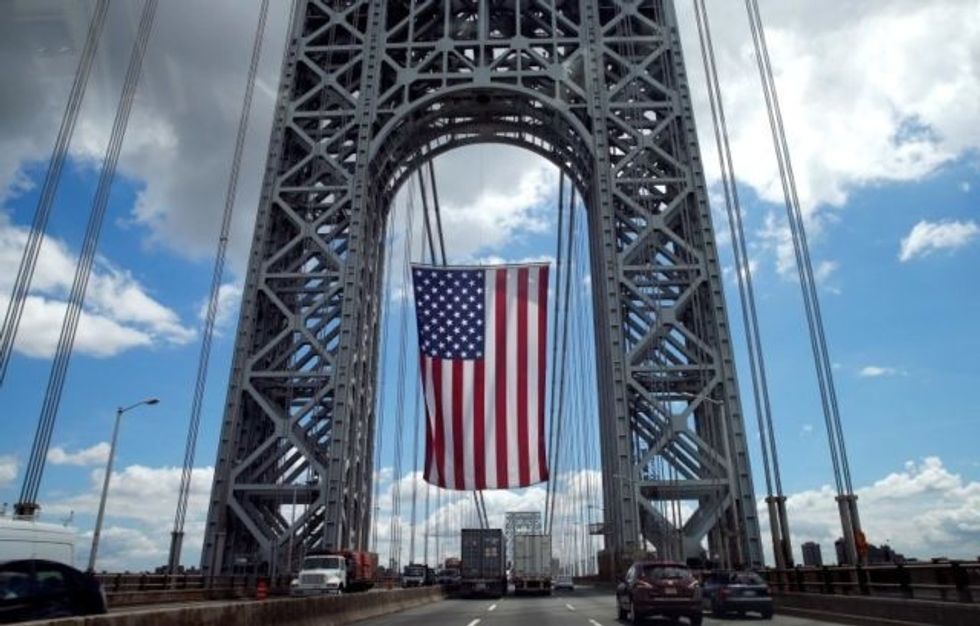 What a thing of beauty, our First Amendment.
Think about it: In only 45 words, it lays out five constitutional rights.
Congress shall make no law respecting an establishment of religion, or prohibiting the free exercise thereof; or abridging the freedom of speech, or of the press; or the right of the people peaceably to assemble, and to petition the Government for a redress of grievances.
Pure poetry.
Notice that it says nothing about how a president — any president — can imprison or strip Americans of their citizenship for exercising these rights. Donald Trump's tweet suggesting otherwise in his rant against flag burners doesn't change this glorious fact. We had these freedoms before he was elected and, if we're vigilant, we're going to have them after he's long gone from the White House. Can I hear an "amen"?
Maybe we should memorize the First Amendment, and not just because our president-elect appears to lack even a passing familiarity with it. There's value in committing to memory language that moves us.
Brad Leithauser addressed this in his 2013 New Yorker essay titled "Why We Should Memorize":
"The best argument for verse memorization may be that it provides us with knowledge of a qualitatively and physiologically different variety: you take the poem inside you, into your brain chemistry if not your blood, and you know it at a deeper, bodily level than if you simply read it off a screen. (Catherine) Robson puts the point succinctly: 'If we do not learn by heart, the heart does not feel the rhythms of poetry as echoes or variations of its own insistent beat.'"
May our hearts ring with the rhythms of our First Amendment freedoms. There's nothing like breathing in the promise of America to help us stay calm when someone insists our country keep its word.
Take flag burners, for instance. Our Constitution and our Supreme Court insist they can burn our flag without losing their freedom. Every time they do it, though, someone else is yelling, "Oh, yeah? Well, we'll see about that."
I don't enjoy seeing someone burn the American flag, mostly because I'm not a fan of watching anger meet fire. I'm not keen on American flag bandanas, either. You know that line of forehead sweat that slowly creeps over the Stars and Stripes? Just feels wrong. Why aren't people who oppose desecrating the flag complaining about that?
After Trump tweeted his unconstitutional take on our constitutional right, I Googled "American flag" and "clothing." My Lord, there's a bowie knife to the patriotic heart. Page after page of stuff that surely would offend the love-it-or-leave-it crowd.
Personally, I could have done without the guy modeling the American flag bikini briefs. I'm never going to be able to un-see that particularly star and stripe. I also don't see the charm in American flag harem shorts, American flag leggings or American flag flip-flops. The American flag under the soles of filthy feet. Say that out loud and tell me you aren't trembling.
It's enough to drive a girl to grab her American flag beer can koozie — you want to say cozy, but don't, because it's keeping your beer kool, get it? – and slide it onto the nearest can of brew. The koozie, by the way, is on sale for $9.99. ("You save $5.00!") Nothing says America like a U.S. flag wrapped around a can of Coors.
We could have a much healthier discussion about the politics of flag burning if we were honest about why those flag burners bother some of us. Could it be that we just aren't comfortable with fellow Americans willing to question what in high heaven is going on in America? That maybe we're just afraid of what comes next?
We hear a lot about how defacing the flag insults our men and women in uniform, but they do not sacrifice their comfort and too often their lives to protect a strip of fabric usually made in China. They are preserving our freedoms, including the five listed in the First Amendment. Let's stop insulting their intelligence by suggesting they don't know the difference.
Let us breathe in the promise of America and exhale to the rhythm of our freedom.
Or not.
That's America.
Connie Schultz is a Pulitzer Prize-winning columnist and professional in residence at Kent State University's school of journalism. To find out more about Connie Schultz (con.schultz@yahoo.com) and read her past columns, please visit the Creators Syndicate webpage at www.creators.com.
IMAGE: A giant American flag hangs from the West tower of the George Washington Bridge in between New York and New Jersey ahead of the U.S.-Germany 2014 World Cup Group G soccer match June 26, 2014.  REUTER/Mike Segar