One Child Dead, 14 Hurt In Hit-And-Run Crash At Florida Day-Care Center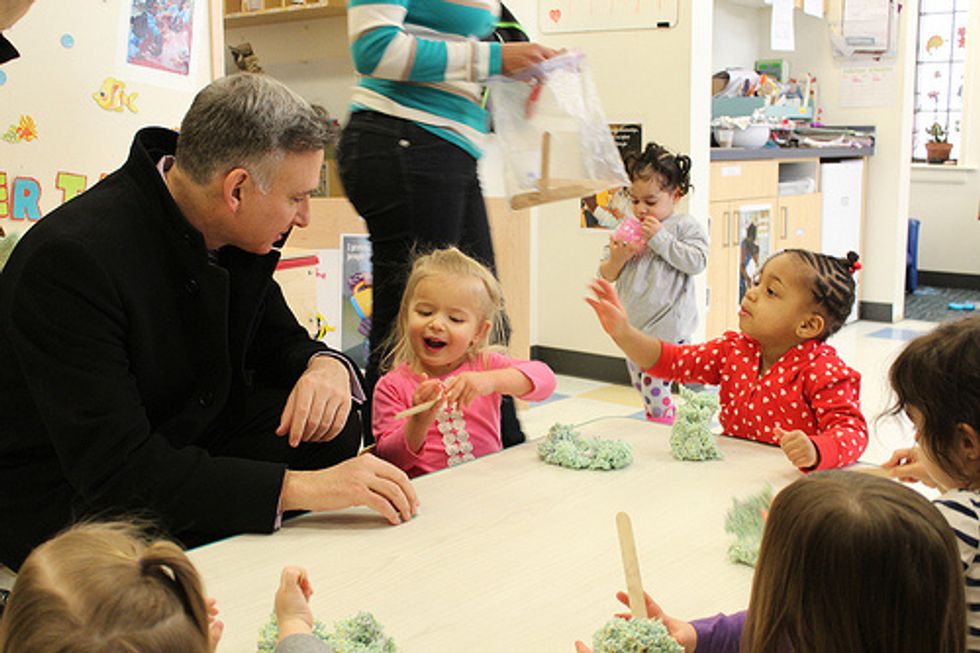 By Jeff Weiner, Susan Jacobson and Amy Pavuk, Orlando Sentinel
WINTER PARK, Fla. — Joel Rosado sprinted to the scene as soon as he heard the screeches and saw a black Toyota Solara plow into the Goldenrod Road KinderCare, where a four-year-old girl lay dying and 14 others were injured.
"We could see the teachers were, like, panicking," Rosado said. One was performing cardiopulmonary resuscitation on a child, and other children were bleeding — "laid out, not moving."
As the horror unfolded, panicked parents scrambled to the scene and authorities started an immediate manhunt for 28-year-old Robert Corchado, who they say was driving the Dodge Durango that rammed the Toyota toward the building in Winter Park, north of Orlando.
The driver of the Durango didn't stop to see the carnage and chaos he left behind Wednesday afternoon.
It all started about 3 p.m.
The Solara, which had been turning into a driveway separating the day-care center from Goldenrod Plaza professional offices, barreled through the parking lot, through a bush and into the KinderCare building, according to preliminary Florida Highway Patrol information.
Rosado, who was working on the roof of a nearby gas station, climbed down and ran to the center.
"It was bad," he said. The driver of the Solara, Albert Dean Campbell, 61, of Winter Park, emerged uninjured but visibly emotional, Rosado said.
Rescue crews descended on the day care, and news helicopters captured images of small children being removed from the day care on stretchers.
Orange County Fire Rescue spokesman John Mulhall said earlier in the day at least 15 people were hurt in the crash, 13 of whom were taken to hospitals. Twelve were children. The injured were rushed to four different hospitals.
Mulhall said they were being treated for a "variety of injuries, both severe and mild."
"This was a very intense scene, a very severe scene," Mulhall said.
Said FHP Trooper Wanda Diaz of the injuries: "Some are very, very serious."
After conflicting reports for most of the day, Arnold Palmer Hospital for Children in Orlando confirmed the first death about 6:45 p.m. The girl's name was not released.
One other patient was in critical condition, and five more were in serious condition, the hospital said. Another patient had been released by Wednesday evening.
Meanwhile, the hunt was on for Corchado.
Authorities found the Durango at a house on Orange Avenue in Winter Park — its bumper left behind at the crash scene.
Neighbors who milled about as troopers investigated said the SUV was one of several vehicles routinely parked outside.
One nearby resident who did not want to be identified said the Durango drove up the street with a distinct clanking sound. A man wearing a red shirt and black hat parked it in the driveway and left a short while later, the neighbor said.
Four neighbors said vehicles come and go from the salmon-colored house at all hours, especially Thursday and Friday nights.
About 18 months ago, one neighbor said, a man was seen sneaking after dark up to the house and slashing the tires of a vehicle parked outside. When the people inside the house were told of the vandalism and asked if they wanted deputies called, the neighbor was told, "We don't want any cops."
The people living there Wednesday could not be reached for comment, while at least five FHP troopers stood outside.
The search for Corchado soon led to Orlando International Airport, where police were on the lookout for several hours.
Troopers said they were concerned that he planned to fly out of town, but late Wednesday the search shifted to a black Mazda SUV, which authorities say Corchado rented in Winter Park.
He was still at large late Wednesday, as information of his past run-ins with law enforcement began to surface.
Records show Corchado was sentenced to three years in prison in 2010 on cocaine-trafficking charges stemming from an arrest in May 2009. He was released in September 2012 but arrested in December in Seminole County.
In that case, which is still pending, Corchado faces charges of heroin and cocaine possession with intent to sell, as well as leaving the scene of a crash involving property damage.
He was released from jail on more than $10,000 bail. Corchado served another prison stint almost a decade ago for extortion, records show.
On Wednesday evening, state troopers and Seminole County deputies were at a house on Grand Avenue in Winter Park listed as Corchado's in state corrections records.
Earlier in the day, Orange County Mayor Teresa Jacobs, speaking at the scene, implored area residents to be vigilant and to pray for the injured and their families.
"Keep them in your prayers … together we will find whoever is responsible for this," she said. Jacobs was later seen arriving with one of the families at Arnold Palmer Hospital. She left a short time later, her eyes red with tears, and said she could not comment further.
Parents flocked to the day care after the crash to retrieve their children. Some parents and young ones were seen crying, others talking to firefighters and investigators.
Talmus Williams, 36, whose two-year-old son attends the day-care center, got a news alert and hurried to pick up the boy.
He and other parents lined up at a shopping center at Goldenrod Road and University Boulevard, where they showed identification and picked their children up.
Williams' son, Jaydrien, was unharmed.
Jaydrien's mother, 39-year-old Evette Rivera, said she saw "a huge hole" in the side of the building that led into a classroom.
By Wednesday evening, the Solara had been extracted from that chasm.
Knowledge Universe, the parent corporation of the Goldenrod day-care center, calls itself the largest U.S. private provider of early-childhood education, with more than 200,000 children at 1,700 centers in 39 states.
Besides its KinderCare Learning Centers, it operates a series of education businesses, including Champions, Cambridge Schools, Knowledge Beginnings and Grove Schools, and employs about 40,000 employees, according to corporate records.
In a statement, Knowledge Universe said the day care's staff acted quickly to assess the injured children and notify parents.
"Our thoughts are with all of our families and staff, and we are pulling for those who have been injured to quickly recover from this tragic accident," the statement said.
Photo: Dow Constantine, King County Executive via Flickr