One Simple Thing Trump Could Do To Call Off Hordes Of Online Antisemites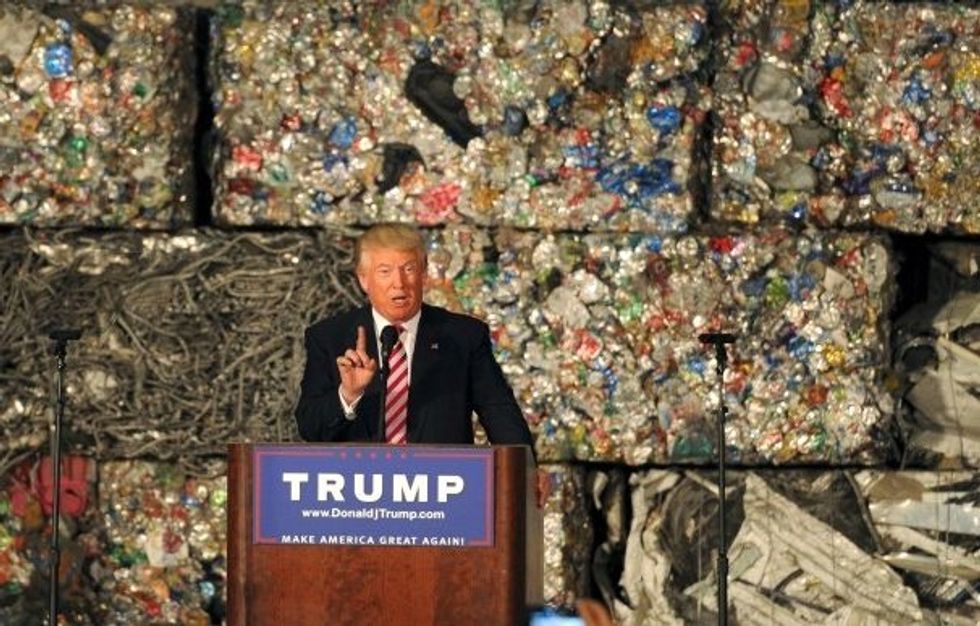 Even before Donald Trump defended a antisemitic meme his staff tweeted, and then deleted, that had been found on a white nationalist message board, even before he called anyone who criticized the meme, including the Anti-Defamation League and 27 other Jewish groups, "sick people," the likely GOP nominee for president had done more to embolden antisemites that any figure in modern American history.
Talking Points Memo's Josh Marshall notes that "Trump is re-normalizing the old anti-semitism that had seemed entirely written out of acceptable public life in America."
And if you're one of the many journalists who have been targeted by the hordes of "alt-right" — the cute name the press has allowed neo-Nazis and white nationalists to give themselves — you've seen exactly what the re-normalization Marshall describes looks like, with generous servings of "hook-nosed cartoons, jokes about ovens and all the rest."
Mel Brooks these anti-semites aren't.
This Holocaust "humor" is a bastard breed of the grossout culture of the internet, where those who can't outwit you can always outshock you. And while most of the perpetrators are likely oblivious "childless single men who masturbate to anime," no one should be shocked that former KKK Grand Wizard David Duke — who LOVED the Trump campaign's antisemitic meme — is also on the #TrumpTrain, which is, by the way, an increasingly horrifying metaphor for a campaign that attracts neo-Nazis like a barber shop offering free buzz cuts.
"Is it 1933 Berlin? No," The American Prospect's Robert Kuttner writes. "Is it alarming as hell? Yes."
This is true whether or not Trump likes it.
And what we've seen from his behavior, he at the very least doesn't seem to mind it. Just as he doesn't mind the boost he's gotten from the strategic racism that has defined his campaign.
The right's fetishizing of Israel — for military aims and with an apocalyptic lust that often involves fantasies of mass conversions of Jews or a rapture that sends all non-Christians to Hell — has made expressing an affinity with at least the Jewish homeland mandatory for mainstream Republicans. Notably, this pose has done nothing to sway American Jews from voting Democratic by a huge majorities.
The antisemitism of Trump's muse Ann Coulter is increasingly obvious and the defenses of Trump campaign are weak to the point of being insulting.
"Our community has this sort of focus that we want something done a certain way; we want it done right away," Trump advisor Jason Greenblatt told the Jewish Press. "We're not the only people in the country."
Trump's Jewish son-in-law Jared Kushner wrote a not-so-stirring defense of Trump that invoked his grandfather's history in the Holocaust, offending much of his own family.
But the weakest defense has come from Trump himself. Of course, he loves the Jews! He lives in New York City and was happy to serve Jewish customers! He even once said, "Black guys counting my money! I hate it. The only kind of people I want counting my money are little short guys that wear yarmulkes every day." Such respect!
When Trump was asked to denounce the hordes of antisemites attacking reporter Julia Ioffe, who had audacity to write a profile of Melania Trump that the oven-loving Trumpists didn't like, the candidate said, "I don't have a message to the fans."
Ioffe told The Guardian, "The irony of this is that today, when I was getting all of this horrible antisemitic shit that I've only ever seen in Russia, I was reminded that 26 years ago today my family came to the U.S. from Russia. We left Russia because we were fleeing antisemitism."
He did release a statement to the New York Times in May that said, "Antisemitism has no place our society, which needs to be united, not divided."
The Birther-in-Chief complaining about America being divided is like Steve Jobs complaining about people staring at their phones. And notably Trump didn't share the message the one place that matters most — on his Twitter account.
These online racist clown hordes call Trump their "glorious leader," and with one tweet, he could let them know that their support is not appreciated. And he should do so immediately.
Let's take a moment to get this final point straight, Donnie: You're losing.
Not only are you losing in a manner that will make your name synonymous with the most misguided political failures of all time, but you're losing in a way that will make life more difficult for your Jewish grandkids. Not that you care. This could change, not while you're some sort of symbolic martyr for antisemites.
So: Take one example of a Jewish person being harassed for criticizing you — like this Fox News' post from Julie Roginsky — link it in a tweet, and say, "The people who are harassing Jewish people in my name are not my fans. I don't want their support."
And don't stop there, go for the throat and use the word that you reserve for those despise most. "In fact, they are losers."
It would be the first decent thing you've done in years.
Photo: Republican U.S. presidential candidate Donald Trump delivers a speech at Alumisourse, a metals recycling facility, in Monessen, Pennsylvania, U.S., June 28, 2016. REUTERS/Louis Ruediger