Oregon Town Reels From Classroom Carnage
@reuters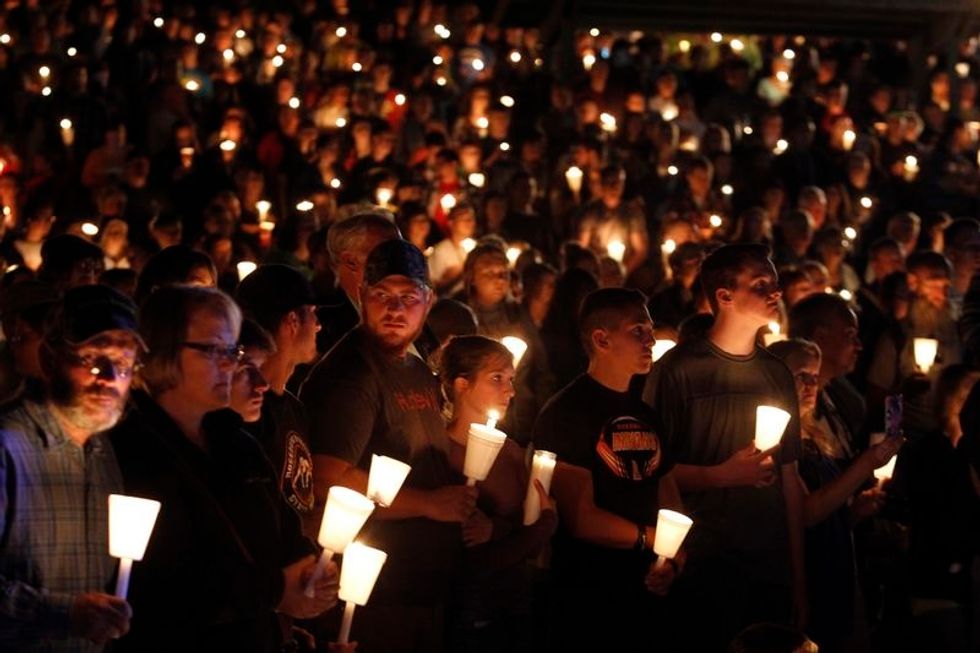 By Eric M. Johnson and Courtney Sherwood
ROSEBURG, Ore. (Reuters) – Residents of a quiet Oregon town struggled to comprehend the carnage left by the latest U.S. mass shooting as investigators puzzled over what drove a young gunman to kill nine people in a college classroom before he died in an exchange of gunfire with police.
The Thursday late-morning shooting rampage at Umpqua Community College in Roseburg, a former timber town of 20,000 on the western edge of the Cascade Mountains, ranked as the deadliest mass killing this year in the United States.
The gunman stormed into a classroom in Snyder Hall on campus, shot a professor at point-blank range, then ordered cowering students to stand up and state their religion before he shot them one by one, according to survivors' accounts.
Seven people were hospitalized, three of them listed as critical.
The killer died after exchanging gunfire with two police officers who confronted him.
The gunman was not identified by local authorities, and Douglas County Sheriff John Hanlin vowed never to utter his name. But a law enforcement source confirmed media reports naming the suspect as Chris Harper-Mercer, 26.
In a photo posted on what was believed to be his MySpace profile, a young man with a shaved head and dark-rimmed eyeglasses stares into the camera while holding a rifle.
"WE'VE BECOME NUMB"
At the White House, a visibly angry President Barack Obama challenged Americans across the political spectrum to press their elected leaders to enact tougher firearms-safety laws.
He lashed out at the National Rifle Association gun lobby for blocking reforms and lamented how common mass shootings had become.
"Somehow this has become routine. The reporting is routine. My response here, at this podium, ends up being routine," he said. "We've become numb to this."
Residents at an apartment house a short distance from campus where the suspect lived recognized him from photos and described him as edgy.
A man identifying himself as Ian Mercer, the gunman's father, spoke briefly to a throng of reporters and camera crews outside his home in Los Angeles on Thursday night.
"It's been a devastating day, devastating for me and my family," he said, according to a transcript provided by KNBC-TV.
Authorities offered no motive for the shooting. Hanlin, the county sheriff, said an investigation was underway by homicide detectives and federal agents. Residents of Roseburg, about 260 miles (420 km) south of Portland, were left to ponder the how and why of the violence.
"ARE YOU A CHRISTIAN?"
Accounts from survivors were chilling.
Stacy Boylan, the father of an 18-year-old student who was wounded but survived by playing dead, told CNN his daughter recalled seeing her professor being shot point blank as the assailant stormed into the classroom.
"He was able to stand there and start asking people one by one what their religion was," Boylan said, relating the ordeal as described by his daughter. "'Are you a Christian?' he would ask them. … 'If you're a Christian, stand up. Good. Because you're a Christian, you're going to see God in just about one second,' and he shot and killed them. And he kept going down the line, doing this to people."
Scores of people huddled at a somber candlelight vigil in a park on Thursday night.
"We need to start loving each other as people … or our nation is going to start falling apart," said Michael Sprague, 35, a businessman who lives in the Roseburg area.
The violence in Roseburg was the latest in a flurry of mass killings in recent years across the United States and the deadliest so far in 2015. It surpassed the nine killed in a gun battle between motorcycle gangs in Waco, Texas, in May, and the nine who died in the rampage at a black church in Charleston, South Carolina, in June.
Not counting Thursday's incident, 293 mass shootings have been reported this year, according to the Mass Shooting Tracker website, a crowd-sourced database kept by anti-gun activists that logs events in which four or more people are shot.
The violence has fueled demands for more gun control in the United States, where ownership of firearms is protected by the Second Amendment of the U.S. Constitution, and for better care for the mentally ill.
Those grieving at Thursday night's vigil said they were still trying to understand the tragedy.
"You know, there's all this stuff in the news and with politics going on about the Second Amendment and gun control," said Ken Shemel. "It's like, 'Come on, guys, just give us a second to breathe,' you know?"
(Additional reporting by Jane Ross in Roseburg, Shelby Sebens in Portland, Curtis Skinner in San Francisco, Sharon Bernstein in Sacramento, Fiona Ortiz in Chicago, Jeff Mason and Robert Rampton in Washington, Dan Whitcomb, Piya Sinha-Roy and Daina Beth Solomon in Los Angeles and Katie Reilly in New York; Writing by Steve Gorman; Editing by Jeffrey Benkoe)
Photo: People take part in candle light vigil following a mass shooting at Umpqua Community College in Roseburg, Oregon October 1, 2015.  REUTERS/Steve Dipaola