After Orlando, a Small-Town Pastor Finds Her Voice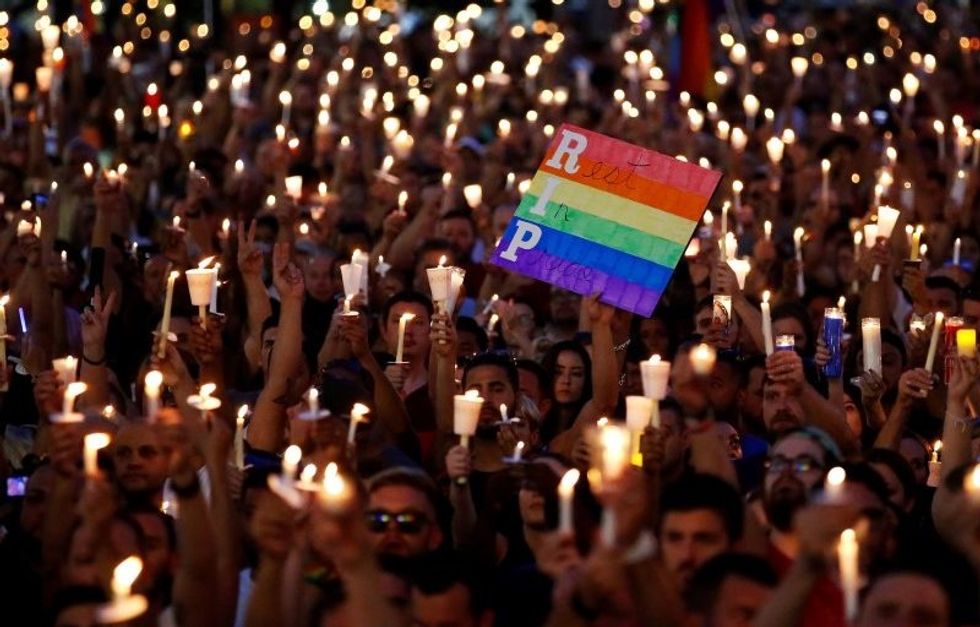 Last Sunday started to bloom as it usually does for the Rev. Robin LaBolt, layer upon layer of her morning ritual gently unfurling.
Pastor Robin, as her parishioners call her, awakened at 5:30 a.m. and headed for the kitchen of her home in Sycamore, Ohio — population 847, by the most recent census count. She made coffee for herself before strolling into the living room and settling into her favorite chair. She reached into the basket on the floor and pulled out her iPad to check the news.
She doesn't remember which news organization's headline she saw first. Doesn't matter. They all said the same thing: Twenty people were dead and dozens more were wounded after a gunman opened fire in a gay bar in Orlando, Florida.
"Dear God," she said aloud in the empty room. "Dear God. No."
Her immediate conclusion: It was a hate crime. "He goes into a gay bar and starts shooting?" she said in a telephone interview Wednesday. "It's a hate crime."
Pastor Robin knew the challenge waiting for her at Sycamore United Church of Christ.
"We're a small town," she said. "It's not exactly an LGBT-friendly area. Not that anyone says bad things about them. They'd just rather not talk about it."
Last fall, in the wake of the U.S. Supreme Court ruling in favor of same-sex marriage, she approached her church's governing board. "I need to know if I'm going to be able to officiate these weddings," she said.
Permission denied.
"They were worried about backlash in the congregation and in the community," she said. "I was devastated."
After the massacre at the Pulse nightclub in Orlando, silence at Sycamore United Church of Christ was no longer an option, she decided.
At 8 a.m., Pastor Robin walked out her front door and across the street to the church where she has served as head pastor for seven years. She sat down at her desk to think about how to alter her sermon. She had planned to talk about community. She still would, she decided.
She didn't write down what she wanted to say about the massacre in Orlando. She didn't have to. Her mind was full of thoughts for the people she knew in Sycamore's LGBT community.
Later that day, she would send a text message to a close friend who is gay: How are you? I have been thinking of you. I love you.
I love you, too, her friend responded.
She sent another text to the mother of a gay child: I imagine you may be afraid … I will continue to work to make this a safe community. The mother forwarded the text to her children.
"Sometimes people don't want to talk," Pastor Robin said. "They just want to know that somebody cares."
At the 10 a.m. service, Pastor Robin talked about the church community, lifting up the good works of the congregation. She celebrated a woman's fifth anniversary of church membership, too.
Then she turned to the tragedy in Orlando.
When she mentioned the 20 dead victims, she could tell by the look of shock on so many faces that most had not heard the news.
"Something took hold of me," she said. "It really was one of those Holy Spirit moments when I suddenly knew what to say."
She told them, "I'm not interested in what your personal feelings are about gay people. But I am interested in what God has to say about all of us. God loves all of us, without exception — period. And that's what we are called to do, too: Love everyone."
Immediately, she felt such relief.
"I felt no fear," she said. "Not being as explicit about this as I've wanted to be has taken a toll on me emotionally and spiritually. I was respecting them at the cost of my theological integrity. It felt like a sin of omission. It felt like a betrayal to my friends and my family."
Pastor Robin and a few members of the congregation are organizing a vigil for the Orlando victims on Friday at 7 p.m. on the Wyandot County Courthouse lawn. She hopes that other pastors in the community will join her. It's a fitting ending for her, as she is leaving the Sycamore church later this month. Long before the Orlando shootings, she had accepted a new position at a more progressive UCC church.
"I took this church as far as I could," she said. "There are wonderful people here, but I am an activist. Our LGBT friends need us, their allies, to stay strong for them, to speak out for them. And right now, they need to know that we support them, that we know they are grieving."
Her new church is in Spring Hill, Florida, only an hour and a half north of Orlando, where 49 innocent people were killed and more than 50 others are injured.
"Yeah, I thought about that," she said. "I am ready."
Connie Schultz is a Pulitzer Prize-winning columnist and professional in residence at Kent State University's school of journalism. She is the author of two books, including "…and His Lovely Wife," which chronicled the successful race of her husband, Sherrod Brown, for the U.S. Senate.
Photo: People take part in a candlelight memorial service the day after a mass shooting at the Pulse gay nightclub in Orlando, Florida, U.S. June 13, 2016. REUTERS/Carlo Allegri