Oscar Pistorius A Suicide Risk, Psychologist Finds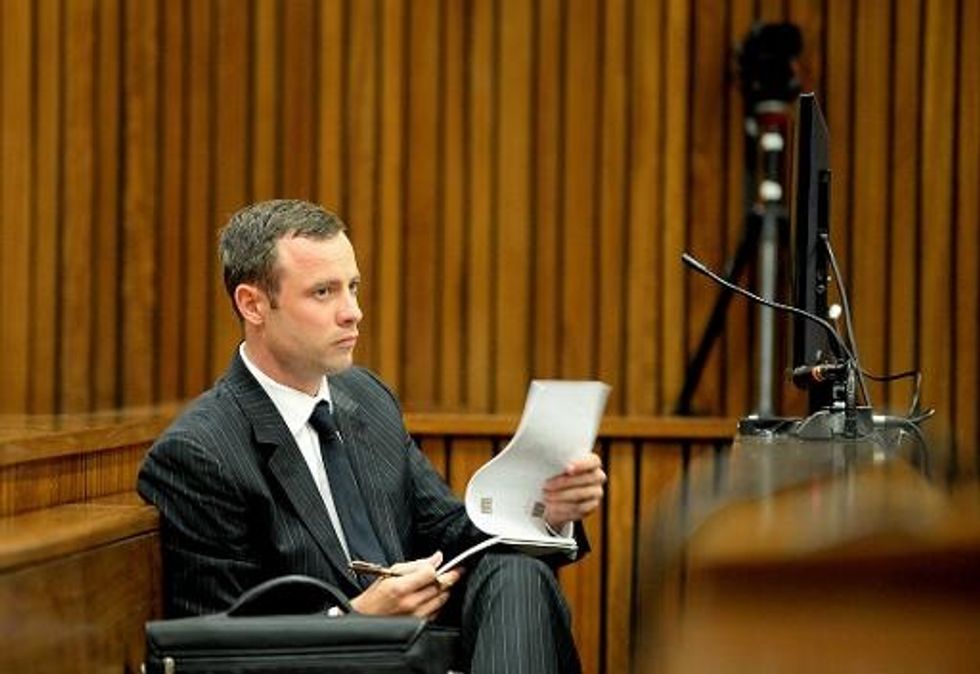 By Robyn Dixon, Los Angeles Times
JOHANNESBURG — South African Olympian Oscar Pistorius, on trial for fatally shooting his girlfriend on Valentine's Day last year, suffers from severe depression and post-traumatic stress disorder, according to extracts from a psychologist's report read in a Pretoria courtroom Wednesday.
Dr. Jonathan Scholtz, who was part of a team of clinicians who conducted a month of tests to assess Pistorius' mental state at the time of the killing, also found that the athlete was a suicide risk and would need continued psychological care. But he found no evidence that Pistorius had a history of aggression or violence, according to the extracts read by defense attorney Barry Roux.
Judge Thokozile Masipa banned publication of other details from the report that were not read in court.
A separate report compiled by three psychiatrists concluded that Pistorius was not suffering from a generalized anxiety disorder that would affect his understanding of right or wrong.
Scholtz's findings could help the court decide another central question in the case: Was Pistorius acting reasonably when he fired four shots into a toilet cubicle in his bathroom, killing Reeva Steenkamp?
The defense argues that Pistorius, a double-amputee, was anxious, vulnerable, and hyper-vigilant, and that he mistook Steenkamp for an intruder. The prosecution contends that Pistorius killed Steenkamp intentionally after an argument.
Under South African law, Pistorius could be convicted of murder if the court finds that he foresaw that shooting expandable bullets through the cubicle door would be likely to kill someone, regardless of who was inside.
Although he was not under attack at the time, the law permits him to mount an argument of "putative" self-defense if he genuinely believed his life was in danger, was acting reasonably to save himself and thus did not intend to commit murder.
The sprinter has spent much of his life struggling to be treated the same as others, especially in races. But in an ironic twist, his defense now appears to rest on testimony that his disability affected his response the night of the shooting.
The defense called its final witness Wednesday, sports medicine doctor Wayne Derman. He testified that Pistorius suffered more stress and was more likely to be startled into a "fight or flight" response than able-bodied athletes.
Derman accompanied the South African Olympic team to the Games in 2000, 2004, 2008, and 2012 and examined the athletes for anxiety.
He said that Pistorius was very anxious, constantly scanning around him for threats, and had a tremor in his hand, as well as a sleep disorder.
Although the court previously heard that the athlete loved guns, Derman testified that he hated fireworks and would cover his ears and cower when he heard them.
Derman also produced studies that found that those with disabilities were at greater risk of attack than able-bodied people, particularly those with mental issues.
AFP Photo / Bongiwe Mchunu
Interested in world news? Sign up for our daily email newsletter!