Osssoff's Revenge: Handel Loses In Georgia
@FAWFULFAN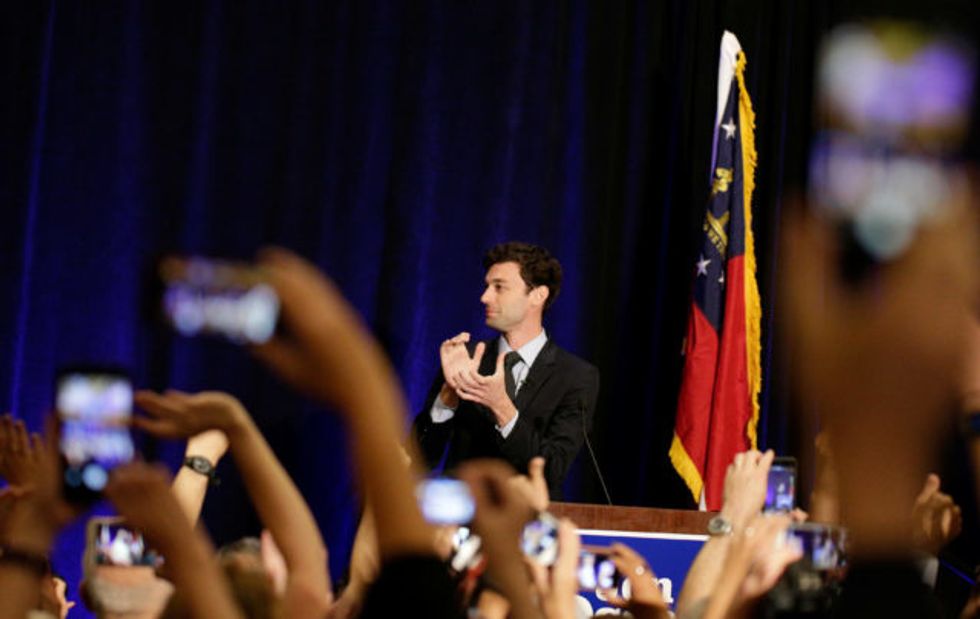 Reprinted with permission from AlterNet.
On Thursday, GOP congresswoman Karen Handel conceded the race for Georgia's 6th Congressional District to Democratic challenger Lucy McBath.
"After carefully reviewing all of the election results data, it is clear that I came up a bit short on Tuesday," said Handel in a statement. "While Tuesday's loss is indeed disappointing, there is much for which we can and should be grateful."
The Democratic midterm wave managed to dethrone big-name GOP politicians all across the country, but this is surely one of Democrats' most gratifying pickups. Georgia's 6th District brings back baggage-laden memories for Democrats.
The district, which has been represented by a Republican ever since former House Speaker Newt Gingrich was elected there in 1978, was vacated in 2017 by Rep. Tom Price, who took up a job as Secretary of Health and Human Services under President Donald Trump (Price would later resign in disgrace amid reports he had used taxpayer money to charter private jets). The ensuing special election consumed political observers nationwide, and for many was seen as an early test of the strength of Democratic opposition to Trump.
Democrats had a top-tier recruit in Jon Ossoff, a handsome, charismatic young documentary filmmaker and former congressional staffer. He stood in stark contrast to Handel, a former Georgia secretary of state best known for trying to turn the Susan G. Komen Foundation into a vehicle to attack abortion providers.
Ossoff soon pulled even in polls with Handel in the very conservative district, despite her having the backing of Trump and the NRA, and the race attracted a blitz of attention and fundraising that soon turned it into the most expensive House election in history. In the end, however, Handel managed to squeak out a win, dashing Democratic hopes of punching into red territory.
In Congress, Handel's record has been predictable. She supported the GOP agenda at every turn, backed the GOP's tax giveaway to the megawealthy, and ran interference for Trump on immigration. She even tried to shut down Rep. Ted Lieu (D-CA) for playing a recording on the House floor of crying children separated from their families in Trump's migrant camps.
It seemed as though Republicans were going to preserve the status quo in suburban Georgia. The conventional wisdom was that now Handel was elected, she was here to stay, as most House incumbents tend to be.
But then came Lucy McBath.
A former Delta Air Lines flight attendant and prominent gun control advocate who served as spokesperson for Everytown for Gun Safety, McBath's activism is shaped by the 2012 shooting death of her son Jordan Davis at a Florida gas station for playing loud music — a murder that was likely racially motivated. Originally, McBath planned to run for the Georgia state house, but then decided to aim higher and, despite never having served in public office, won the nomination for Georgia's 6th District after receiving the endorsement of Democratic civil rights icon Rep. John Lewis.
Handel did her utmost to put McBath away, tying her to Hillary Clinton and accusing her of not living full-time in the district. But McBath won over voters with a message of gun reform, health care, and civil rights, and contrasting her plan for middle-class tax relief with the "Trump-Handel tax scam." Meanwhile, Ossoff himself came out to campaign for her, rallying the canvassers who helped him last time. All of this, combined with the high-turnout gubernatorial race, was enough to tip the election to McBath.
Ultimately, the fact that a pro-gun control woman of color stepped up and beat an NRA-backed Trump ally in the heart of Georgia, doing what Ossoff famously could not do one year before, is a testament to the direction of both parties — and a model for Democratic victory.
Matthew Chapman is a video game designer, science fiction author, and political reporter from Austin, TX. Follow him on Twitter @fawfulfan.