Ousted Ukrainian Leader Warns Of Civil War; Russia Adds To Forces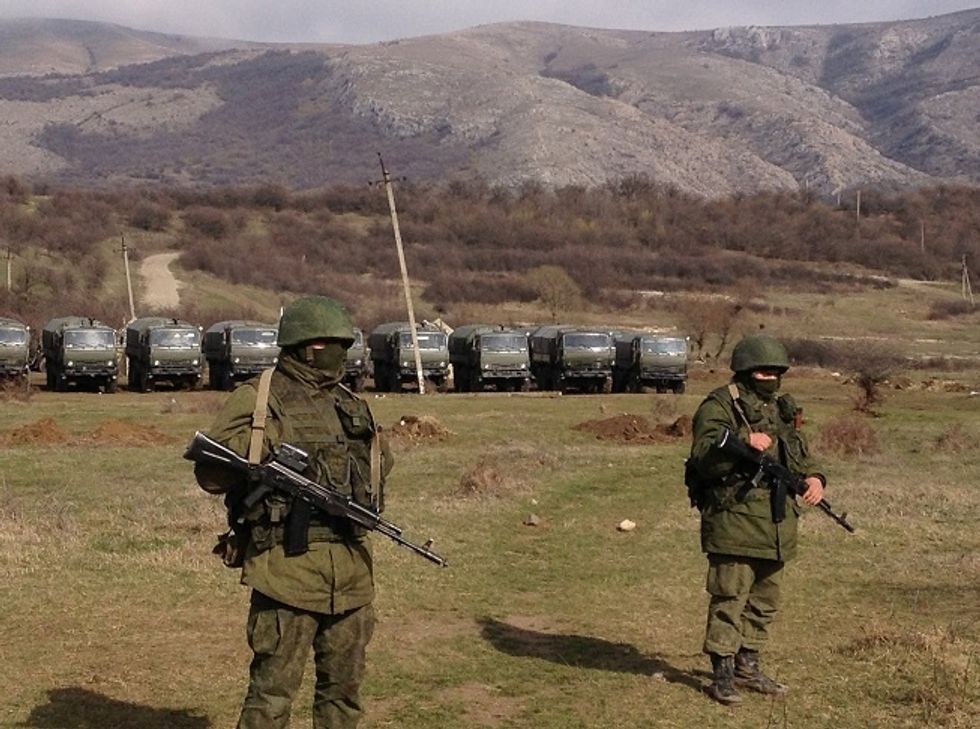 By Sergei L. Loiko, Los Angeles Times
MOSCOW — Ukraine is on the verge of civil war, warned ousted President Viktor Yanukovich, who reemerged in the Russian southern city of Rostov-on-the-Don to make a statement more than a week after his first news conference in Russia.
His statement came as Moscow reportedly reinforced its forces in the Ukrainian region of Crimea and held new military exercises. In Crimea, the regional parliament declared independence ahead of a referendum planned for Sunday, when the peninsula's voters are to decide whether they want to join Russia.
"They want to put the (Ukrainian) army under a flag of (nationalism) and unleash a civil war," Yanukovich said of the interim government of Ukraine that took power after he fled Kiev, the capital, late last month. "They want to include fighters from nationalist organizations in the armed forces and hand them guns.
"I would like to ask the Western sponsors of these dark forces: Have you lost your memory?" he asked. "Have you forgotten what is Nazism?"
Yanukovich insisted he is still his nation's leader.
"I remain the only legitimate president of Ukraine, as I also remain the commander in chief" of its armed forces, he said. "I am alive, I have not been impeached in the order provided for by the constitution."
Yanukovich accused the new leaders in Kiev, whom he referred to as "a gang of ultranationalists and neo-fascists," of wanting to use the country's armed forces against its people and appealed to the officers and soldiers not to "fulfill the criminal orders."
Yanukovich fled Ukraine after his security forces crackdown on months-long street protests resulted in bloodshed that claimed scores of lives, many killed by snipers, and left hundreds of people injured. He is wanted by the interim government on suspicion of committing mass murders.
The ousted president emerged in Russia the day after Russian gunmen captured government buildings in Simferopol, the capital of Crimea, and on the same day the region's parliament voted to hold a referendum on the future of the Ukrainian peninsula and appointed a pro-Moscow Russian nationalist, Sergei Aksenov, as its new premier.
A majority of Crimea's population is Russian speaking. The region has historic ties to Moscow and is home to the Russian navy's Black Sea fleet.
Ahead of Sunday's referendum, Russian officials said they are preparing to incorporate the region into their nation.
"We have everything in our laws and the constitution to accept a new subject in the Russian Federation," Sergei Zheleznyak, deputy speaker in the lower house of Russia's parliament, told the Los Angeles Times in an interview. "As soon as the people of Crimea express their willingness to join Russia, we will set the process into motion and I don't see any reason of a delay here."
In the meantime, Crimea's new pro-Russia authorities announced plans to nationalize Ukraine's navy vessels and bases in the Crimea. Their statement came as Russia reportedly beefed up its military presence in the peninsula, bringing in new troops and military hardware while continuing to blockade the remaining Ukrainian army and navy units on the peninsula.
Overnight the Russian armed forces brought in more than 60 pieces of military hardware, including Grad rocket launchers and several Mi-8 and Mi-24 helicopters, defense expert Dmitry Tymchuk told the Times.
"They have already amassed a military force in the region way too big to simply control Crimea," said Tymchuk, head of the Center for Military and Political Research, a Kiev-based think tank.
He expressed a fear prevalent in his country. "We understand their grand plan was to capture the entire Ukraine, topple the interim government they hate so much and put Yanukovich back in place, or as a compromise just gain control of the industrial east and southeast, splitting the country in two. As a fallback plan they will be content with breaking away the Crimea and getting away with it, the mission they have all but accomplished."
Ukrainian acting Prime Minister Arseny Yatsenyuk complained to his nation's parliament Tuesday that he couldn't get in touch with Russian President Vladimir Putin or Prime Minister Dmitry Medvedev. Yatsenyuk is expected to hold consultations with President Obama on Wednesday in Washington.
On Tuesday, Russia launched a four-day military exercise of its elite airborne troops.
"In the course of the exercise, for the first time in over 20 years, the airborne deployment of 3,500 paratroops will be conducted," said a statement posted on Russian Defense Ministry's official website.
The operation will involve about 4,000 troops and 36 planes, said the statement, which didn't specify the location of the exercise.
Russia has deployed a force of 220,000 troops, 1,800 tanks and over 400 helicopters close to Ukraine's border. Its neighbor has about 41,000 troops, of which only 6,000 were "really combat ready," Ukraine's acting Defense Minister Igor Tenyukh told the national parliament Tuesday, UNIAN news agency reported.
"This (Russian) force by several times exceeds the armed forces of Ukraine," Tenyukh said.
Photo: Matthew Schofield/MCT