PA GOP Nominee Issues Lunatic Threat Against Gov. Tom Wolf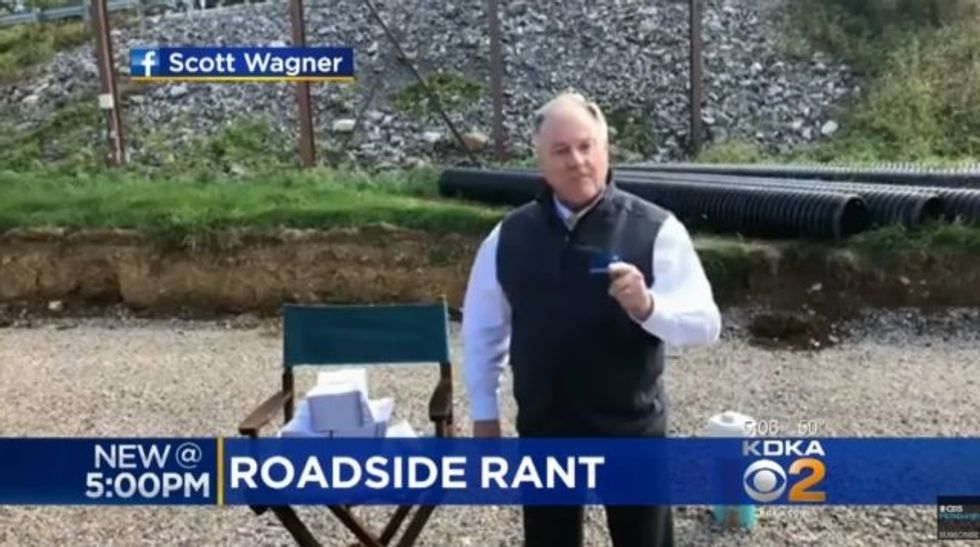 Reprinted with permission from Shareblue.
Scott Wagner, the Republican nominee for Pennsylvania governor, released a bizarre video threatening to "stomp all over" the face of Democratic Gov. Tom Wolf "with golf spikes."
In the video Wagner posted on Facebook, he directly addresses the governor and complains about supposedly negative ads against him.
"Governor Wolf, let me tell you: Between now and November 6, you better put a catcher's mask on your face because I'm going to stomp all over your face with golf spikes because I'm going to win this for the state of Pennsylvania."
The most recent polling in the race shows Wolf with a massive lead over Wagner. He is ahead by an average of 16.8 percent.
Wagner has been endorsed by Trump, who has a long history of supporting campaign violence. Trump praised Wagner as "a great guy" at a rally in August.
Wagner's threat of violence is the latest in a series of bizarre outbursts and statements he has made during his flailing campaign.
Asked during a TV appearance whether women should have access to birth control, Wagner strangely replied, "Maybe I should talk to my wife about that question."
Wagner had the leader of an anti-gay, pro-gun cult called the World Peace and Unification Sanctuary give the invocation at a campaign event. Wagner's campaign tried to distance him from the group's pastor, Hyung Jin Moon, claiming he "does not want to be associated with Mr. Moon in any way," and that his appearance at the event was "unsanctioned."
But at that very rally, Wagner told one of the cult's members, "98 percent of what you believe in, I believe in."
As news was emerging that Russian operatives have been attempting to hack Democratic campaigns, Wagner was caught on a recording saying, "The Russians are going to help me with Tom Wolf."
The threat against Wolf is right in line with Wagner's erratic, losing campaign. But for a Republican who has modeled his campaign after Trump's, it's hardly surprising that he's now resorting to violent threats against his opponent.