PA Republican Chair DiGiorgio Resigns Abruptly In Sexting Scandal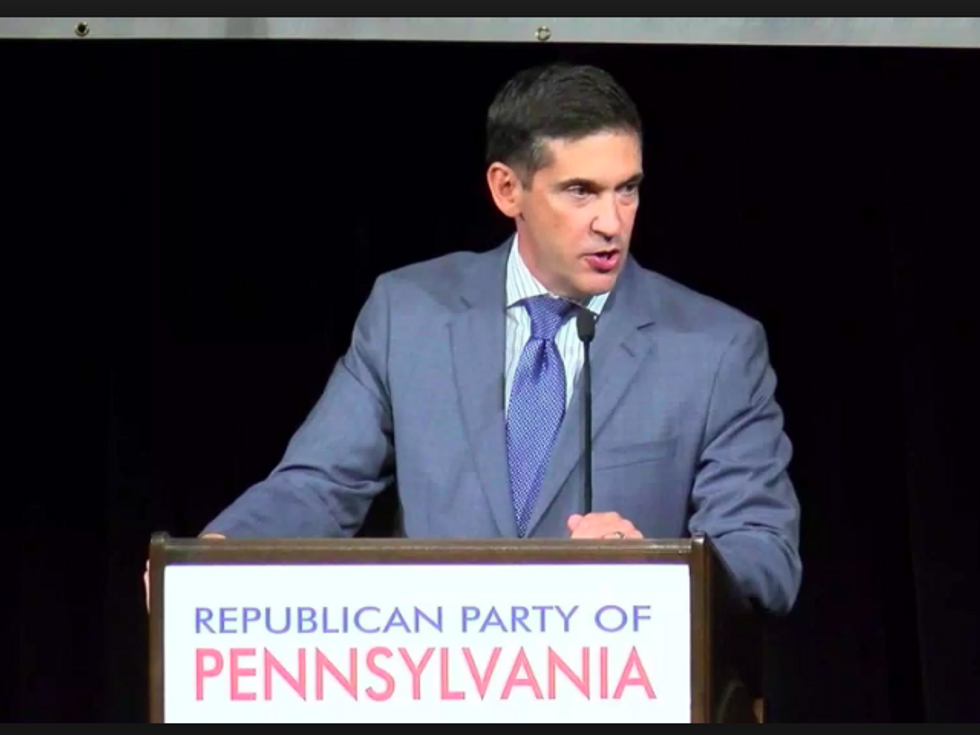 Hours after news broke that he sent a naked photo of himself to a woman, Val DiGiorgio resigned from his position as chair of the Pennsylvania Republican Party, the Philadelphia Inquirer reported Tuesday.
During late 2018 and early 2019, DiGiorgio exchanged sexually charged messages through Facebook Messenger with Irina Goldstein, who was at the time a candidate for city council in Philadelphia. After a couple days of exchanging messages, DiGiorgio sent Goldstein a photo of his erect penis.
The two never had any physical relationship, and Goldstein later said that the explicit messages and photo made her feel uncomfortable and amounted to sexual harassment, according to her conversations with the Inquirer. Within hours of the Inquirer breaking the news about the exchanges, DiGiorgio resigned as chairman of the Pennsylvania Republican Party.
According to the Pennsylvania Republican Party website, DiGiorgio is married with five children.
In his resignation letter, DiGiorgio claims the messages were not harassment, but rather "mutual consensual communications."
Goldstein disagrees.
"When a person has that much clout and power, I feel he abused that. And that was not necessary," Goldstein told the Inquirer on Tuesday, adding she thinks it was appropriate that DiGiorgio stepped down.
DiGiorgio's resignation in a cloud of scandal throws the Pennsylvania GOP into chaos when the 2020 election is a little over a year away. Trump narrowly won the state in 2016, beating Hillary Clinton by less than one percentage point.
In 2018, the state swung back towards Democrats, who flipped three seats from red to blue and handily kept control of both a U.S. Senate seat and the governor's mansion.
In looking for replacements to lead the state party, Lou Barletta's name has been floated. Barletta was the Republican Senate nominee in 2018 who lost to incumbent Democratic Sen. Bob Casey by a wide margin of 13 points.
Barletta is a far-right conservative and Trump ally who made a name for himself as an outspoken anti-immigrant politician. During the 2018 Senate race, one editorial board slammed him for embracing policies "straight out of the '50s — the 1850s."
"I'm hearing it is Barletta's if he wants it, he holds a special place in Trump's political orbit," former Rep. Ryan Costello (R-PA) told Politico, referring to the state GOP chair position.
Rocked by a sex scandal, the Pennsylvania Republican Party is now leaderless — and the man who could take the helm leading into 2020 just saw the overwhelming majority of the state's voters reject him.
Published with permission of The American Independent.