Palin Goes 0-For-Two In Alaska As Clout Disappears Nationally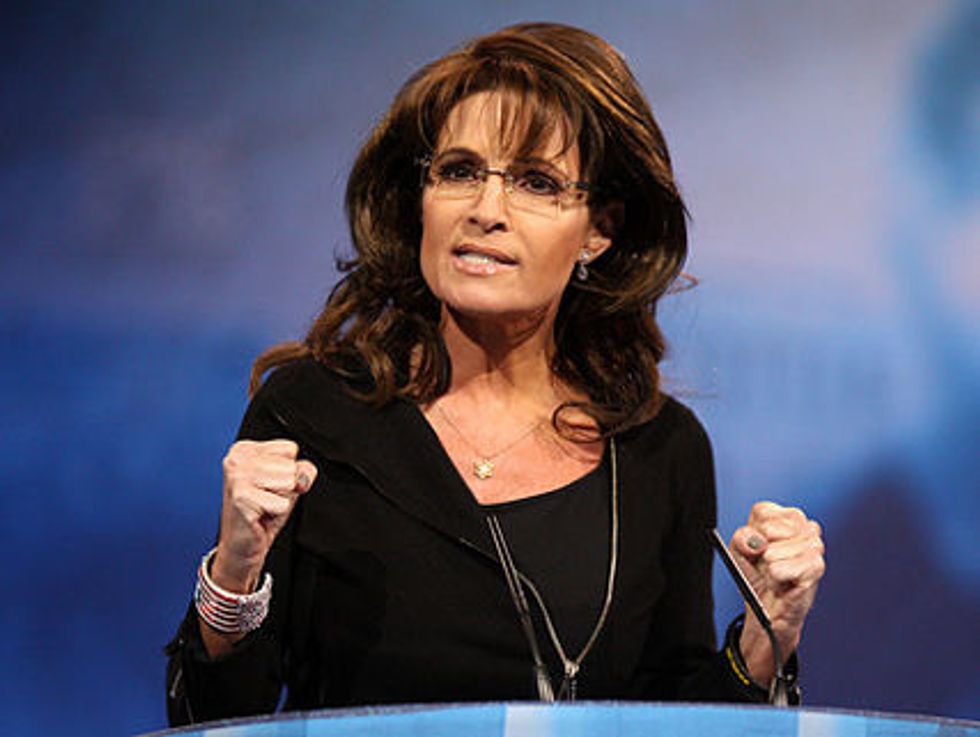 By Sean Cockerham, McClatchy Washington Bureau
WASHINGTON — Sarah Palin has lost the magic. The defeat of her choice Tuesday in a Republican Senate primary in her home state of Alaska capped a primary season in which her favored candidates across the nation have stumbled.
A referendum to restore Palin's signature achievement from her time as Alaska governor, a state tax on oil companies, was also headed toward defeat following Tuesday's voting, dealing a double-whammy loss to Palin in her home state and highlighting her declining influence.
Only four of the 15 congressional candidates endorsed by Palin nationwide this year have won their primaries — a far worse record than the previous two elections, when Palin played a role as kingmaker and her approval was eagerly sought by candidates looking for an edge with Republican voters.
Palin remains talented at raising money. "But her influence on the actual political process is diminishing rapidly," said John Feehery, a Republican political consultant and former aide to GOP leadership in the House of Representatives.
Palin had urged her fellow Alaskans to vote for Tea Party candidate Joe Miller on Tuesday in the state's Republican primary, saying he's needed to "restore liberty, to defend our Constitution, to build American exceptionalism." Alaskans received automated phone messages, known as robocalls, with Palin's voice urging them to get out and vote for Miller.
It didn't work. Miller was easily defeated by Republican establishment candidate Dan Sullivan, who will now face incumbent Democratic Sen. Mark Begich in the general election.
Palin also lost the effort to defend her signature tax on the oil companies that operate in Alaska.
Her successor as governor, Sean Parnell, worked with the state Legislature to reverse Palin's tax system last year, saying it was hurting oil production. Palin called the move "crony capitalism" and supported a referendum to restore the tax. But it was losing by nearly 7,000 votes with most ballots having been counted.
A poll of Alaska voters this month by Public Policy Polling found just 36 percent have a favorable view of Palin, a huge fall from the 87 percent approval she enjoyed before being tapped by John McCain as the Republican vice presidential candidate in 2008.
Key to her dwindling popularity at home: her 2009 resignation as governor a little more than halfway through her first term was devastating to her image in Alaska, according to Anchorage pollster Marc Hellenthal.
"She didn't honor her contract, in a certain sense, with Alaska. They voted for her and she quit," he said.
While Palin has since become more of a reality television star than a politician, her endorsement still carried weight in recent elections. The majority of candidates she supported in 2010 won. And Palin's picks won an impressive string of victories two years later, including Ted Cruz in his upset Senate victory in Texas.
At times Palin got involved in races when her favored candidate already had picked up momentum — such as the case with Cruz. But Palin was credited with helping give a push to several underdogs.
That included Miller, who won Alaska's 2010 Republican Senate primary with Tea Party campaign cash raised as a result of Palin's endorsement. However, Miller went on to lose the general election to a comeback write-in effort by incumbent Republican Senator Lisa Murkowski.
Miller didn't come close to winning the primary this year, and most of the other House and Senate candidates listed as "Palin's 2014 picks" by her political action committee, SarahPAC, also have not fared well.
Palin backed failed attempts to unseat incumbent Senators Thad Cochran in Mississippi and Lamar Alexander in Tennessee. Her Senate picks in Oklahoma, Minnesota and Georgia all failed to advance beyond the Republican primary as well.
Palin had more success with her Nebraska pick, following Rep. Paul Ryan (R-WI) in endorsing Ben Sasse's successful campaign for the GOP Senate nomination.
Palin also joined Mitt Romney and Senator Marco Rubio of Florida in stumping for Joni Ernst, who won the Republican Senate primary in Iowa, and she endorsed heavily favored Senator Tim Scott in South Carolina.
Just one of Palin's choices for the U.S. House, Barry Loudermilk in Georgia, won the Republican primary election. Palin's picks for the House lost in Texas, North Carolina, New Jersey, Florida and Georgia.
A message left with SarahPAC asking about the endorsed candidates' struggles was not returned.
Photo: Gage Skidmore via Flickr