Paranoid: North Korea's Computer Operating System Mirrors Its Political One
@reuters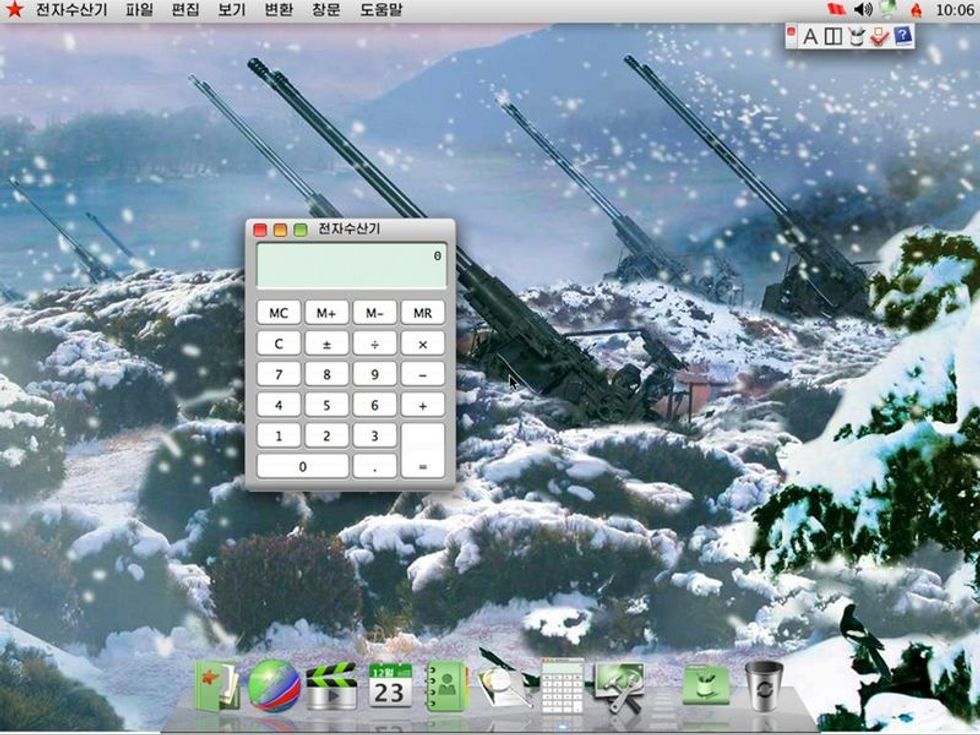 By Jeremy Wagstaff and James Pearson
SINGAPORE/SEOUL (Reuters) — North Korea's homegrown computer operating system mirrors its political one, according to two German researchers who have delved into the code: a go-it-alone approach, a high degree of paranoia and invasive snooping on users.
Their research, the deepest yet into the secretive state's Red Star OS, illustrates the challenges Pyongyang faces in trying to embrace the benefits of computing and the internet while keeping a tight grip on ideas and culture.
The researchers, Florian Grunow and Niklaus Schiess of German IT security company ERNW GmbH, spoke to Reuters before presenting their findings to the Chaos Communication Congress in Hamburg on Sunday, a gathering of hackers and security researchers.
The operating system is not just the pale copy of western ones that many have assumed, they concluded after downloading the software from a website outside North Korea and exploring the code in detail,
"(Late leader) Kim Jong Il said North Korea should develop a system of their own," said Grunow. "This is what they've done."
North Korea, whose rudimentary intranet system does not connect to the outside internet but allows access to state media and some officially approved websites, has been developing its own operating system for more than a decade.
This latest version, written around 2013, is based on a version of Linux called Fedora and has eschewed the previous version's Windows XP feel for Apple's OSX — perhaps a nod to leader Kim Jong Un, who like his father has been photographed near Macs.
But under the hood there's a lot that's unique, including its own version of encrypting files. "This is a full blown operation system where they control most of the code," said Grunow.
This, the researchers say, suggests North Korea wants to avoid any code that might be compromised by intelligence agencies.
"Maybe this is a bit fear-driven," said Grunow. "They may want to be independent of other operating systems because they fear back doors" which might allow others to spy on them.
Grunow and Schiess said they had no way of knowing how many computers were running the software.
While private computer use is on the rise in North Korea, visitors to the country say most computers still use Windows XP, now nearly 15 years old.
NO TAMPERING
The Red Star operating system makes it very hard for anyone to tamper with it. If a user makes any changes to core functions — like trying to disable its antivirus checker or firewall — the computer will display an error message, or reboot itself.
Red Star also addresses a more pressing concern: cracking down on the growing underground exchange of foreign movies, music and writing.
Illegal media is usually passed from person-to-person in North Korea using USB sticks and microSD cards, making it hard for the government to track where they come from.
Red Star tackles this by tagging, or watermarking, every document or media file on a computer or on any USB stick connected to it. That means that any file could be traced back to anyone who had previously opened or created the file.
"It's definitely privacy invading, it's not transparent to the user," said Grunow. "It's done stealthily, and touches files you haven't even opened."
Such efforts, says Nat Kretchun, an authority on the spread of foreign media in the isolated country, reflect North Korea's realization that it needs "new ways to update their surveillance and security procedures to respond to new types of technology and new sources of information."
There's no sign in the operating system, the researchers say, of the kinds of cyber attack capability North Korea has been accused of.
"It really looks like they've just tried to build an operating system for them, and give the user a basic set of applications," says Grunow. That includes a Korean word processor, a calendar and an app for composing and transcribing music.
North Korea is not the only country to try to develop its own operating system. Cuba has its National Nova, while China, Russia and others have tried to build theirs.
(Editing by Dean Yates)
Photo: A North Korean operating system is seen in this screen shot taken in Seoul December 23, 2015. REUTERS/James Pearson