How To Participate In The 'Day Without A Woman' Strike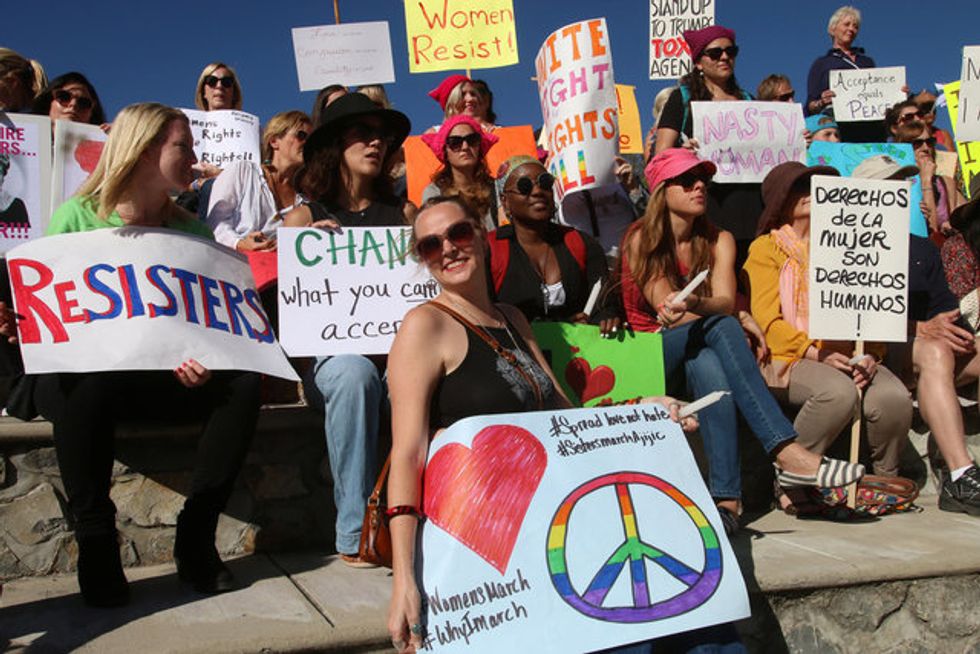 Reprinted with permission fromAlterNet.
The Women's March and demonstrations of its type are all about showing up. Participants aim to make their presence heard. As L.A. Kauffman, the author of Direct Action: Protest and the Reinvention of American Radicalis told Vogue, they "create situations that shine a spotlight on injustice and force a crisis that authorities need to address."
Many who attended the D.C. march couldn't hear the speeches or were caught in human traffic jams so crowded they couldn't complete the official route. All of which didn't matter, of course, because the point was to be present. But what if there was one day where women didn't show up? A day women made their value known by their absence?
For their next big project, International Women's Strike organizers, including the activists behind the Women's March, are calling for an event of the opposite kind. The March 8 general strike for women aims to showcase women's importance by revealing what happens on a day without women.
Taking the day off from paid work is only the beginning. Planned to coincide with International Women's Day, the organizers request that participants engage in one or all of the following actions on March 8, as listed on their website:
Women take the day off, from paid and unpaid labor
Avoid shopping for one day (with exceptions for small businesses and businesses owned by women and minorities)
Wear red in solidarity with A Day Without a Woman
Exactly how to use this time is up to each individual participant, but across the country, women and allies of the strike are staging rallies, marches, benefit concerts, and other gatherings to show support and solidarity. In New York City, they will assemble in Washington Square Park for a tour of sites critical to progressive history, such as the Triangle Shirtwaist Factory, where young immigrant women died in a horrific fire in 1911, the deadliest industrial disaster in history at the time, which led to substantial labor reforms. In Philadelphia, strikers will stand in solidarity with the Philadelphia Federation of Teachers, who have been without a contract for 1,200 days.
Some critics, including Maureen Shaw, writing in Quartz, and Meghan Daum in the LA Times, argue that this strike will mostly amount to a day without privileged women—women who can afford to take the day off without fear of lost wages or other repercussions from employers. Shaw notes that, "As empowering as strikes may feel, they tend to be most effective when they are centered on achieving a particular policy goal," and compares this strike to those of labor unions fighting for higher wages, better working hours, or specific additions to their working conditions.
But the women's strike is only one step in fighting for a platform that includes all of these asks and more: environmental justice, reproductive rights, and fair wages. The point is to show how many unseen, uncompensated, and unvalued tasks women perform, and how much society depends on them.
It's supposed to be inconvenient, but Daum and Shaw's responses also assume that organizers haven't considered the economic barriers to striking (in fact, they take pains to explain that there is more than one way to participate). You can attend a rally before or after work, wear red, decline to shop, or decline to perform unpaid labor if taking the day off from paid labor is not an option.
For more information, including a letter to inform your employer of strike participation, visit A Day Without a Woman. The International Women's Strike website has a complete list of events around the country.
Ilana Novick is an AlterNet contributing writer and production editor.
IMAGE: People take part during an event organized by American expats and Canandian nationals, in solidarity with the Washington's Women's March, in Ajijic, Mexico January 21, 2017. REUTERS/Stringer