The Party Of George W. Bush Or Ted Cruz?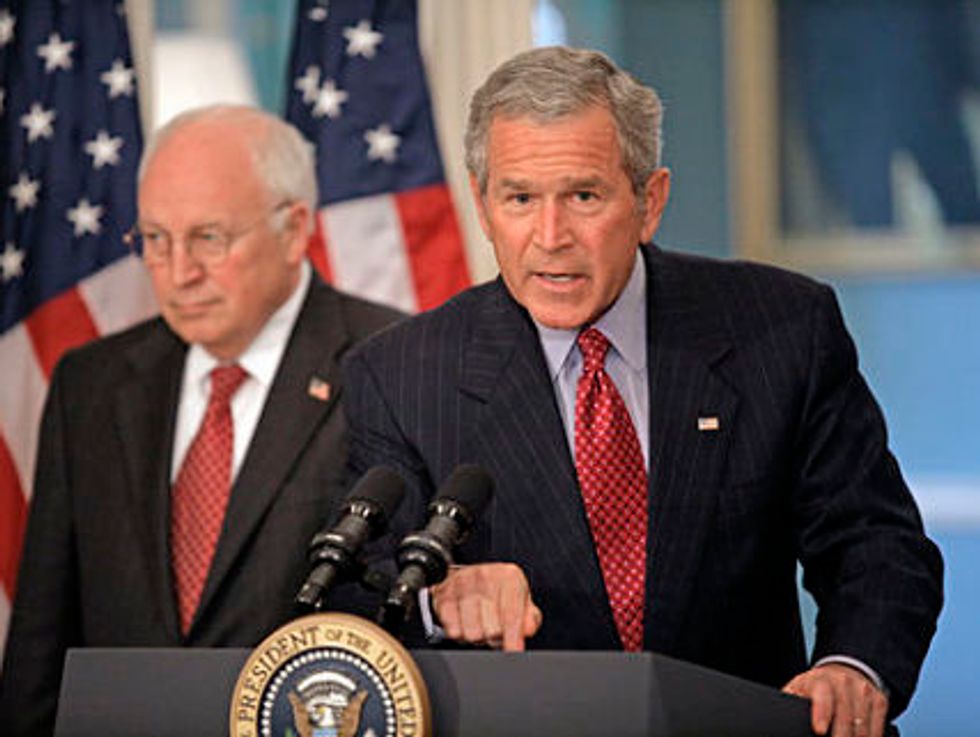 Republicans will face a clear choice in 2016: Are they members of the party that destroys the economy accidentally, or on purpose?
In the corner of unintentional destruction, we have the George W. Bush Republicans, represented by Governor Chris Christie (R-NJ).
This week during a fundraising trip in Chicago, the governor seemed to reassure donors that unless he's in jail or asleep with the fishes, he's running for president. And he'll be doing it as a George W. Bush Republican.
"The guy won two national elections," Christie said. "How easy has that looked the last eight years? He was, first, an outstanding political candidate. And I think he was grossly underappreciated by his own country and his own party as a politician."
LOL.
Bush is misunderestimated as a politician? A guy who "won" two elections, one after failing to prevent the largest terrorist attack in American history, then followed it up by invading the wrong country. Bush's political skill — or his willingness to defer to Karl Rove's invidious politicization of all things — has never been in doubt. Neither has the complete yet likely unintentional failure of his governance, which cost his party the Congress, then the White House.
But praising Bush the politician is a canny move for Christie, who would compete with Jeb Bush both for donors and positioning as the "business Republican" bent on deregulating everything while stimulating the military-industrial-financial complex with tax cuts and deficit spending. That's if the former governor of Florida decides to run, which the governor of New Jersey is obviously hoping to dissuade him from doing.
Christie has led New Jersey to a "curiously weak economy" but enthralled his party's funders by lowering property taxes on the rich to do so. This has pleased so many billionaires that more than a month into a scandal that has destroyed any bipartisan veneer he once promised, he still has been taken as seriously as any Republican candidate for president can be.
The party's other big dog made his latest GOP primary move this week by forcing a dozen or so of his fellow Republican senators to act responsibly when it came to not intentionally forcing America into a full economic collapse. Senator Ted Cruz (R-TX) filibustered a clean bill to raise the debt limit, forcing his colleagues to be responsible in public by doing something they've spent the last four years equating with treason.
Cruz decided that the GOP's passion for threatening economic default could not be abandoned so easily, even after House Speaker John Boehner (R-OH) and Senate Minority Leader Mitch McConnell (R-KY) had crumbled so quickly that Democrats were willing to help them Dustbuster their mess up.
Cruz's desire to extract painful concessions in exchange for raising the debt limit as Republicans did dozens of times after George W. Bush blew the surplus was first popularized in 2011 by Rep. Paul Ryan (R-WI), who also broke with his party's leadership to vote for not paying for bills due on the spending in the budget he just negotiated.

Ryan was a leader in the movement that said the only way to fix our mounting debt is not to ask the rich to pay a dime more but to impose brutal cuts on those who are suffering most in the midst of a Great Recession. Wall Street took him so seriously, as he insisted the GOP was willing to default, that billions of wealth and America's perfect credit rating were destroyed in weeks.
Mitt Romney's running mate is the perfect Republican candidate because he represents both the unintentional destruction of Bush, having voted for everything the last Republican president proposed, while also being the prophet of debt doom so dire he's willing to intentionally blow up our economy or at least destroy the safety net Americans have based their entire lives upon existing in their current form.
But Ryan's occasional dalliances in governance and desire to cut taxes for the richest will have him competing with Christie for donors for 2016, should the congressman decide to run.
Cruz would love to cut taxes as much as any Republican but his willingness to take Tea Partying to the extreme and actually campaign against his own party distinguish him as the leader of the GOP's far right — though the senator was a proud employee of George W. Bush.
If Republicans fail to win the Senate in 2014, Cruz has the perfect argument for an activated GOP base that is flooding millions into campaigns while spooking the "establishment" with ginned-up "activism": We lost because we failed conservatism.
Cruz will run against any sort of immigration reform that includes legalization. He'll run for full repeal of Obamacare. And he'll run for shutdowns, standoffs and crises that force his party to turn on each other like rabid reservoir dogs, all the while moving the party further and further to the right. Basically, he'll position his party as utterly unelectable, barring a complete economic meltdown.
And this will be utterly predictable until either Cruz or Senator Rand Paul (R-KY) reach the point where it's obvious that they're bound to cancel out each other's candidacies. Paul voted with Cruz against the debt limit extension but has made his peace with McConnell and the establishment to help his presidential prospects. And when the two men recognize that only one intentional destroyer can survive, then their savage inclinations to destroy their opponents will actually become interesting again.
Then the winner will face the representative of the George W. Bush wing of the party. That's when the party's funders will remind voters with millions in spending that they care too much about their own wealth to blow it on purpose.