Party Of Lincoln Takes Aim At Black Voters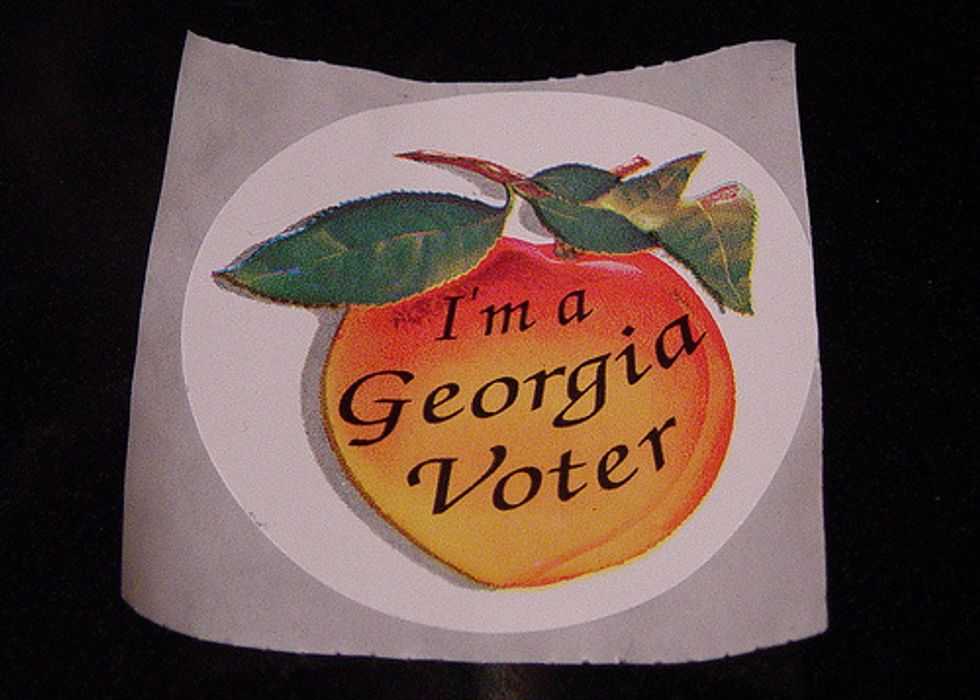 Since winning control of the governorship and both houses of the state Legislature in 2004, Georgia Republicans have passed a series of new laws restricting access to the polls. Their mission is clear: To suppress the African-American vote in the Peach State.
Now, as the November elections draw near, Georgia's restrictive ballot-access laws are about to get their first real test. And control of the U.S. Senate could hang in the balance.
In the following excerpt, Washington Spectator editor Lou Dubose examines the voter-suppression measures and what effect they could have in this year's critical elections. Dubose' full report can be read here.
ATLANTA — "Race and party affiliation are inextricable in this state," said Georgia House Minority Leader Stacey Abrams in a telephone interview. Abrams, an African-American attorney elected to the General Assembly in 2007, said that more than 90 percent of blacks in Georgia are Democratic voters.
In a state where African Americans make up 31 percent of the population, Democratic candidates, particularly those running for statewide office, are not competitive without the black vote. In any close election, African-American turnout determines which candidate prevails.
The same is true across the South, where the black population has increased 18 percent between 2000 and 2010 (compared to white growth of 4 percent). Those numbers threaten a Republican hegemony that began when political strategist Kevin Phillips added Richard Nixon's 43.89 percent to George Wallace's 13.5 percent of the popular vote in 1968 to devise a "Southern Strategy" that used what Phillips called "the Negro Problem" to create a perennial Republican majority in the states of the former Confederacy.
That majority is slipping away and each successive statewide race becomes more of a challenge because, as South Carolina senator Lindsey Graham observed in 2012, "We're not generating enough angry white guys to stay in business for the long term."
In Georgia, the long term has arrived.
Republicans saw it coming six years ago. The 2008 election unsettled the leadership of the Georgia Republican Party, Democratic state senator Vincent Fort told me in an interview in his Capitol office in Atlanta. Fort, an African-American professor of history before he was elected to an Atlanta Senate seat in 1996, is the Democratic Whip.
Republican legislators had passed the nation's second voter-identification bill in 2005, then modified the legislation in 2006 to stay ahead of a lawsuit filed in federal court. Their intent, Fort said, was to suppress the African-American vote.
It didn't exactly work out as planned.
"In 2008, Barack Obama got 47 percent of the vote in Georgia," Fort said. "That wasn't supposed to happen. But civil-rights activists, voting-rights activists, they used the state's 45-day early-voting period to really turn out black voters."
In response, GOP legislators upped the ante, passing two more bills that make voting more challenging — including one that cut the early-voting period in half.
"They have no choice," Fort said. "They know if they don't get ahead of the demographics, they lose." Georgia's combined non-white population increased from 37 to 45 percent from 2000 to 2010.
Fort said the voter-ID bill demonstrated how serious Republicans are about restricting access to the polls. "But coming back and passing a bill that cut early-voting in half, that showed me that Republicans are playing hard ball," Fort said. "Real hard."
In November, Georgia's restrictive ballot-access laws will get their first real test. Michelle Nunn, the daughter of former Democratic senator Sam Nunn, is the Democratic candidate for the U.S. Senate seat being vacated by Republican Saxby Chambliss. Nunn is in a close race with former dollar store CEO David Perdue. The African-American vote will likely determine the winner.
Georgia's ballot-access laws could also shape the outcome of the competitive race between incumbent Republican governor Nathan Deal and Democratic challenger Jason Carter, the grandson of former President Jimmy Carter.
A Carter win would be a game-changer in Georgia, unless Republicans pick up the one House seat that would provide them a supermajority in both chambers of the General Assembly and allow them to govern by veto-proof legislation.
Michelle Nunn, however, is one of very few firewalls against a Republican takeover of the U.S. Senate. What remains of President Obama's agenda might hang on election results posted in Atlanta in November.
"The voter-ID bill is big," Atlanta Democratic senator Nan Orrock told me. "But it is one part of a much larger whole."
Orrock, a white liberal who found her way into politics through the civil-rights movement in the 1960s, has represented predominantly black Atlanta districts in the Georgia House, and later the Senate, for 28 years.
According to Orrock, the Voter ID Act is best understood as one piece of a broader Republican legislative agenda. That agenda extends beyond voting laws that specifically target minority voters: voter ID, cutting the early-voting period from 45 to 21 days, and a citizenship-verification law that matches databases and scrubs voting rolls.
After Republicans won control of both houses of the General Assembly in 2004, they resorted to race as the primary criterion in drawing the congressional, legislative and even county commissioners' districts, frequently "pairing" Democratic incumbents to force them to run against each other. They packed blacks into racially homogeneous districts and subdivided, where they could, those communities where whites and African-Americans had built biracial coalitions of voters.
"Fulton County, this is critical to understand," Orrock told me. "The Republican Party has stripped the power from the African-American community in Fulton County."
Fulton County, which includes Atlanta, is 44.4 percent African-American, 7.7 percent Latino and 40.7 percent white. Today, in a coalition with white progressives and Latinos, its African-American majority dominates local government; five of Fulton County's seven county commissioners are black Democrats, but that's likely to change.
For years, Republican legislators criticized the Board of Commissioners for being profligate and inefficient, yet because of Atlanta's demographics, electing a majority has been beyond the Republicans' grasp. They managed to undermine the county's finances by freezing property evaluation for two years and requiring a five-vote majority on the commission to pass a property tax increase. But to "win" a majority of seats on the Fulton County Commission, Republicans embarked on a two-step process that began in the Legislature.
Each county delegation in Georgia's General Assembly controls legislation related to the county it represents. For 20 years, Democrats dominated Fulton County's legislative delegations in the House and Senate. Before Republicans could increase their two-member foothold on the Fulton County Commission, they had to redraw the legislative districts to their advantage.
They did so during redistricting in 2011, extending Fulton County's legislative district boundaries out into whiter, more Republican counties. Until the 2013 elections that followed redistricting, Fulton County was represented by a 14-8 Democratic majority in the Georgia House and a 4-3 majority in the Senate.
Republicans now hold a 13-12 edge in Fulton County's House delegation and a 7-4 majority in its Senate delegation.
Once Republicans controlled Fulton County's legislative delegation, they could change the complexion of the county Board of Commissioners.
In the 2013 legislative session, Fulton County's Republican legislative delegations redrew commission district lines to ensure that one of the five incumbent Democrat commissioners will be automatically eliminated (by forcing two veteran African-American Democrats to run in the same district). They also turned an at-large seat currently held by an African-American Democrat into a new district situated in (majority white) north Fulton County.
While the at-large seat in a majority African-American county was winnable for a Democrat, the new district in the north of the county favors a Republican. If they prevail at the polls in November, Republicans will, by legislative fiat, have taken control of Georgia's largest majority-minority county.
They are just beginning.
Read Lou Dubose's full report at The Washington Spectator.
Photo: Heather Kennedy via Flickr
Want more political news and analysis? Sign up for our daily email newsletter!