Party Lines Don't Apply In Fights Over Western Land
@reuters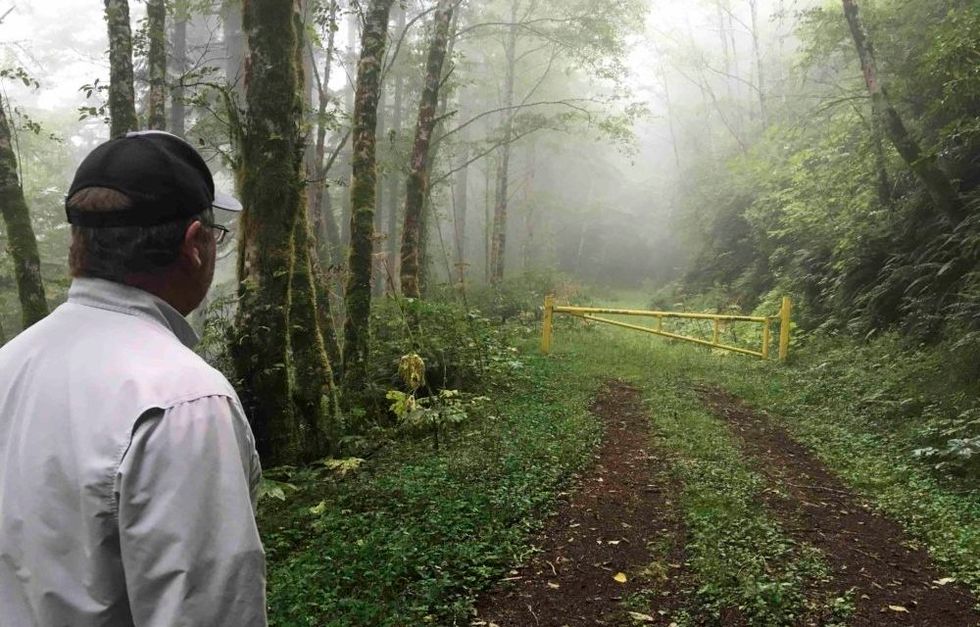 Every time Dean Finnerty sees the locked neon-yellow gate and "No Trespassing" sign deep in Oregon's Elliott State Forest, he bristles at the growing movement to transfer federally owned land to U.S. states.
The 52-year-old conservationist and lifelong political conservative worries that cash-strapped states that acquire such land will ultimately be forced to sell to private companies only to extract oil, gas and timber.
He is one of many conservative outdoors enthusiasts to join liberal environmentalists in opposing such transfers.
They stand against business interests and conservative states' rights advocates who argue that handing the land to states will unleash its economic potential.
Finnerty likes to hunt bear and elk on public land in Oregon with his five sons. But their outings were curtailed two years ago when the state, which had acquired the land from the federal government, in turn sold some of it to logging companies.
"When the federal government owned these lands they were better equipped to keep and maintain them," said Finnerty, who keeps a handgun in his truck in case he encounters a mountain lion. "The idea that we could lose these federal public lands is not acceptable."
Finnerty and his fellow sportsmen, many of them conservatives who instinctively oppose big government, are petitioning lawmakers, writing opinion columns and staging protests at state capitols. They fear losing access to prime hunting and fishing lands if states take control.
They have won backing from dozens of trade groups and companies, including fishing rod makers Orvis Corp and Sage and gun manufacturer Remington.
'ABSURD … ABSENTEE OWNERSHIP'
Their protest is at odds not just with anti-federalists such as the armed militiamen who seized control of the Malheur National Wildlife Refuge in Oregon earlier this year, but also many in the Republican Party mainstream.
Republicans last month officially embraced federal-to-state land transfers for the first time in their party platform, saying it is "absurd" that so much land is under Washington's "absentee ownership."
The ideological standoff marks a new front in the "Sagebrush Rebellion," the decades-old fight over land-use in the U.S. West.
At stake is control of roughly 640 million acres of federally owned land, more than one-fourth of the U.S. land mass, most of which falls across a dozen Western states, according to the Congressional Research Service. here
For a graphic of federal land ownership across the United States, click here:tmsnrt.rs/2b8CKe1
Supporters say transfers could be lucrative. Oil and gas reserves on federal lands could generate $12.2 billion annually over the next decade, supporting more than 87,000 jobs, a 2013 University of Wyoming study estimated. goo.gl/7Mm8KY
More than 30 bills pushing for federal land transfers were introduced in Western states in 2015, according to the Theodore Roosevelt Conservation Partnership, which opposes transfers. More than a dozen have been filed this year, said the Center for Western Priorities, another opponent.
Wyoming, Idaho, Arizona and Nevada have passed bills to study the issue.
Utah went further in 2012, demanding millions of acres of federal land and authorizing a lawsuit if that did not occur by 2014. Utah has not sued yet.
MONEY AND MANPOWER
John Ruple, a University of Utah professor of public land law, said the state has no legal case and the U.S. Congress controls such transfers.
Karla Jones of the American Legislative Exchange Council, a group of conservative lawmakers and business leaders who have ushered virtually identical land-transfer legislation through several state legislatures, hopes a new Congress after November's election will support the push.
"The federal government does the exact same thing the states do. It leases land to the extractive industries," she said. "The big difference is the U.S. generally loses money."
But those fighting for the status quo, including Finnerty, say states lack the money and staffing to enforce the law across massive tracts of rugged, remote terrain.
There has been no wholesale transfer of federal tracts in decades, though small transfers are common.
Oregon received the Elliott State Forest from the U.S. government in a 1930 land transfer, hoping to fund schools through timber sales and investments. But it sold thousands of acres to logging companies in 2014 after revenues plunged.
Next year, Oregon hopes to fetch more than $220 million for the remaining 82,500 acres.
"This is a coordinated, multiyear campaign to take away our federal public lands, which are an American birthright," said Whit Fosburgh, president of the Theodore Roosevelt Conservation Partnership.
(Reporting by Eric M. Johnson in the Elliott State Forest, Oregon; Editing by Ben Klayman and Jonathan Oatis)
Photo: Avid hunter and angler Dean Finnerty, 52, of Scottsburg, Oregon, stares at a locked gate on a logging road through which for years he would hunt black bear and elk before the land was sold and he lost access inside the Elliott State Forest in southwest Oregon, U.S. on July 27, 2016.  REUTERS/Eric Johnson