Paul Hopes His Opposition To Patriot Act Boosts Campaign Support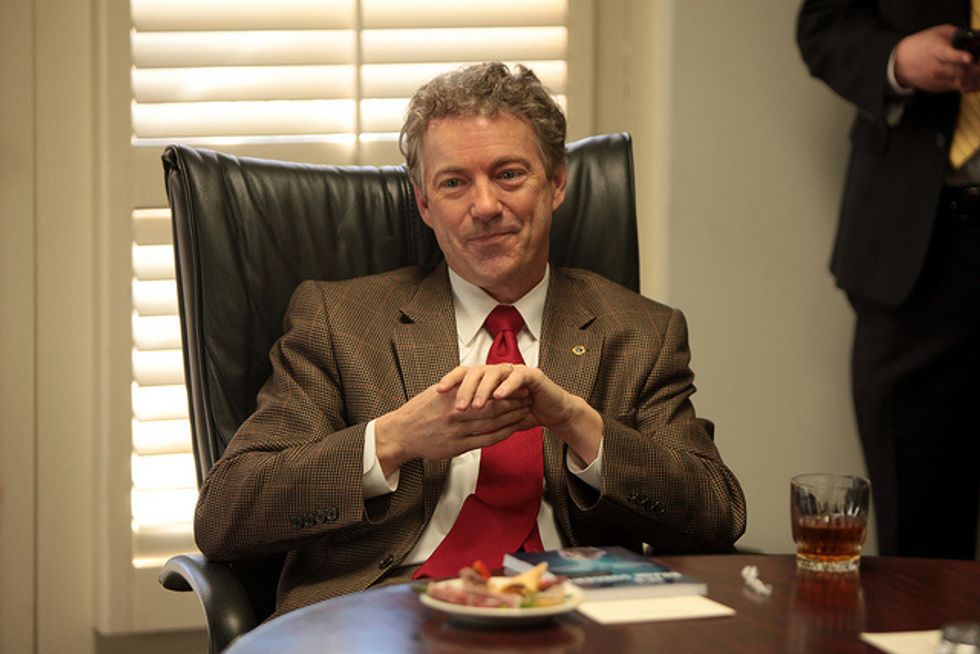 By Sean Cockerham, McClatchy Washington Bureau (TNS)
PHILADELPHIA — As his fellow Republican Kentucky senator, Mitch McConnell, pushes this week to reauthorize the Patriot Act, Rand Paul took his presidential campaign to Independence Mall on Monday and said he'd do whatever he could to kill the law and the bulk collection of Americans' phone records.
"One senator came up to me and said, 'If you defeat the Patriot Act, what will happen? How could we possibly survive?'" Paul said on a muggy afternoon, outside the Philadelphia hall where the Constitution was adopted. "And I said, 'Maybe, just maybe, we could rely on the Constitution for a few hours.'"
Paul's vow to fight the Patriot Act sets up a showdown with McConnell, and it's an important moment for his campaign. Polls show Paul mired in the middle of a crowded field of Republican contenders, and he's hoping his threat to filibuster over the mass collection of phone records will bring back the excitement of the 13-hour anti-drone talkathon on the Senate floor two years ago that launched him into national prominence.
"If he pulls this off, I think it will be important in reminding the libertarian/civil liberties-leaning people what it was they liked about this guy in the first place," said Brian Doherty, senior editor at the libertarian Reason magazine and author of a book about Paul's father, former presidential candidate Ron Paul.
Rand Paul, who said he intended to filibuster the provision, said this week's battle over reauthorizing the Patriot Act would be "a great and momentous debate" over the Constitution's right to privacy. The act, which passed by lopsided margins following the terrorist attacks of September 2001, handed largely unchecked powers to federal investigators to combat terrorism. Since then some courts have found provisions unconstitutional.
But Paul didn't sound confident of winning. It would take 60 votes in the Senate to defeat his filibuster, but he said, "The rules are tricky in the Senate."
"We do not have the votes to ultimately defeat the Patriot Act. I can delay it. … What I will demand is we have time on the floor to debate this, and I will demand that amendments that we put forward are given a chance on the Senate floor," Paul said, surrounded by a crowd of youthful supporters.
Paul's position on the Patriot Act puts him at sharp odds with his rivals for the Republican nomination. Former Florida Gov. Jeb Bush called the National Security Agency's data collection program important for protecting the nation's security, and "the best part of the Obama administration."
Sen. Marco Rubio, R-Fla., has also defended the program, as has South Carolina Republican Sen. Lindsey Graham. Sen. Ted Cruz, R-Texas, wants changes to the program but doesn't go as far as Paul. Paul said he'd offer amendments with Sen. Ron Wyden, D-Ore., who's also threatening a filibuster.
Time is running out for the Patriot Act, making Paul's filibuster threat far more effective. Section 215, used to justify the bulk collection of phone data, is set to expire June 1, as is the "lone wolf" provision, meant to surveil targets not directly connected to terrorist cells, and a measure that allows the government to use roving wiretaps to track suspects who switch phones or locations.
Congress is scheduled to leave for a weeklong Memorial Day break at the end of this week, so timing is tight. Complicating the debate is an appeals court ruling this month that the mass collection of phone records is illegal because it wasn't properly authorized under Section 215 of the Patriot Act.
The court let the program continue temporarily, effectively giving Congress a chance to rewrite the surveillance law. The House of Representatives, with the president's support, passed the USA Freedom Act last week with changes to the bulk collection system, but Paul said the measure didn't go far enough.
His filibuster threat was cheered by a crowd that had paid $45 apiece to hear him, in a suit and cowboy boots, speak earlier Monday at the National Constitution Center (they'll also get copies of his book when it comes out May 26.) "It's a good idea," said Robert Reed of Pine Hill, N.J. "There is too much government."
But McConnell, the Senate majority leader, was dismissive Sunday of the filibuster threat being made by his fellow Kentuckian.
"Everybody threatens to filibuster. We'll see what happens," McConnell said in appearance on ABC.
McConnell wants to continue the bulk collection of phone records, and he's pushing for at least a two-month reauthorization of the Patriot Act to allow time to negotiate.
Paul won supporters two years ago when he launched a filibuster in protest of what he deemed a risk of drone strikes to U.S. citizens on American soil. But Republican strategist Ford O'Connell said in an interview that Paul now had a fine line to walk as a candidate for the Republican presidential nomination between firing up libertarian-minded backers and not appearing weak on national security and foreign policy.
"Foreign policy is driving him down in the polls, but it's stances like this on the Patriot Act that are still sparking interest in him," said O'Connell, who advised the 2008 presidential campaign of Sen. John McCain, R-Ariz. "He has to be able to use the Patriot Act debate to leverage it into a wider foreign-policy debate."
Paul, who's feuded with the hawkish McCain on foreign policy issues, said Monday that American intervention had backfired in Iraq and Libya.
"We get rid of the strongman, and we have chaos and we have the rise of radical Islam," he said.
(c)2015 McClatchy Washington Bureau, Distributed by Tribune Content Agency, LLC.
Photo: Senator Rand Paul of Kentucky speaking at a physician roundtable at the Chaparral Suites in Scottsdale, Arizona. January 15, 2015. (Gage Skidmore/Flickr)