#EndorseThis: A Closer Look At Paul Ryan, Hypocrite And Fraud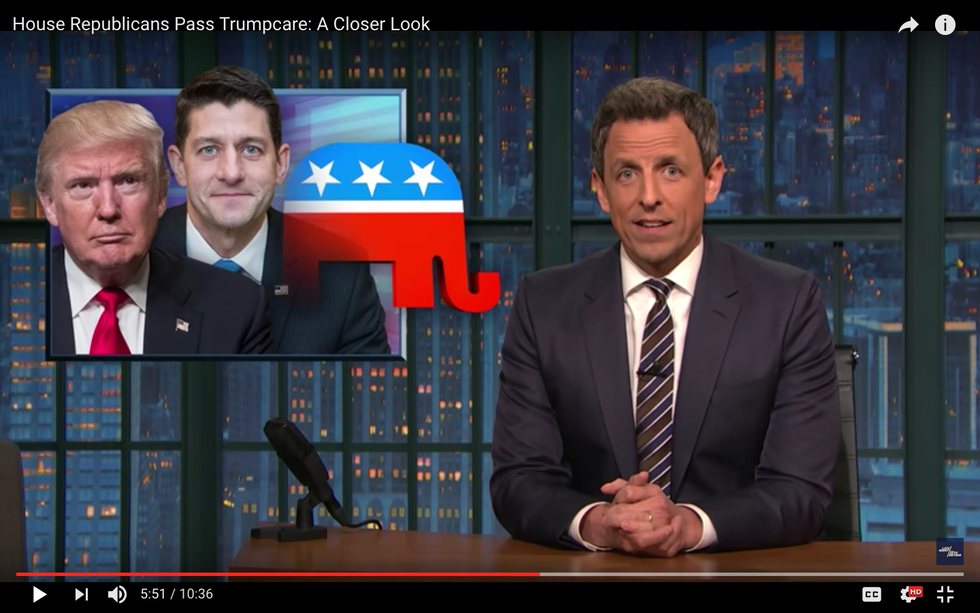 The Washington press corps has long indulged Paul Ryan, describing him in countless admiring profiles as serious, principled, reasonable, and even compassionate, since long before he rose to become Speaker of the House. But taking "a closer look" at the process that led to yesterday's narrow House approval of the Trumpcare bill, also known as the American Health Care Act, Seth Meyers is prepared to dispute that assessment of Ryan.
The bill itself is a potential disaster, of course, threatening ruinous impact on health insurance enrollment, coverage and costs for older citizens, and Medicaid coverage for the poor and disabled. Celebrating that "victory" with a beer bash combined terrible policy with obnoxious bad taste.
But Meyers wonders why Ryan — who complained so righteously about the process when Obamacare passed in 2009 — rammed through the Trumpcare bill with far less scrutiny and ceremony than the Democratic bill endured back then. Recall how the Affordable Care Act underwent weeks and months of hearings, readings, textual analysis, and budget scoring. None of that now: No hearings, no budget analysis, not  even a bill text to read until the day of the vote.
The Late Night host has lots of clips of Ryan whining. "I don't think we should pass bills that we haven't read and don't know what they cost," said he, in a perfect preview of what he and his members did yesterday.
You already know the Speaker is a hypocrite and a fraud, but it's still highly amusing to watch Meyers prove it, clip by clip.