Paul Ryan's Challenges Will Not start Until After Nov. 8 Election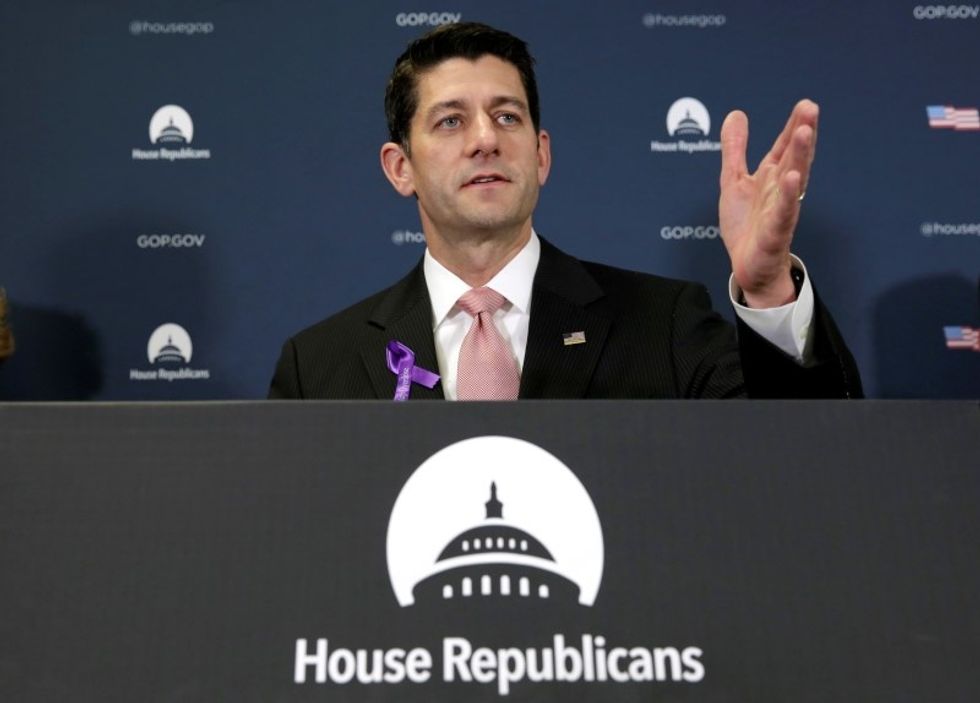 WASHINGTON (Reuters) – U.S. House Speaker Paul Ryan is expected to cruise to re-election in his Wisconsin congressional district on Nov. 8, the day before his real political problems are likely to start.
That is when Ryan will know the shape of the new House of Representatives. If, as some analysts foresee, it becomes even more conservative than it is now, Ryan's difficulties in managing the lower chamber of Congress could worsen.
For the highest-ranking elected U.S. Republican, that could spell trouble as the former vice presidential nominee looks ahead to a possible presidential run in 2020.
Some staunch House conservatives, questioning Ryan's commitment to them and their agenda, are looking less kindly on the idea of re-electing him as speaker early next year.
But his real test, assuming he retains the speaker's gavel, would be getting legislative results with a more conservative House. Compounding that could be the U.S. Senate switching to Democratic from Republican control and possibly a Democratic president, Hillary Clinton, if she beats Republican Donald Trump in the November election.
"Next year, almost no matter what, is going to be a very tough one for Paul Ryan," said political scientist Norman Ornstein of the American Enterprise Institute think tank.
The 2016 election results could cast a shadow over Ryan's presidential ambitions in 2020 and 2024, assuming he harbours them. "It may well be that he decides it's just not worth it, partly given what he sees within his own party," Ornstein said.
Ryan's aides were reluctant on Monday to discuss the possible challenges of the next Congress.
"The focus over the next 57 days is defending and strengthening our House majority. We are in a good position," said Ryan's political spokesman, Zack Roday.
SMALLER, MORE CONSERVATIVE CAUCUS?
Republicans hold 246 of the 435 House seats, their biggest majority in decades. But analysts expect the party will lose seats in November, especially if Trump hurts fellow Republicans.
House members serve two-year terms and most are easily re-elected. The political prediction newsletter "Sabato's Crystal Ball" has tagged only 16 races as too close to call. Ten of those are currently held by moderates or pragmatists who have been fairly reliable supporters of legislation backed by Republican leaders including Ryan. Five of the 10 are retiring from the House.
If Trump's performance damages candidates down the ticket, moderates may bear the brunt. The result could be a smaller House Republican majority more dominated by politically secure conservatives of the sort who have in recent years defied Ryan on some legislation.
"A shrinking GOP conference is no doubt going to be more conservative in the new Congress, raising the challenge for Speaker Ryan to form majorities with a slimmer and more conservative rank and file," said Sarah Binder, professor of political science at George Washington University.
If a number of moderates lose their seats, while most conservatives hold theirs, "then the House Freedom Caucus becomes more powerful," said Kyle Kondik, managing editor of "Sabato's Crystal Ball."
The Freedom Caucus is the House's most conservative bloc, with about 40 members. It helped eject Ryan's predecessor, John Boehner, a year ago, leading to Ryan's election as speaker.
The Freedom Caucus initially welcomed Ryan, a budget and fiscal policy specialist seen as more willing to listen to their agenda. But some Freedom Caucus members are unhappy with him since one of their members, Representative Tim Huelskamp of Kansas, lost a primary election last month.
Ryan could have done more to help Huelskamp, some critics said. "There was huge disappointment in that," said Representative John Fleming, a Freedom Caucus member from Louisiana who is running for the U.S. Senate in November.
The Huelskamp fallout has driven speculation that some conservatives who previously backed Ryan will oppose him when the House elects a new speaker in January, although none of them has said so publicly.
"I don't think most members feel yet that Ryan is undeserving of more time (as speaker), but frustration with the leadership is certainly growing," said Dan Holler of Heritage Action, the political wing of the Heritage Foundation conservative think tank.
(Editing by Kevin Drawbaugh and Peter Cooney)
Photo: U.S. House Speaker Paul Ryan (R-WI) speaks at a news conference following a closed Republican party conference on Capitol Hill in Washington, U.S. May 11, 2016. REUTERS/Yuri Gripas/File Photo