Pelosi Wields California Democrats' Clout In Bid To Regain House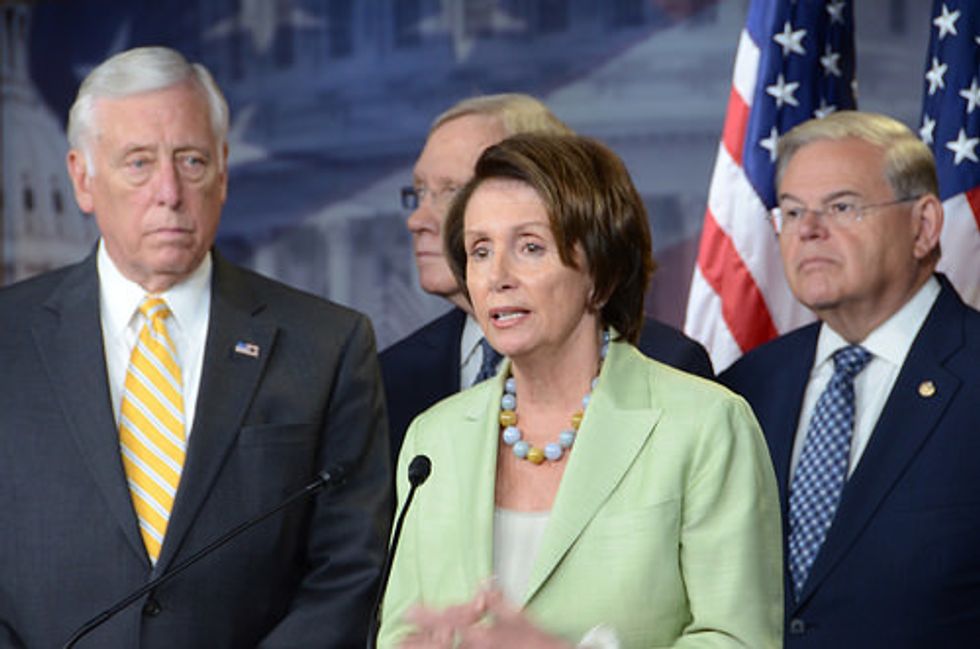 By Michael Memoli and Lisa Mascaro, Tribune Washington Bureau (TNS)
WASHINGTON — Undeterred by a dismal election that shrunk the party's ranks in the House to their lowest level since World War II, Nancy Pelosi is building a path back to power for Democrats in Congress that relies heavily on California clout.
Pelosi won a unanimous vote Tuesday to serve again as the House Democratic leader, a result that belied private sentiment among some that the party needs a shake-up in its leadership ranks.
But Pelosi has raised more money for House Democrats than other elected leaders, including President Barack Obama, and the high-energy 74-year-old makes no secret of her plan to tap the state's wealthy donor base and Democratic political tilt to propel her House minority back into the majority again.
"My thing is, I'm here on a mission to get something done," Pelosi said in an interview in her elegantly cheery suite, steps from the House floor. "But I also know that I bring with me … a great deal of resources — intellectual, political and financial — to our opportunity to do that, to win."
In the interview, Pelosi offered a brief lesson in California congressional history: The state's delegation was split evenly between Democrats and Republicans when she began her climb into leadership more than a decade ago.
After Democrats swept the 2006 elections midway through President George W. Bush's second term, Pelosi made history by becoming the first woman to be speaker of the House.
Now, despite the party's electoral losses across the nation in November, Democrats in California are actually poised to gain another congressional seat this year to make the Democratic advantage 39-14 in California. That comes after Bakersfield Rep. Kevin McCarthy, the new Republican majority leader, tried unsuccessfully to make greater gains for his party on Pelosi's turf.
"Thirty-nine members from one state — that's more than some of the regions that we cover, much less any one state," said Pelosi, who in January will also add the honorary title of dean of California's delegation as its most senior member. "I take great pride in the fact that when we won the House in 2006, it all began in California."
But Pelosi's pride in what has been called the "Golden lining" of an otherwise dismal election performance — a reference to the electoral inroads made in the Golden State — may only go so far in buttressing her standing in the caucus.
The House, like the Senate, will be run next year by politicians old enough to receive Social Security and who have been in Washington for decades. House Speaker John A. Boehner of Ohio, 65, and Sen. Mitch McConnell of Kentucky, 72, the Republican leaders, draw on their career experience in Congress and ability to navigate through party rifts to remain in leadership.
Rank-and-file Democrats have privately grumbled that the party's bench of new leaders has waited long enough for their turn at the top.
And, in an echo of complaints that spilled over in the Senate, they say someone in the party must take responsibility for Democrats' fall setbacks. Senate Majority Leader Harry Reid, 74, of Nevada won his own leadership election last week only after a grueling three-plus-hour private session and a handful of opposition votes.
But on Tuesday, there were no audible expressions of opposition to Pelosi during the private meeting in the Capitol basement, according to those present. The woman who had conducted more than 750 campaign events over the last two years to help those in the room get re-elected was swiftly chosen by acclamation after less than 15 minutes of debate.
Rep. Eric Swalwell, D-Calif., who two years ago ousted longtime San Francisco Bay Area Democratic Rep. Pete Stark on a message of generational change, was one of the members chosen to nominate Pelosi. "Nancy listens and she builds consensus among our members," he said.
"No one has worked harder to be inclusive," said Rep. Nydia M. Velazquez of New York. "She understands our power is our diversity."
"A big love-in," said Rep. Rick Nolan, D-Minn., afterward. "She's been just an indefatigable leader. No one knows anyone who has more energy, more determination."
But what happened next may prove telling for the road ahead. Lawmakers broke into a bitter dispute over rules that prevented one pregnant lawmaker, Rep. Tammy Duckworth, D-Ill., from casting her vote by proxy, which many supported.
Pelosi opposed the proxy, arguing that changing the rules to allow Duckworth to vote would lead the caucus down a slippery slope requiring exceptions for all forms of absences.
Many also grimaced over Pelosi's decision to back one of her closest friends, fellow California Rep. Anna G. Eshoo, to leapfrog over a more senior member from New Jersey, Rep. Frank Pallone Jr., to the top Democratic spot on the powerful Energy and Commerce Committee.
Congressional Black Caucus members, in particular, chafed at the disregard of seniority, which they see as crucial to ensuring their members — who continue to win re-election and add to the Democrats' ranks — will rise to chairmanships.
The outcome of the Energy and Commerce committee fight, which could come Wednesday, will provide what some see as the real referendum on Pelosi's standing. But Pelosi told reporters after her re-election Tuesday that she felt "liberated" by the result despite rumors of dissent in the ranks.
"While there may be a few people who are talking to the press — and maybe there are some others who don't — overwhelmingly, I feel very strengthened and encouraged by the support that my colleagues have placed in me," she said. "I have never felt more confident going in than I do now."
After 28 years in office, Pelosi argues that she is entrusting Eshoo to take on more of the party's fundraising duties, particularly in California, where Democrats are facing increasing competition from Republicans going after tech money in Silicon Valley and from Hollywood.
"That whole just amazing resource is there — to the point that we have 39 members — that came with a lot of support and tremendous donors to the rest of the country. Our state is the donor state to the rest of the country," Pelosi said.
Pelosi said Eshoo's elevation would free her to focus on the party's message and voter mobilization, key campaign priorities that cannot falter again if the party hopes to regain control of the House.
Photo via Flickr