Pence: More Americans Believe In God Because Trump Is President
@AlterNet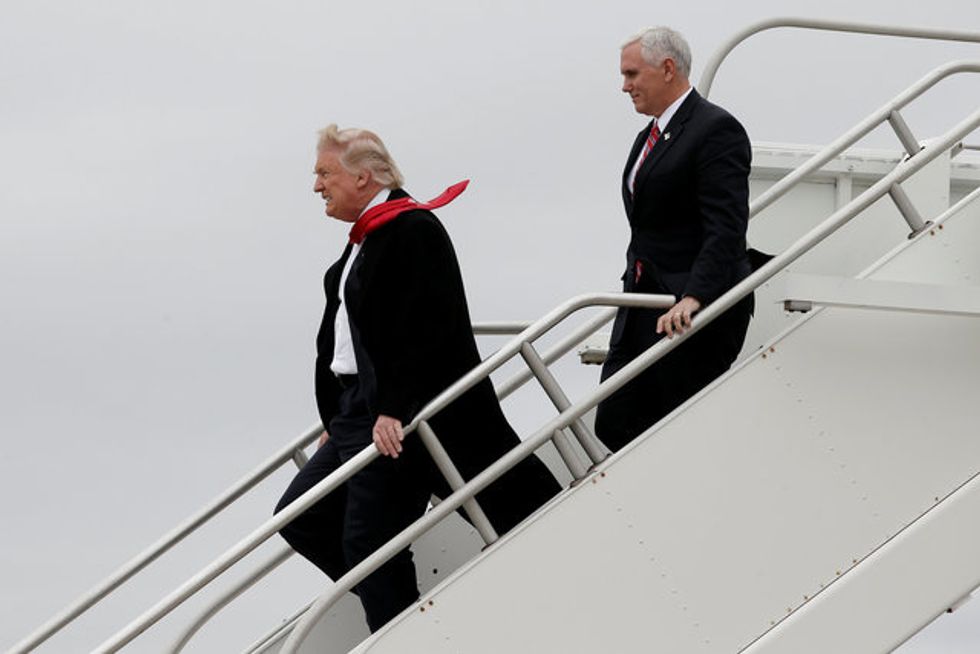 Reprinted with permission from AlterNet.
By David Badash / The New Civil Rights 
Vice President Mike Pence delivered the commencement address to graduating students at a small, private, ultra-conservative Christian college in Michigan Saturday afternoon. Many consider the former Indiana governor a devout Catholic, and his speech certainly supported that perception.
The Vice President told the Hillsdale College graduating class that because Donald Trump is now president, more Americans believe in God.
"Faith in America is rising again because President Trump and our entire administration have been advancing the very principles that you learned here in the halls of Hillsdale College," Pence said. "The principles that have always been the source of America's greatness and strength."
"Facts are facts," Pence also insisted. "Faith is rising across America."
Hillsdale happens to have major ties to the family of Betsy DeVos. The  college "considers itself a trustee of our Western philosophical and theological inheritance," according to its website. The Education Secretary and her brother, Erik Prince, are graduates of the school. Prince, the founder of the Blackwater security services company, sits on its board. He has been questioned by Special Counsel Robert Mueller.
Pence also made other questionable claims – even claims that seemed to be at with with other remarks in his own speech.
"Faith has always been the wellspring of hope for millions of Americans, and from our Founding, faith has been the foundation of our freedom, and religion essential to our republic," the Vice President said.
"The percentage of Americans who live out their religion on a weekly basis – by praying, going to church, and reading and believing in the Bible – has remained remarkably consistent over the decades, even as the population of the United States has grown by leaps and bounds," he claimed.
That's actually false, as this Gallup study shows.
Pence also told the students that on a per capita basis, Americans are four times as religious as they were when the country was founded.Aside from being able to get Vice President Pence as its commencement address speaker, Hillsdale college is famous another, albeit less distinguished reason. Last December Republicans tried to exempt the school from a tax on university endowments. The amendment was craftily worded to exclude from having to pay the tax an college or university that does not accept any federal funds. Hillsdale is the only college or university that does not accept any federal funds.
Democrats were able to defeat the handout.