Pennsylvania Governor Abandons Appeal On Same-Sex Marriage Ruling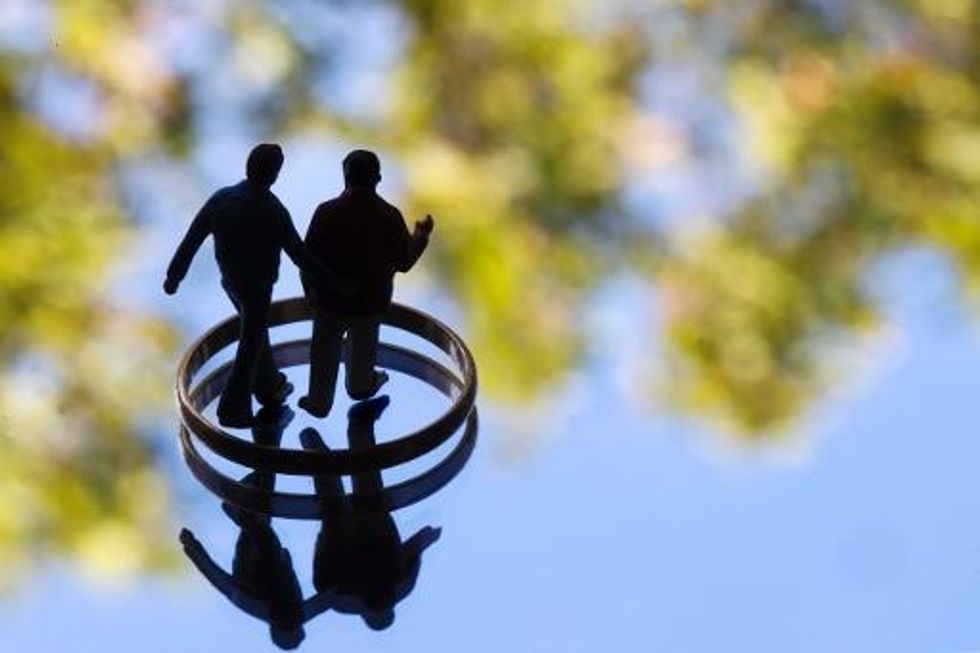 By Michael Muskal, Los Angeles Times
Pennsylvania will not appeal a federal court ruling that overturned the state's ban on same-sex marriage, ending the battle over the issue in the Keystone State, Governor Tom Corbett announced Wednesday.
The decision, announced in emails to reporters, means that Pennsylvania will continue to be the 19th state in the nation, along with the District of Columbia, to legalize gay marriage. Officials began issuing marriage licenses to same-sex couples Tuesday after U.S. District Court Judge John Jones III, sitting in Harrisburg, Pennsylvania, ruled that the state's 1996 ban on gay marriage was unconstitutional.
Corbett, a Republican, is in an uphill fight for his second term as governor. Pundits and polls have said that he is vulnerable to the millionaire businessman Tom Wolf, who won the Democratic nomination in this week's primary.
Corbett's action might help remove the issue from the electoral fray. In a March Quinnipiac University poll of Pennsylvania voters, 57 percent of respondents said they supported a law allowing same-sex couples to marry, while 37 percent opposed it. The poll also split along party lines with 74 percent of Democrats saying they supported same-sex marriage, while 59 percent of Republicans opposed it.
In his statement, Corbett said he had reviewed the ruling before deciding to abandon an appeal.
"Given the high legal threshold set forth by Judge Jones in this case, the case is extremely unlikely to succeed on appeal," Corbett stated. "Therefore, after review of the opinion and on the advice of my Commonwealth legal team, I have decided not to appeal Judge Jones' decision."
Corbett's office had fought to keep the state's ban in place while Attorney General Kathleen Kane, a Democrat, called it unconstitutional and refused to defend it. The governor said he still personally opposed gay marriage, but would abide by the court's ruling.
"As a Roman Catholic, the traditional teaching of my faith has not wavered," Corbett stated. "I continue to maintain the belief that marriage is between one man and one woman. My duties as governor require that I follow the laws as interpreted by the courts and make a judgment as to the likelihood of a successful appeal.
"Throughout the debate on this important and meaningful issue, I have maintained that Commonwealth officials and agencies would follow the provisions of Pennsylvania's marriage law unless or until a court says otherwise. The court has spoken, and I will ensure that my administration follows the provisions of Judge Jones' order with respect for all parties," he said.
The governor's action was greeted with joy by those seeking to make same-sex marriage legal.
"Governor Corbett's decision not to waste taxpayers' money defending the indefensible denial of the freedom to marry even one day longer is the right decision for Pennsylvania, for families, and for the country — and one more big step forward to celebrate," stated Evan Wolfson, president of Freedom to Marry, a pro-gay marriage group.
"Pennsylvania is showing the country that when gay couples share in the freedom to marry, it's joy, love, security, and happiness and a stronger community for everyone, and no one loses. And this latest decision by a Republican governor not to try to keep gay couples from marrying is additional proof that all of America is ready for the freedom to marry," he stated.
Only two states in the nation — North and South Dakota — have no pending suits seeking to overturn state bans on same-sex marriage.
It had been three states, but four couples announced Wednesday that they are suing Montana over its constitutional ban on same-sex marriage. The suit is being brought by the American Civil Liberties Union, which has aided in numerous such suits, including the one that eventually overturned Pennsylvania's ban.
The Montana suit was filed in federal court in Great Falls. It alleges the state ban denies same-sex couples the freedom and dignity afforded to others living in Montana, and denies them the state and federal legal protections enjoyed by heterosexuals in marriage.
AFP Photo/Joel Saget