Pennsylvania's Senate Democratic Primary Pitts The Party Against Itself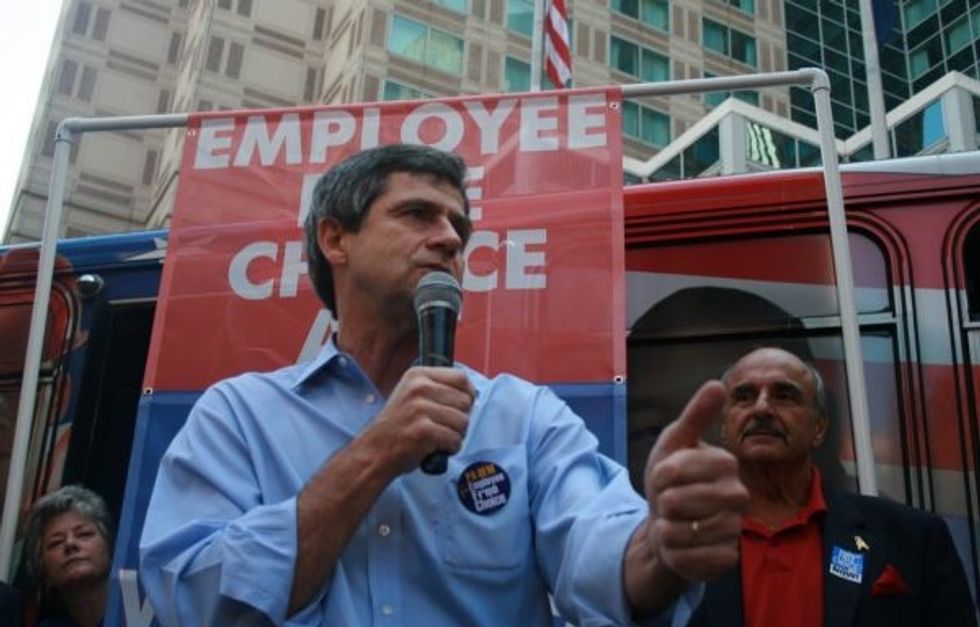 Joe Sestak is a former three star admiral, a two term congressman, and a one time Senate candidate who came within two points of defeating Sen. Pat Toomey in 2010, a tough, tough year for Democrats.
Yet his own party and aligned outside groups are spending millions of dollars to derail his bid to be the Democratic nominee for Senate in Pennsylvania.
Voters in the state are heading to the polls today in a fiercely contested Senate primary race. Pennsylvania is one of six key states — along with New Hampshire, Illinois, Ohio, Florida and Wisconsin — for Democrats as the party plots to take back the Senate.
The Democratic establishment wants Pennsylvanians behind Katie McGinty, a former chief of staff to Pennsylvania Gov. Tom Wolf who hasn't held elected office herself. She's received support from the party's Senate campaign committee and an endorsement from the president.
"D.C. Democratic money is now used without asking donors whether it can be contrary to the original purpose of the contribution: not against Republicans, but against another Democrat," Sestak wrote in an email to supporters last week.
This all started in 2010. That's when 64-year-old then-Congressman Sestak, after two victories in the normally Republican-leaning 7th Congressional District, ran his first race for the Senate Democratic nomination. After Sestak began his campaign, incumbent Republican senator Arland Specter switched parties, running for re-election as a Democrat and quickly earning the support of the state party infrastructure.
Sestak, mostly thanks to a top-notch ground game, managed to win the nomination without the support of the Democratic establishment. He narrowly lost to Pat Toomey in the general election, a seat the party believed could have been won had Specter been their candidate.
Sestak, pro-choice, F-rated by the National Rifle Association, top rated by environmentalists, anti-Citizens United, and a one time national security adviser to Hillary Clinton, announced early last year he was running again for the Senate. Politico reported that he had refused to hire a party-approved campaign manager. The DSCC unsuccessfully attempted to recruit five other candidates before finally landing on McGinty.
Sestak is popular in Pennsylvania and led the polls by double digits as late as a month ago. His campaign has pulled in more than $4 million, and a supportive super PAC has a million more.
But McGinty, helped by outside spending totaling close to $4 million, much of it from the DSCC and EMILY's List, has drawn even according to the latest polls. Monmouth University have the pair dead even at 39 percent, while the Republican-leaning Harper Polling put McGinty six points ahead.
There is a third candidate: Braddock, PA mayor John Fetterman. Most often profiled as the 6'8, tattooed, bald-headed, bushy-bearded Harvard graduate, the Bernie Sanders supporter is expected to pick up a respectable 10 percent of the vote.
Sestak's supporters worry that Fetterman will pick off independent, anti-establishment voters that may have otherwise voted for the former admiral.
Meanwhile, incumbent Republican Sen. Pat Toomey watches on, cradling a $9.1 million general election war chest that will grow with time.
If Sestak wins the primary, the party establishment will have to park their dislike of the candidate in some dark D.C corner. No matter their nominee, Democrats need Pennsylvania, along with another four of the six target states, if they are to take back the Senate.
Photo: Joe Sestak in 2009. Wikimedia Commons.