Pentagon Chiefs Warn U.S. Ground Troops May Be Needed In Iraq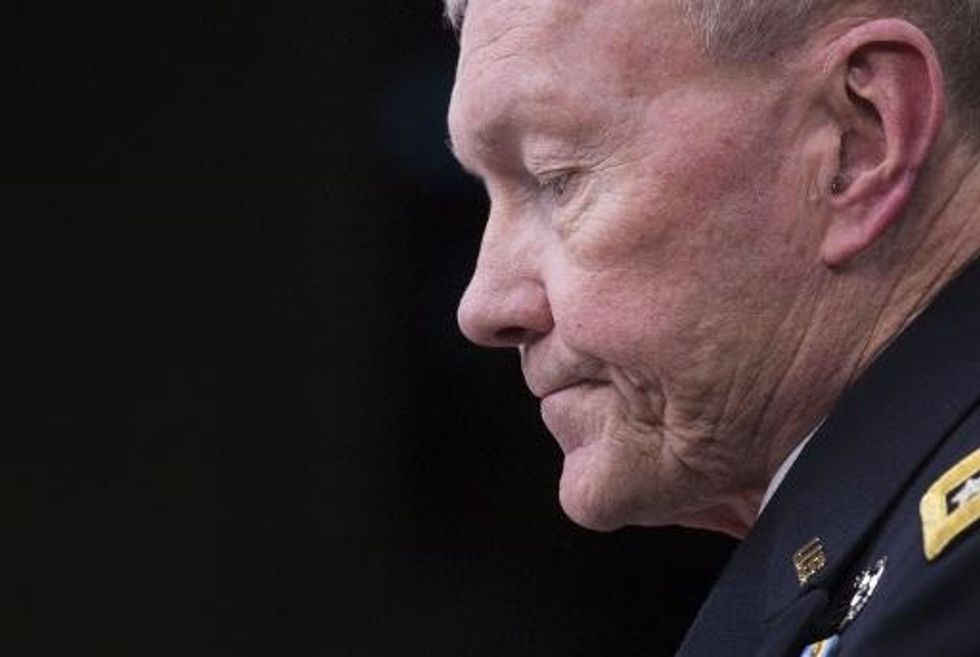 By W.J. Hennigan, Tribune Washington Bureau
WASHINGTON — Gen. Martin Dempsey, the military's top officer, opened the door Tuesday to sending U.S. troops to fight alongside Iraqi soldiers against Islamic State militants, despite President Barack Obama's repeated vows not to do so.
Dempsey, who chairs the Joint Chiefs, repeatedly told the Senate Armed Services Committee that he would recommend sending U.S. ground troops to assist Iraqi and Kurdish forces if he deems it necessary. That would mark a significant escalation of the offensive Obama announced last week.
"If we reach the point where I believe our advisers should accompany Iraqi troops on attacks against specific ISIL targets, I'll recommend that to the president," he said at the opening of his testimony, using one of several abbreviations for Islamic State.
As an example, he said, U.S. troops may be required "at some point" to help Iraqi and Kurdish security forces retake Mosul, Iraq's second largest city, which fell to the militants in June.
"It could very well be part of that particular mission to provide close combat advising or accompanying for that mission," he said of any effort to retake the city. "But for the day-to-day activities that I anticipate will evolve over time, I don't see it to be necessary right now."
Defense Secretary Chuck Hagel also outlined a broader military plan than previously acknowledged for eventual cross-border U.S. airstrikes against Islamic State targets inside Syria.
He told the committee that the Pentagon is planning "targeted actions against ISIL safe havens in Syria, including its command and control, logistics capabilities, and infrastructure."
Hagel warned that the campaign "will not be an easy or a brief effort. It is complicated. We are at war with ISIL, as we are with al-Qaida."
The comments come as the House prepares to vote on a resolution backing the president's strategy to arm and train "moderate" rebel fighters to operate against the extremists inside Syria. Hagel told the committee that the goal is to train 5,000 such fighters over the next year at bases in Saudi Arabia.
Obama will be briefed Wednesday by Gen. Lloyd Austin and Gen. John Allen, who will command the expanded U.S. effort, at U.S. Central Command headquarters in Tampa, Florida.
The Pentagon has successfully conducted more than 160 airstrikes against Islamic State positions and convoys in Iraq since Aug. 8. Obama has insisted the 1,600 U.S. military advisers now in Iraq will not engage in ground combat.
AFP Photo/Saul Loeb
Interested in national news? Sign up for our daily email newsletter!