Pentagon Orders Security Review After U.S. Base Shooting
@AFP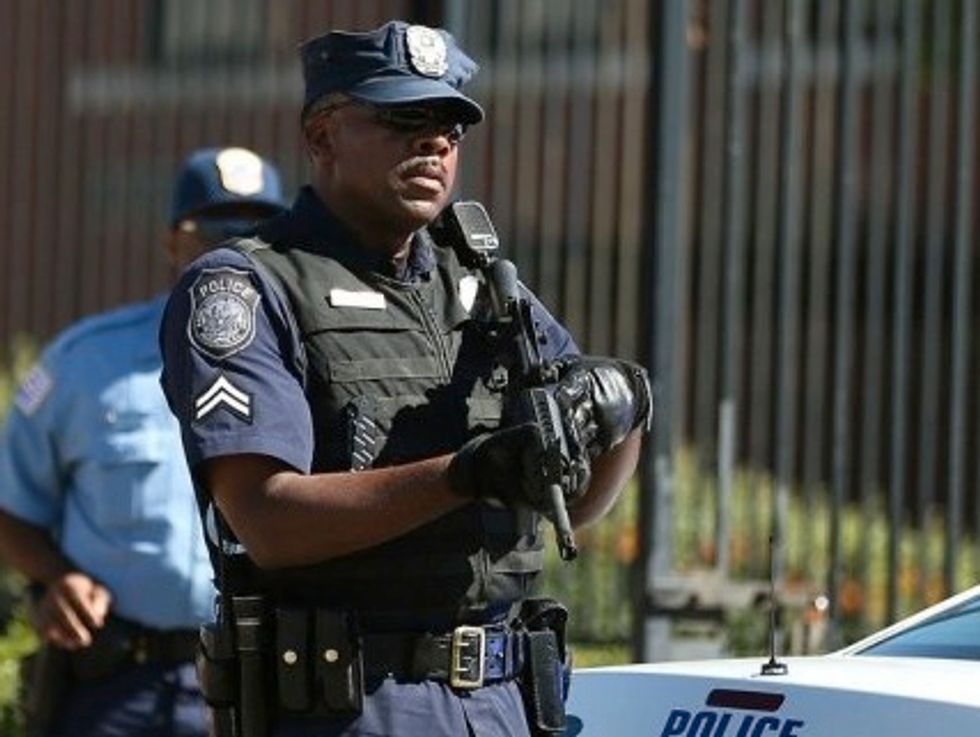 WASHINGTON (AFP) – The Pentagon was reviewing security at U.S. bases worldwide Wednesday, after a defense contractor gunned down 12 people in Washington, as investigators worked to uncover the shooter's motive.
U.S. military officials, who announced the security review on Tuesday, were struggling to answer how and why 34-year-old Aaron Alexis — a former sailor with a history of disciplinary problems and brushes with the law — had been granted a security clearance.
Alexis opened fire Monday at the tightly guarded Washington Navy Yard, where he had a valid entry pass, according to the FBI. He eventually died in a shoot-out with police at the giant compound.
With lawmakers questioning the vetting of contractors, Defense Secretary Chuck Hagel "intends to order a review of physical security and access at all DoD (Department of Defense) installations worldwide," a senior Pentagon official said.
The White House said President Barack Obama also ordered a review into security standards for contractors at federal agencies.
Monday's mass shooting — which sparked a fresh call from Obama for Congress to act on gun law reform — left federal authorities acknowledging that their probe had much to uncover.
"As we have moved from a crisis stage to the investigation stage of this case, our focus and efforts are going to be on the questions we all have," said U.S. federal prosecutor Ronald Machen.
"What caused this individual to kill so many innocent men and women? How did he carry out and plan this attack? How did he get access to the weapons?"
Lawmakers planned to raise security concerns over the shooting at a House Armed Services Committee hearing Wednesday, with top commanders — including Navy Secretary Ray Mabus — due to appear.
Alexis, a former naval reservist hired as an IT subcontractor for computer giant Hewlett-Packard, entered the base Monday with a legally purchased shotgun, officials confirmed, dispelling earlier reports that he had been armed with an assault rifle.
He arrived in the Washington area on or about August 25 and stayed in local hotels, but his motive remained a mystery, said Valerie Parlave, assistant director of the FBI's Washington field office.
"We continue to conduct interviews, exploit digital media, and run down every lead we can to piece together his recent movements and determine the motive behind his attack," she said.
Speaking to CNN on Tuesday, Navy chief spokesman Rear Admiral John Kirby said Alexis had not had a "stellar" naval record, but said there were no red flags that would have signaled he was capable of mass murder.
Looking at "the offenses while he was in uniform, none of those give you an indication that he was capable of this sort of brutal, vicious violence," Kirby said.
The New York Times, meanwhile, reported that Alexis suffered from delusions, recounting how he called police in Rhode Island last month complaining about hearing voices.
Pentagon officials could not confirm if Alexis suffered mental health problems. He served in the Navy from 2007 to 2011, and officers said his record was marked by numerous cases of misconduct.
They ranged from minor offenses such as being late for work to more serious incidents involving disorderly conduct and insubordination, Navy officials said on condition of anonymity.
Alexis received non-judicial punishment by the Navy in some cases and he was arrested by civilian police at least twice — once in Georgia for disorderly conduct and once in Texas when he fired a bullet through the ceiling of his apartment, they said.
The Navy sought to discharge Alexis for his behavior but had insufficient evidence of misconduct so they granted him an honorable discharge, the officials said.
It was not clear if Alexis was working at the Navy Yard at the time of the shooting, but the fact that he had a valid pass raised fresh questions about how the government vets its huge contractor workforce.
Hours after the shooting, the Pentagon's inspector general sent a report to Congress that alleged the Navy had eased security controls on outside contractors at many bases in an attempt to save costs.
Obama called on Congress to act on his stalled gun reform measures after the latest mass shooting to shock the nation, in an interview with the Spanish-language network Telemundo.
"Everybody expresses understandable horror. We all embrace the families … and yet we're not willing to take some basic actions," he said.
Photo Credit: AFP/Mark Wilson