People Want Melania Trump To Be Forced to Leave NYC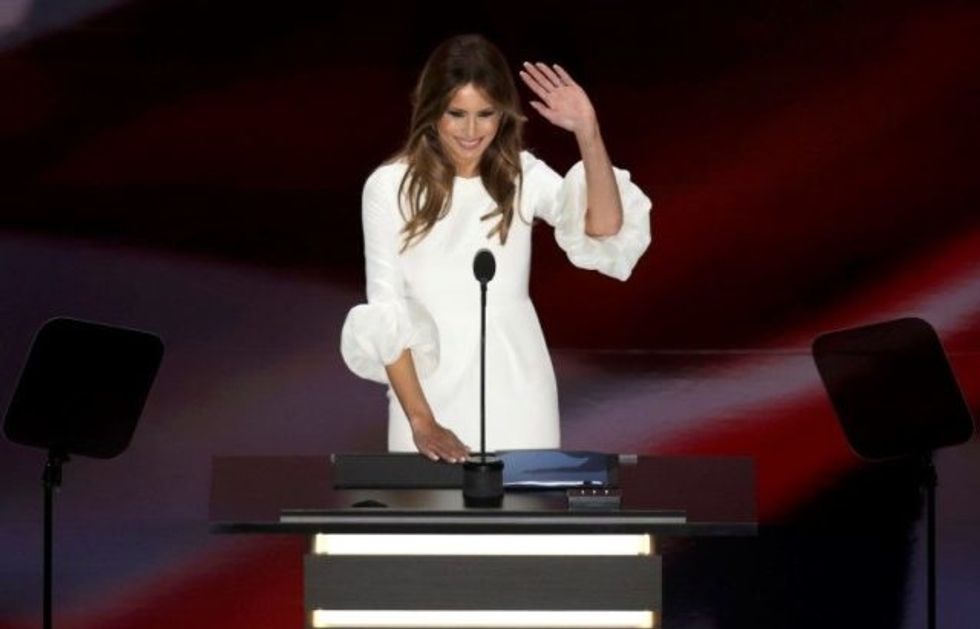 The exorbitant cost of keeping Melania and Barron Trump in their gold-plated penthouse in New York City has inspired thousands to sign a petition asking that they be forced to leave town. The viral Change.org request, titled "Make Melania Trump Stay in the White House or Pay for the Expenses Herself," already has more than 175,000 signatures. The petition is a response to the drain on city dollars brought on by the stunning security costs—up to $146,000 a day—of keeping Melania and Barron in Trump Tower, according to New York City Police estimates given to the New York Times.
The Trump press team announced late last year that Trump's wife and son had no plans to move to the White House, remaining in New York City "to keep disruption to a minimum." The Times report found that the NYPD spends $50 million a year to "to protect the first lady and her son" in their Midtown apartment. That figure would shoot up another $10 million if the president were to start coming home on weekends, which he hasn't done since entering office.
"The U.S. taxpayer is paying an exorbitant amount of money to protect the first lady in Trump Tower, located in New York City," the letter accompanying the petition notes. "As to help relieve the national debt, this expense yields no positive results for the nation and should be cut from being funded."
The Trump presidency has cost taxpayers an unprecedented amount. The Washington Post reported earlier this month that the Secret Service has asked for an additional $60 million to be added to its budget to protect the first family in the coming fiscal year. Almost half of those funds, $28.6 million, would be allotted to cover the hefty bill for keeping Melania and Barron in the city.
Trump—who said during the campaign that he "would not be a president who took vacations"—has spent a staggering amount of his time in office playing golf and chillin' at his Mar-A-Lago resort in Palm Beach, Florida. Each trip costs taxpayers $3 million. Those visits are so expensive for locals that Lois Frankel, the politician who represents the district, recently asked Trump either to pay all the costs he's incurred, or stop showing up and dining and dashing, so to speak.
WATCH: Trump last year: If I'm POTUS I don't think I'd see any of my golf courses again, I just want to stay in WH and "work in my ass off" pic.twitter.com/4nOtG7BavO

— Yashar (@yashar) March 27, 2017
"While we want the fullest protection for your visits, we hope you would be responsive to the losses of small businesses and residents of Palm Beach County," Frankel wrote in a statement. "If compensation is not assured of being forthcoming, we respectfully ask that you curtail your visits until such time as that matter is resolved favorably to our area."
According to the New York Times, the city of New York has only been able to recoup $7 million of its Trump-related expenditures. Back in December, NYC Mayor Bill de Blasio tweeted that he had sent "letters to the White House and Congress to request reimbursement for the NYPD's role in protecting Trump Tower."
A recent viral social media post erroneously claimed that the annual security costs for Melania outpace the budget of the National Endowment for the Arts, which the president would like to scrap. Though Artnet does note that if "Melania's NYC security costs $127,000 to $146,000 a day, that is more than the NEA gave out to any arts organization in the United States last year." The site goes on to point out that "most annual grants are between $10,000 and $100,000, weighted towards the lower end."