Perjury? Trump Signed False Tax Returns At Least 4 Times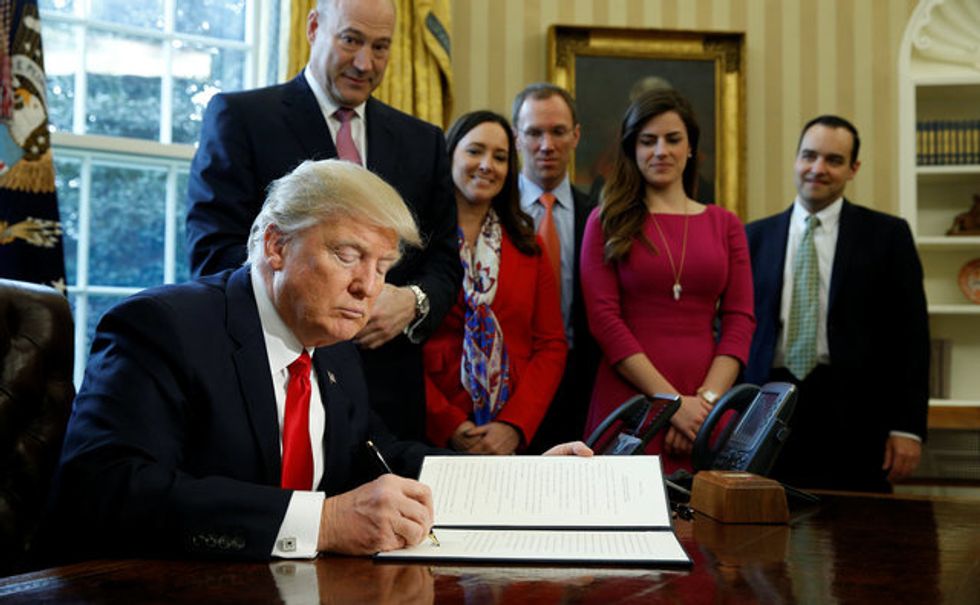 Reprinted with permission from AlterNet.
President Donald Trump signed the Trump Foundation tax returns in four different years when they contained demonstrably false information, according to a new report by Washington Post reporter David Fahrenthold.
As Fahrenthold notes, when you sign a tax return, you pledge that the information contained is accurate to the best of your knowledge under penalty of perjury. Knowingly falsifying a tax return is a felony under federal law. (Many noted that, by contrast, unauthorized border crossing is only a misdemeanor.)
The false information Farenthold reports on, which is confirmed by a recent New York attorney general lawsuit, concerns Trump's use of his foundation to personally benefit himself, make a political donation, and to help his business. These acts are all barred under the law governing charitable foundations.
Will Trump ever face any consequences for these errors? As Farenthold notes, it's often hard to bring a case against someone when the only evidence is the false statements themselves. Prosecutors usually like to have other evidence, such as emails documenting an intentional cover-up, to prove that the crime was committed knowingly.
There's also the little fact that it's unclear whether a sitting president can be indicted. If the office provides immunity, any such prosecution would have to take place once he's out of office.
But experts told Fahrenthold that there are risks to letting the president off the hook.
He writes:
If, on the other hand, the IRS does not pursue any public punishment against Trump — but, rather, does nothing or pursues civil penalties in secret — lawyers said they worry the effect would be to erode other taxpayers' willingness to follow the law.

"Our system of taxation relies on people believing that it's fair and just and — above all — equally applied, no matter if you're rich or poor," said Moore, the Chicago attorney. "It would have an extremely detrimental effect" if Trump faced no obvious punishment for flouting the system.
Trump's best defense against any potential charges would simply be to say that he had no idea he did anything wrong. The problem with that defense is that he has claimed he has the world's best memory and that he knows the tax laws better than anyone.
There's also the fact that he made the mistakes repeatedly, over several years. How likely is it that it was all one big accident?
Cody Fenwick is a reporter and editor. Follow him on Twitter @codytfenwick.