Pete Seeger, Musician And Folk Revivalist, Dies At 94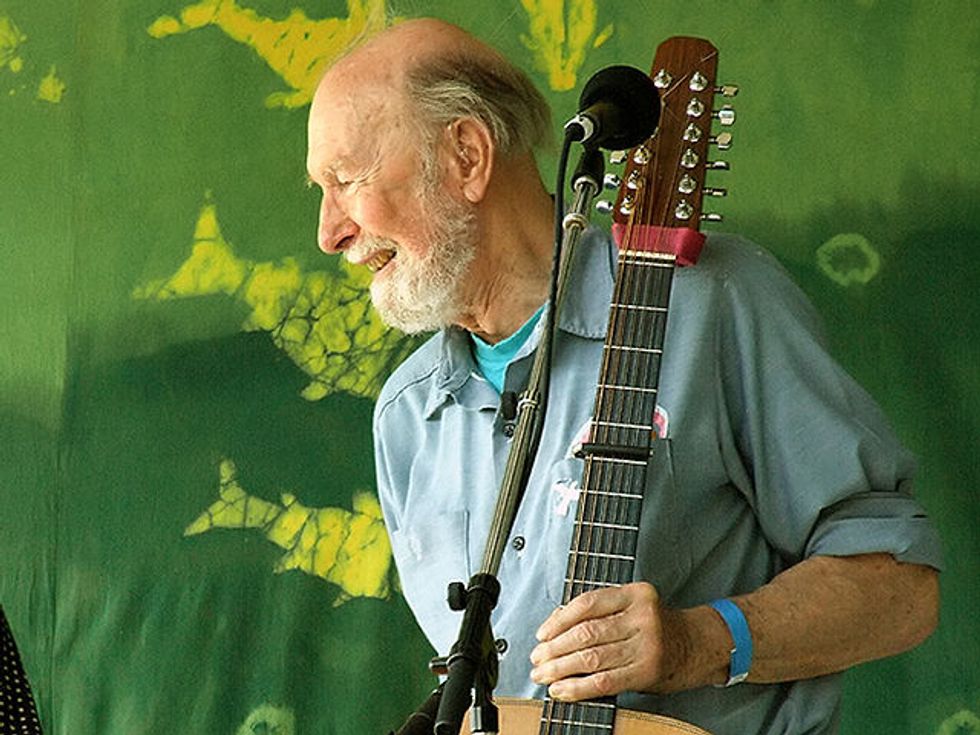 NEW YORK — Folk singer and activist Pete Seeger has died at the age of 94, his record label said Tuesday, after a long career collecting and championing the folk songs of the United States as well as writing his own classic hits.
He died of natural causes at New York Presbyterian hospital on Monday.
"Like a ripple that keeps going out from a pond, Mr. Seeger's music will keep going out all over the world, spreading the message of non-violence and peace and justice and equality for all," Jim Musselman, owner of Seeger's record label Appleseed Recordings, said in a statement.
Seeger was a lifelong advocate of folk songs as the nation's heritage and a vehicle for social critique, and was as well known for his performances at rallies as at festivals or concert halls.
He was a prolific instrumentalist most often associated with the 12-string guitar and the tenor banjo, and a leading figure in a revival movement of the folk music scene that included Woody Guthrie, Bob Dylan and many others in the singer-songwriter genre.
Even at age 90 he remained in the forefront of the progressive movement, singing the classic folk song This Land is Your Land at the inauguration concert of President Barack Obama.
Often politically charged, several of Seeger's own compositions became anthems within his lifetime, including If I Had a Hammer, Where Have All The Flowers Gone and We Shall Overcome, which he based on a spiritual tune.
Seeger's father was a pioneering ethnomusicologist, whose love of folk music and radical politics were to have a profound effect on his son, who was born in New York on May 3, 1919.
Seeger was affiliated with the Communist Party until he became disillusioned with Soviet dictator Josef Stalin. But he never lost his commitment to civil and labour rights, racial equality, the environment, international understanding and disarmament.
His influence reached its apogee in the early 1960s. As opposition to the Vietnam War was growing, his songs were recorded by numerous artists and became ballads for the protest movement. He also popularized the spiritual We Shall Overcome, which became the anthem of the civil rights movement.
His family members told media outlets that Seeger was still chopping wood 10 days ago, and he continued giving concerts even in recent years.
An outpouring of remembrances and tributes were posted on social media from all over the world as news of Seeger's death spread.
"Peter Seeger towered over the folk scene like a might redwood for 75 years," British singer and songwriter Billy Bragg wrote on Twitter, "his songs will be sung wherever people struggle for their rights. We shall overcome."
Photo via Wikimedia Commons