How Peter Thiel's Premier Data-Mining Firm Validated Clinton Global Initiative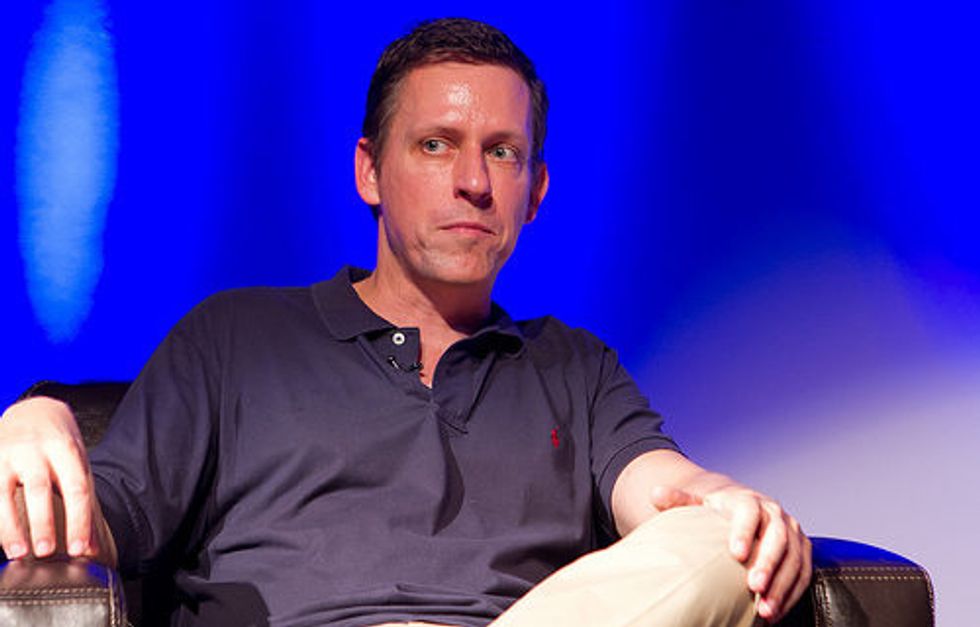 On the final night of the Republican National Convention, Peter Thiel, one of the wealthiest men in Silicon Valley, will make his own very peculiar contribution to this bizarre spectacle. A gay libertarian who professes to abhor war, he will endorse the presidential candidacy of Donald J. Trump, the GOP's war-mongering authoritarian nominee who chose a homophobic running mate.
Among his peers in the tech industry, who reportedly consider Thiel eccentric and mysterious as well as brilliant, few claim to understand why he has made a political choice that most of them consider mad and potentially dangerous. He is said to despise democracy, so perhaps he hopes to undermine our constitutional system.
But whatever Thiel's motivation may be, he knows from personal experience that one of the principal lines of attack on Hillary Clinton, the presumptive Democratic nominee, is false — because a premier technology firm that he founded and still chairs has vindicated the work of the Clinton Global Initiative.
In 2004, Thiel was one of the five co-founders of Palantir Technologies, an innovator in data analysis that has grown into one of the most respected and valuable corporations in its field, with such heavyweight clients as the Pentagon, the FBI, the NSA, and the CIA (indeed, the intelligence agency's venture capital arm, In-Q-Tel, reportedly invested $2 million to start Palantir, and much of its success, ironically for the libertarian Thiel, has derived from its patronage by government). After several rounds of financing, Thiel remains the largest shareholder of the privately held Palantir, which was valued last year at $20 billion — making it the third most valuable tech startup in the U.S., behind Uber and AirBnB.
Ten years after its founding, Palantir's chief executive Alex Karp — one of the firm's co-founders with Thiel — agreed to perform a highly sophisticated and costly feat of data analysis for the Clinton Global Initiative, at no charge.
The task was to evaluate over 3,000 "commitments to action" made by nonprofits, corporations, unions, and other organizations at CGI's annual meetings in New York City, hosted by its founder, former President Bill Clinton. Those commitments represent CGI's central purpose, by transforming the typical conference on global problems, which usually began and ended with talk, into an opportunity for participants to act. To remain active in Clinton Global Initiative (CGI), every member must make a commitment, and those commitments must be "new, specific, and measurable" in their positive impact on a global problem.
Over the history of Clinton Global Initiative (CGI) since its founding conference in September 2005, the projects undertaken by its thousands of members are estimated to have improved the lives of more than 400 million people, at a cost of at least $85 billion, in areas ranging from education, job creation, and women's empowerment to water, sanitation, and climate change. As CGI's tenth anniversary approached in 2013, its leadership and management, including Bill and Chelsea Clinton, decided that rigorous evaluation of its commitments was overdue. Such analysis required the kind of software and analysis that Palantir routinely provides to its government and corporate clients.
Released in 2014, the Palantir report found that nearly 42 percent of all the Clinton Global Initiative (CGI) commitments made between 2005 and 2013 had been completed successfully, while 40 percent were continuing to work toward their objectives. Only five percent were unsuccessful. Just under two percent were deemed to be stalled, while 11 percent were marked "unresponsive" for failing to report any progress for two years (and were removed from the list of active commitments). More than two-thirds of the successful commitments had exceeded their original goals.
The report went into far greater detail on a wide range of metrics and topics, and noted carefully that all the data on success and failure had been self-reported. The bottom line, however, as Forbes magazine columnist Tom Watson noted, was not only that CGI's wide-ranging projects had achieved a far higher rate of success than most business startups — but that its candor about its failures promised to provide important lessons for the future of philanthropy.
As for Palantir, its decision to provide pro bono services was a strong indicator of its confidence in the reality of CGI's own commitment to a better world — confidence that the firm's tech wizards confirmed in 2013 with their own CGI commitment, an ambitious effort to improve global response to natural and other disasters by providing "software and analytical support to better mobilize responders and resources."
So while Republicans may hurl myths, lies, and insults at the Clinton Foundation, during their convention and into the fall campaign, Peter Thiel's own company crunched the data that proves them wrong.