Republican Petraeus Thinks Hillary Clinton Would Make 'A Tremendous' President Because… #BENGHAZI!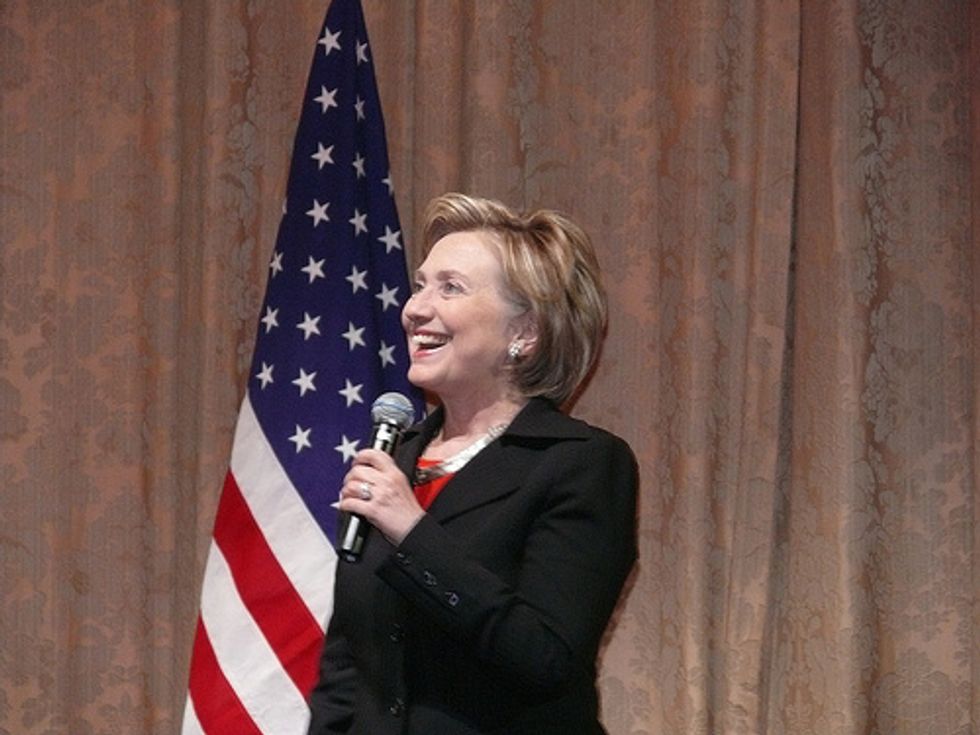 There goes that narrative.
General David Petraeus — the man whom Fox News' Roger Ailes tried to persuade to run for president as a Republican in 2012 — thinks Hillary Clinton would make "a tremendous president," according to the new book HRC by authors Jonathan Allen and Aimee Parnes.
And the reasoning from the former head of the Central Intelligence Agency is the exact opposite of Senator Rand Paul (R-KY), who has been suggesting for months that the Benghazi terrorist attacks, which claimed four American lives, including that of Ambassador Christopher Stevens, should disqualify the former first lady from higher office.
"Like a lot of great leaders, her most impressive qualities were most visible during tough times," Petraeus said. "In the wake of the Benghazi attacks, for example, she was extraordinarily resolute, determined, and controlled."
Though then-Senator Clinton and Petraeus had a somewhat confrontational relationship as the general led the so-called "surge" in Iraq, they developed a close relationship after Clinton was named President Obama's Secretary of State in late 2008. Petraeus resigned just after President Obama's re-election after an extramarital affair with his biographer became public.
Republicans have sought to make the attacks in Libya on September 11, 2012 a political disaster for Democrats since the night they first occurred.
They've focused their ire on a set of talking points developed for then-UN Ambassador Susan Rice that suggested a YouTube video demeaning the prophet Muhammad, which sparked protests throughout Northern Africa, spurred the events of that night. Reporting has shown that Petraeus played a key role in approving those talking points, which were confirmed in a recent New York Times exposé on the attacks. A Senate Intelligence Committee report released in January suggested that the terrorist attacks were avoidable — what attacks aren't, technically? — but neither confirmed or denied that the YouTube video was instrumental.
Thomas Pickering — a respected Republican diplomat — investigated the Benghazi tragedy on behalf of the State Department. He told our Joe Conason why he did not investigate Secretary Clinton or her deputies for his report:
The "simple and straightforward answer" is that "they played no role in the decision making which was relevant to the preparations for meeting the security crisis in Benghazi," and the role they did play on the night of September 11 "was fairly clearly portrayed to us by other people who attended the meetings, and we had no questions about it. We thought that what they did made sense and fit exactly what should have been done."
The Republican obsession with Benghazi and the implication that there is some secret government involvement that President Obama or Clinton is hiding now resembles the 9/11 Truther movement that Republicans so reviled during the Bush administration. The only difference is that the conspiracy theory websites are now being run by members of the House of Representatives.
Photo: veni markovski via Flickr